Thailand has been a playground for sex perverts and paedophiles but all that is changing as Thai police work closely with foreign services using big data and increased police powers
An Australian was convicted this year for requesting perverted sexual intercourse with a baby in Thailand. Howard Hawke pleaded guilty to a range of sickening charges in a Melbourne courtroom in April and was jailed for over 10 years. His case is only the tip of the iceberg representing the widespread sexual abuse of children by foreigners in Thailand. Despite this, the outlook is not all bad. There are strong grounds for hope that the problem is being checked and will eventually be stamped out. Thai police are increasingly working with foreign police forces and utilising the growing power of database technology to identify vile perverts before and after they arrive in the country.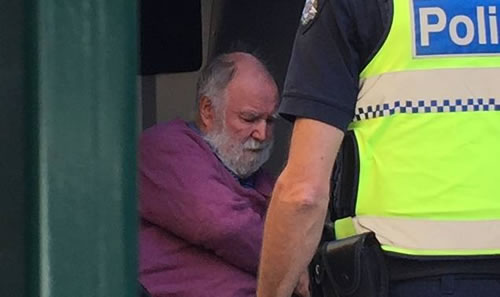 In a week filled with hope that saw the world united behind Thai authorities in their magnificent effort to rescue 12 Thai footballers and their coach, it was a wonderful opportunity to see how Thai people love and cherish their children. It is therefore all the more sobering to think that other Thai children may be the target of more ill intentioned foreigners as well to contemplate the pain and conflict this might cause among poorer and weaker parents. The stories are harrowing but there is hope as this sort of abuse has now become a key target of police work in Thailand in cooperation with law enforcement all over the world.
Aussie sold pig farm before embarking on a fantasy sex spree in Thailand
When Howard Hawke, a middle-aged Australian farmer, sold his piggery in West Australia for a million dollars in 2006, he had a lot of cash and decided to retire to a life of exotic travel and sexual fantasy. He became a regular traveller to Southeast Asia and in particular to Thailand. An Australian court in April was shown a video of Hawke whipping a naked and bound 16 year old Thai girl wearing a dog collar. He was arrested in March last year by Australian police on a number of charges in connection with having sex with minors, issuing threats of violence and distributing child pornography material online. At the time of his arrest in a police swoop, he was reported to be living in a boarding house, had $6,500 in cash and a credit card debt of $13,500. He was also HIV positive.
Hawke liked to whip and inflict pain on children
The Australian court heard that Hawke had contacted a very poor Thai family and told them that he wanted to have sex with their two-year-old child. The child was the daughter of the 16 year old girl he was seen abusing in the video shown to the court. This was on a previous trip to Thailand. During phone calls intercepted by police, Howard Hawke was heard explaining his wish to have extremely brutal and violent sex with the child, including whipping, because he liked 'to see young ones hurt'.  The horrified family refused further phone calls from him. The court was told that Hawke had sent money to the family in the form of a Western Union transfer for $60.
Hideous crimes of Australian paedophile in Thailand revealed in court
After being arrested, Hawke denied the allegations of intending to have sex and torture the child. He dismissed his phone calls as the fantasy of a pervert. But crown prosecutor, Krista Breckweg, stated that he really planned to go to Thailand to commit his hideous crimes. Hawke was also charged with sexually assaulting a disabled woman in Australia. During the raid in his residency in Kangaroo Flat, the police discovered 32 images and seven videos of child exploitations on his computer, some of which featured himself carrying extreme sexual acts. He has recently pleaded guilty to all charges in court and was jailed for over 10 years.
Vulnerable Thai children on streets of Pattaya are targets for perverts

Howard Hawke's case is not uncommon in Thailand where some foreigners may turn out to be predatory pedophiles on the hunt for vulnerable children. Pattaya, a well-known seaside resort with foreigners worldwide, is the most notorious city in Thailand when it comes to sexual abuse of children. Despite a heavy police presence and a campaign to clean up its reputation as a sex for sale hotspot, sex tourists are known to prey on street children who either are homeless or work for their parents on the mean streets selling chewing gums or shining shoes. The majority of child sexual abuse tarhets are young boys while most perpetrators are western men who are usually found to be in possession of child pornography materials.
Continuous stream of  arrests and prosecutions of foreign paedophiles
There have been a lot of high-profile cases over the last few years. In 2016, a 73-year-old man British man named George Tower was arrested for having sex with children over 60 years younger than him. In 2014, Mr. Mariolle Arnaud Jean Nicolas, a 46-year-old man from France, was arrested for having sex with a 14 year-old girl for 700 baht. There is a growing incidence of foreign pedophiles arrested in Thailand since 2013. The most prominent of these is Gregory Miller, a US expat. He was charged with raping a 9-year-old boy repeatedly and suspected of sexually abusing five other young boys. He was sentenced to 38 years in prison, a record penalty for this kind of crime in Thailand.
Thai police warn that child sex abusers will be found and punished in Thailand
In response the prevalent problem, Thai police in recent weeks, have specifically targeted this activity and have warned anyone involved that they will be apprehended under a new, resouced crack down. The Royal Thai Police has established a task force that specialises in detecting and apprehending child sex abusers. A database of 180 foreign child sex suspects who regularly visit or stay in Pattaya has also been built. Foreign pedophiles have taken advantage of the wide internet availability in Thailand to evade attention from the authorities when looking for victims or distributing child pornography by utilising different names, locations and cloaking technology. Up to now this has made it more difficult to detect them. However, Thai police have begun to collaborate with international police agencies and technology companies to fight child sexual exploitation with impressive results. It has been found that material on the internet has helped international police services find and locate predators in Thailand while evidence has also been secured as police cyber teams infiltrate closed networks. This is very important and timely as the intensity and frequency of the issue is expected to rise in Southeast Asia, according to the United Nations Office on Drugs and Crime.
Thailand and Pattaya in particular act as magnet for sex offenders from around the world

A known paedophile who fled to Thailand in 2009 and changed his name was sentenced to life in the United Kingdom in 2017 for a range of offences including sexual assault and the rape of nine Thai boys between 2009, when he arrived in Thailand, and 2013 when he was arrested by Thai police. He later skipped bail and escaped Thailand before he was arrested in Spain and brought home to face justice. It emerged that Mark Frost had been a prominent scout leader rising to the rank of Commissioner in the early 90s in the United Kingdom. He had been a member of an infamous paedophile exchange network since 1978 where paedophiles exchanged information and pornographic materials. Jailed in 1992, for a year, on charges of allowing his premises to be used for under age sex and the use of drugs, he changed his name from Mark Frost to Andrew Tracey and set off for Thailand after his name was taken off the UK sex register.
Catholic church refused UK paedophile's adoption request but local authority approved him

Amazingly it was revealed in court that the paedophile teacher, while living in the UK, was able to adopt a young boy from a local authority after a similar application was refused by the Catholic Church thought to be due to his status as an unmarried teacher. It is reported he is estranged from his adopted son.
Thai mothers whose sons were broken by an evil paedophile who had their trust

Harrowing evidence was presented to the Old Bailey in the UK which revealed how trusting Thai mothers had regarded Frost as a 'kind and generous foreigner' only to find out that he had been abusing their sons. 'I drown in sorrow about what Andrew (aka Frost) did to my son and other boys,' one Thai mother said, while another described how ber 'bubbly' young boy had grown inward, depressed and aggressive. The prosecution of Frost was made possible by shared images and videos found on paedophile networks. In one instance, a Dutch man encouraged the Thai boys to engage in sexual acts from a remote location while encouraging them to make love gestures with their hands. The court heard how Frost would reward the boys with sweets, video games and opportunities to swim in his pool. It also emerged in court that administration difficulties with warrants allowed Frost to escape from UK police on one occasion when he returned to Britain before he was finally tracked down to Spain.
The apprehension and prosecution of Frost was brought about by a combined law enforcement operation involving the UK's National Crime Agency, the Royal Thai police and police forces in the Netherlands and Spain.
UK restaurant owner goes missing in Pattaya and ends up in UK jail for 18 years
UK expats and other foreigners living in Pattaya last year raised the alarm when a well known restaurant run by a British expat closed its doors. The UK expat had not been seen for a year and concerns was expressed for his safety. On contacting the well known and popular expat web forum Thai Visa, it came as a shock to find that John Stageman, a 70 years old man, was sitting in a UK prison and would be there until he was 86. The UK man left behind several properties in Thailand whe he was detained by Thai immigration officials and extradited back to the UK.
UK man fled to Thailand when rape allegations from the 1980s in the UK resurfaced

Mr Stageman had fled the UK in 2013 after a long running rape investigation was resurrected by the UK police. Charges had been brought against him in 2005 but mysteriously, he was deemed at that time, unfit to stand trial. It appears that Stageman raped a young girl of 7 years of age while running a guest house in Kent during the 1980s. He later raped the woman again when she was an adult. She had become pregnant and did not know whether the father was Stageman or her husband. She later suffered a miscarriage.
Thai authorities had checked into Stageman on a routine review when it was discovered he had overstayed his visa. He was later arrested and handed over to the National Crime Agency in the UK. Stagemen was found guilty of all charges wheb he faced trial and sentenced to 18 years in prison with no possibility of parole meaning he will only be due for release when he is 86 year of age.
Foreign police forces working with Thailand to wipe out paedophile and sex abuse
The recent crackdown by Thai authorities and warnings to anyone targeting Thai children comes as Thai police step up cooperation with foreign police forces. In most western countries laws have been changed to allow for prosecution of all sexual offences that take place in Thailand. Greater emphasis on databases and information networks has allowed police forces to cooperate more than in the past and increased powers and technical capabilities of the police services has allowed them to detect perverse sex networks more easily. The stream of arrests and jailing of these sexual predators has been impressive. What is even more impressive is the effort that is being made to stop them for coming to Thailand in the first place.
Sex pests now being refused entry into Thailand
Last year it was revealed by the UK's Sky News that 18 sex offenders from the United Kingdom had been refused entry to Thailand from 2015 to 2016 and those numbers are increasing as information systems and networks become more efficient. Stephanie McCourt, the National Crime Agency's Liaison Officer for South east Asia warned those targeting children that there days of preying on vulnerable Asian children were over. 'If you're a convicted child sex offender and you are intent on travelling to a place that has vulnerabilities and where you think you are going to get a better opportunity to offend against children, that is changing.'
Foreigners also very much part of the solution and not just the problem in Thailand

Just as there are two sides to a coin, nearly all foreigners in Thailand fastitiously obey Thai laws and would never drean of exploiting Thai people or vulnerable children. Instead, the truth is that quite few foreigners work hard to improve the lives of vulnrrable Thai children.
It was Christmas 1999 and Don Ford was walking on a street in Pattaya, Thailand's popular coastal resort, when he tripped over what he initially thought to be a bundle of clothes. The 'bundle of clothes' turned out to be Pod, a street urchin who was abandoned by his mother and lived off food from rubbish bins.
Filled with pity and sympathy for the young boy, Don tried to sent Pod to a children's home where he was well looked after. Thanks to the safety and comfort of his new home, Pod graduated from high school and went to serve in the army. He was also reunited with his mother and has had a happy life ever since. Encouraged by Pod's success story, Ford founded Pattaya Street Kids Project which aims to give homeless kids, child sex abuse victims and other vulnerable kids a safe place to live and study.
Despite the tight budget, the project manages to provide the children with adequate schooling, nutritious food, a leafy playground and a home to stay far from sexual predators on Thailand streets.