Success of Thai PM's trip to the UK and France drew ire of activist groups but it is now clear that we are living in a world now dominated by 'realpolitik'
The success of the Thai PM's trip to the UK and France some months ago drew the ire of diehard activists who were disappointed that leaders of the 'world' hadn't done enough to pressurise the Thai junta to fully restore democracy and who were critical of its policies. The rapprochement between Thailand and western countries has made it clear that 'realpolitik' has become the dominant trend in world affairs. It has also become apparent that Thailand's mew political order and stablity is here to stay.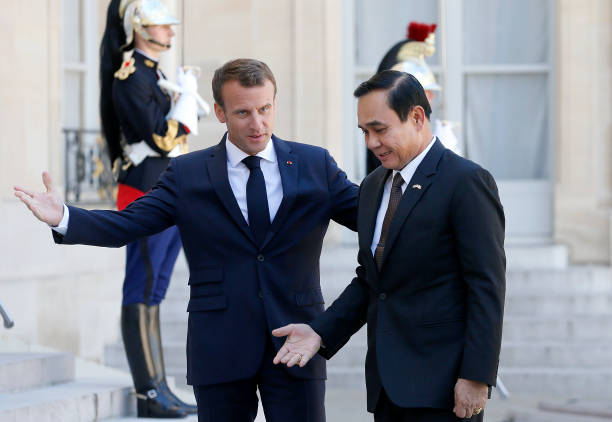 2014 witnessed the overthrow of the civilian government headed by Yingluck Shinawatra in a military coup and a subsequent deterioration in relations between Thai junta and the EU whose leaders asserted that authority must be returned to a democratically elected government. High-level political dialogue was soon suspended, free trade talks were stopped indefinitely and free elections seemed to be the only thing that could normalize bilateral relations between Thailand and European nations. In recent weeks an EU committee has repeated an echo of these sentiments but for all intents and purposes, there is now an open relationship between the Thai government and the EU.
Thai PM received a warm reception in France and Britain and promised 2019 elections

Prior to Prime Minister Prayuth Chan-ocha's trip to Europe Thai anti-government activists had high hopes that the British and French premiers would raise the question again and voice their discontent with him during his trip to the two countries, despite the warming ties between the junta and western countries. Instead, the two leaders were very much muted on the subject but quite active in signing business deals and extending cooperation with the Thai government in many aspects, not to mention that they gave its prime minister a red-carpet welcome. Credit for this must also be given for Thailand's diplomatic corps who have regularly voiced Thailand's unique history and indeed culture when rights issues are raised. The overwhelming acceptance of Thailand new constitution in 2016 which has now come into force, has also copper fastned the legitimacy of Thailand's new order.
Some small protests from dissidents living abroad
After the visit in May, the Thai Foreign Minister emphasised that the PM's official state visit to the UK and France had gone smoothly with no incidents, although there were reports of small opposition protests organized by Thai dissidents who fled what they called political prosecutions by the Thai military. Now grappling with their own problems, including the looming Brexit and internal divisions within EU, the two countries have shifted their focus toward economic possibilities, and Thailand is fit to be a strategic partner.
Thai government presented its ambitious Thailand 4.0 plan for economic development
In fact, commercial opportunities in Thailand was the focus and talking point of the trip. That was clearly illustrated as PM Prayuth Chan-o-cha had very constructive talks on trade and collaboration with British Prime Minister Theresa May and French President Emmanuel Macron.  It emerged that during these discussions there were only tentative mentions of the need for elections in Thailand, according to reports Thai state news media.The Prime Minister used the trip to confirm that Thailand will stage elections in 2019 and even before he returned to the country senior minutes were meeting with Thai political parties with the exception of the Pheu Thai party. The Thai delegation emphasised Thailand ambitious economic plan, Thailand 4.0 as a blueprint for future development of the country and cooperation with other countries.
Thai PM was accompanied by a high powered business delegation that inked deals

Also, the accompanying Thai businessmen from major companies in the delegation, including the food group ThaiBev, Petroleum company PTT, and Thai Airways, met with representatives from hallmark British and French companies, namely the education group Pearson, HSBC Bank, the transport groups Transdev and SNCF Mobilités. The partnership between Airbus and Thai Airways that was inked during the trip is being held up as an example of Europe-Thailand cooperation. In France, Prime Minister Prayuth Chan-o-cha attended a business roadshow called 'Transforming Thailand' hosted by the business association Mouvement des Entreprises de France where he proudly presented Thailand 4.0, his signature economic policy, and Thailand's potentials to promising European business partners.
Thailand's economy is on the way up with gains in all areas underpinned by political stability

Thailand's GDP grew 3.8 % last year, a record high for the past few years, and this set it wise to go higher.Thailand 4.0 is predicted to propel the country to become a high-income, technology-driven economy. Additionally, Thailand is hoping to attract foreign investments in the Eastern Economic Corridor (EEC) project that, upon its completion, will link the country with other ASEAN members. The success of the Thai government can be seen in many economic indicators particularly a reduction in poverty. The biggest problems facing Thailand are high household debt and consumer confidence although this is begun to move up in recent months.
The European visit by the Thai Prime Minister was a success. The absence of overt criticism and political pressure on Thailand from western states has surprised the small number of Thai dissidents living abroad. They had expected the UK Prime Minister and French President to emphasise to Mr. Chan-ocha the imperative of bringing back a civilian government to Thailand. This sentiment was of course expressed and indeed confirmed by the Thai Prime Minister but the emphasis of the UK and French governments on national interests in dealing with Thailand was clear to see.
Thailand has markedly improved its relationship with developed western countries
The world has changed, this is now the era of Trump and Brexit. Economic interests and prospects now override the lofty rhetoric of the Obama era. It is even arguable that this new international realpolitik will bring more real and tangible results as seems to be the case in Thailand. Many political activists outside Thailand and opposed to the junta have been forced to accept that there is now a markedly improved relationship between Thailand and the developed western world.
Pragmatism over ideals is the new approach for Thailand and the rest of the world

One Thai LGBT and political activist Paisarn Likhitpreechakul mocked those governments as 'hypocritical, given their past human rights rhetoric'. He even drew parallel between them and the Chinese government. 'If they prioritize business over human rights, what differentiates them from China?', he asked. Still, there are many sympathetic activists who regard Europe's engagement with the junta as a new approach after the failure of sanctions and direct pressure. After all, perhaps it is not so much ideals as pragmatism that will become the norms of modern politics. Since the visit by the Thai PM to Europe in May, it has also become apparent that the 2019 election, when it is held, will herald in a new era of politics in Thailand. One that will not see a return to strife or instability.