Forget the tall tales of easygoing Thai police and backhanders – drink driving in Thailand is a big No, No for all foreigners as Thailand tackles road safety
Thailand's dangerous roads and a huge improvement in police detection of drink driving offences should be a warning to all foreigners in Thailand. The consequences can be simply nightmarish as many foreigners have discovered.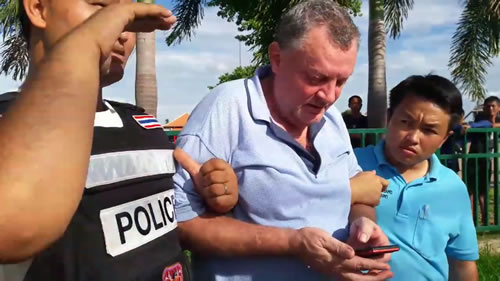 Thailand has the deadliest roads in the world, according to a recent World Atlas report. While many domestic factors are to blame for this dubious distinction such as poor road maintenance or a lack of respect of traffic regulations, far too many fatal road accidents have been attributed to irresponsible foreign drivers. While many expats and tourists continue to arrive in Thailand for work or for fun, some end up taking another person's life on Thailand's extremely dangerous roads. The result is a nightmare and hellish predicament even before the consequences of tangling with Thailand criminal and legal system are taken into account.
Alan Jamieson, a 79-year-old British living in Thailand for more than two decades, has recent made headline for killing a 10-year-old girl in a car crash. The tragic accident happened on the night of June 7. He said that he fell asleep behind the wheel when his car hit another car carrying Pattharawadi Sooknet and her family. Mr. Jamieson was found to be driving without a license and under the influence of alcohol. Captain Suchet Tepchali of Rayong City police revealed that Jamieson smelled strongly of alcohol when police arrived the scene and tests later confirmed this.
Little Thai girls dies hours after elderly UK man ploughed into her parents car in head on collision
Mr Jamieson, who hails from Liverpool, had lived in Thailand for twenty years. He was driving on a quiet country road when his Mitsubishi pickup truck hit an oncoming car just after midnight. The family of three, including Pattharawadi's mother and father, had to be cut from the wreckage and rushed to hospital. The little girl died a hours later at 9.30 am. The accident occured in Tapong district of the province.
Police revealed that they had arrested the expat, who they had initially found in the passenger seat of the vehicle, for causing the death of the girl and other offences.
Australian man's attempt to flee minor accident leads to fatal collision
An Australian living with a Thai wife in Udon Thani killed Thai wife and mother Pranee Kusuman when his Isuzu pickup hit her motorbike. The Thai woman was carrying her 11 year old son and an older friend from school when the Australian man hit her head on. The horrific accident saw Pranee's motorbike trapped under the pickup and her body lying nearby with fractures and a broke neck. Thai Police, who were already in pursuit of the Australian man, after an earlier road traffic incident found him at the wheel of his vehicle weeping.
Distraught Thai husband says his wife was yards from him when fatal collision occurred
Pranee's husband Khambai told Thai police how his wife, who was 50 years of age, had been on her way to meet him with their son and a relative. They were all due to travel home together. The distraught man revealed that his wife had been only 100 yards from him when she was killed
Police revealed the Australian's identity as 55 year old as Joel MacGregor. He was being chased by the police after colliding with a taxi earlier. Pranee was killed immediately due to multiple injuries. Her son Dramaraksa was treated by paramedics at the scene and given CPR. He had suffered severe injuries and was removed to hospital and reported to be in coma. The relative Watcharapol Nongthong who was 15 years of age, was Pranee's nephew and was declared dead at the scene.
Foreigner found sobbing at wheel of vehicle that caused deaths
When the police arrived, Joel MacGregor was sobbing behind the wheel of his damaged pick-up and was in state of panic. Police detained him at the scene and tried to keep him under control. He had a history of mental illness and had been returning from visit to mental health specialist.
Thailand has strict drunk driving laws that must be respected
Foreigners should be aware that Thai laws are very strict when it comes to drunk driving, speeding and other common traffic offenses. People who commit that kind of offense are always brought to court, with few exceptions even for tourists, and the penalties they receive vary accordingly. Generally, first-time offenders can be subject to 6 months of license suspension and a fine of 8,000 baht, plus a bail of 20,000 baht may be demanded. Those punishments are relatively mild and mainly serve as a warning for offenders.
The problem for many foreigners is that the Thai legal system is different to western countries. While an arrest and charge for driving under the influence where an accident has not occured may be not as serious as a case involving property damage, injury or death, there is the requirement to pay bail. This is normally 20,000 baht for the first offence.
In the past corruption was an option but those days are gone in Thailand
There has been a practice in Thailand  of paying money to police officers not to prosecute in the form of a payment to a benevolent fund of some sort. This is precisely the sort of corruption that the the new Thai government has brought to an end. One report on the popular Thai Visa forum entions a foreigner asking for and been given a motorcycle escort by police after making such a payment in order to make sure that he would only have to pay again on his way home!  It is now believed that this option has ceased to exist in most situations and indeed it would be a mistake and serious breach of the law, as in any other country, to offer to bribe a police officer.
Drink driving in Thailand is an offence even though first time offenders will not be jailed
It is important to note that this applies only to those cause and prosecuted for a first offence of drink driving in Thailand. A second conviction is far more serious. While the outcome is pretty uniform for a first offence in Thailand, the consequences are that anyone convicted will have a criminal record in Thailand even though it is unlikely to result in time being spent in a Thai jail. Foreign expats should note that the law provides for the deportation of any foreigner and renovation of a work permit for anyone in breach of Thai law. It is also important that it does result in a jail sentence being recorded even if the term is suspended.
Bail must be paid first to avoid being imprisoned while awaiting trial
For most people, as long as the bail is paid, those arrested are released from custody and must appear within days before a Thai court. The bail money of 20,000 is refunded. The penalty is normally a fine of 8,000 baht, the suspension of your licence for 6 months, 3 months jail with a 2 year probation period, visits from the Thai probation service annually for 4 years and 12 hours community service.
Get a taxi and do not be part of the hell that follows a serious Thai road traffic accident

The best advice for any foreigner visiting or living in Thailand is to get a taxi where alcohol use may be involved. The increased detection and prosecution level for the crime are minor considerations compared to the dangers that Thai roads pose at the best of times. The chances of a fatal accident could not be higher anywhere in the world. A combination of a huge and often poorly designed road network, local culture and climate has contributed to a huge road traffic accident rate with over 24,000 deaths every year.Thailand is simply the most dangerous country in the world to drive a motor vehicle.
Phuket scooter accident left young Canadian facing Thai jail or a $100,000 settlement
In 2015 a young Canadian, Jason Hoffman was on holiday in Phuket. He hired a motorbike scooter, which has become a very popular activity with young western visitors. He was riding his scooter only hours after his arrival in Thailand when it was involved in an accident which left one person dead and two others injured. The Canadian found himself in hospital with broken bones and facial injuries. Released days later, in pain and still requiring surgery, he was interviewed by Thai police.
Canadian held responsible for fatal scooter accident
Jason was informed by the police that he was being held responsible for the accident and would be required to pay a fine and make restitution to the other parties. A sum of $100,000 was demanded and if he failed to pay the money then he would be facing imprisonment in Thailand. In the meantime he would not be able to leave the country His family in Canada had no choice but to save his belongings to raise enough money to pay the sum. They were advised that the financial settlement could be negotiated by someone on the ground in Phuket. Cindused the family began to re the money through crowdfunding and were informed by a Thai lawyer that it would be prudent for Jason to pay the money requested as opposed to becoming involved in litigation before the Thai courts which have unpredictable and devastating consequences for the young man.
Restrictions on tourists driving cars into Thailand from other countries including China
Thai authorities in 2016 introduced measures to curb foreigners driving into Thailand in foreign cars particularly in the northern provinces. This is another part of the Thai government's efforst to tackle road safety. The rigorous rules came after the influx of drivers from other countries notably China, led to a steady increase in road accidents. Children and women were killed and injured with a spike in accidents linked vehicles driven by foreigners. The moves are part of a wider campaign to improve security and safety in Thailand.
Thai government move has led to the imposition stringent control on foreign vehicles. Foreign tourists were prohibited from driving their own vehicles into Thailand from neighboring countries. This, however, is not a blanket ban as vehicles with less than nine seats and pickup trucks weighing less than 3,500kg will be allowed to travel in Thailand. If they wish to enter Thailand, drivers have to send their requests to Thai tourism operators at least 10 days in advance and allow their vehicles to be checked. If approved, the vehicles will be allowed travel in certain Thai border provinces for 30 days each trip, and their owners will face serious charges if they overstay the permitted driving period.
.