Thailand's relationship with France are of critical importance to its ongoing trade with Europe and the western world – today it is a very warm one but it was not always so
A little known part of the history of the encounters between the Siamese kingdom, as Thailand previously known, and the west has been made accessible to the Thai public and other foreigners in Thailand. This has been brought about by the opening of the French ambassador's 162-year-old residence to general public on Sundays in Bangkok for a guided tour. For foreigners visiting Thailand and Bangkok, the old quarter near the French embassy is significantly important as it represents a strong link between the old Thai state and the first western visitors to Thailand.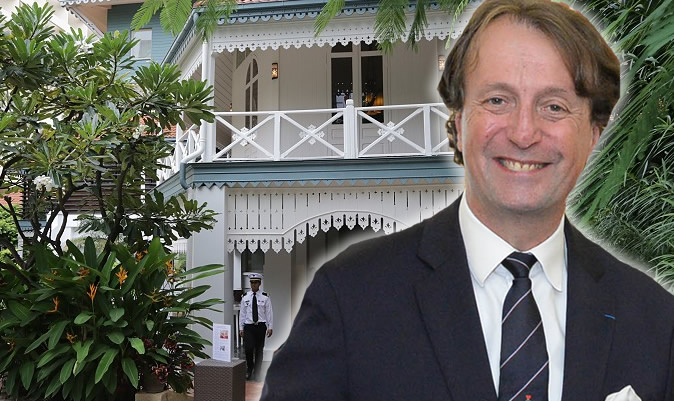 Diplomatic relationship between Thailand and France dates back to 1684 when the first French ambassador was sent to Siam, as Thailand was known at that time. But due to the political turbulence that followed, it was not until 1856 that diplomatic ties between the two countries began in earnest, and a French consulate was established at its current site. Today, the residence on Soi Charoen Krung 36 is one of the most historically significant buildings of its kind in Bangkok. It is rarely visited by the public but as part of this year's European Heritage Days, people will have the chance to take a glimpse at this magnificent structure and imagine how their country dealt with superpowers while teetering on the verge of all out war over one hundred and twenty years ago.
Building harks back to a time with Thailand and France were not such friends
In 1893, French troops were sent into Laos to claim the Laotian territory east of Mekong what was then under Siamese control. Siamese defenders resisted the French troops strongly, leading French commanders to send gunboats up the Chao Phraya River to Bangkok and defeat the Siamese forces at the mouth of the river after a short military engagement. This is later called the Paknam Incident and considered a milestone in the Franco-Siamese War. Soon France gave Siam an ultimatum and forced it to accept very unfavorable terms.
As the French residence is located close to the place where Le Lutin, one of the French battleships that took part in the battle, moored after the battle, visitors will have a golden opportunity to imagine the existential threat that Thailand faced over a century ago. Though bilateral ties between the two countries have warmed in recent times, there is little chance that the French will forget this controversial past period of battleship diplomacy so soon as a copper print image from 1893 depicting Le Lutin anchored next to the residence can be found hanging in the mansion's second floor. The site also used to include a detention center reserved for French nationals who committed crimes against Thai people but couldn't be detained by local authorities, a testimony to how the enforcement of the law in Thailand has changed and improved since that time. On the other hand, the mansion's beautiful dining room also reminds of newer, friendlier times as this is the place where many important Thai figures, such as Thailand's Princess Sirindhorn, have dined the room over the decades as recent guests of the French embassy.
France seen by Thailand as an important, influential country in Europe and key Thai ally

Thailand continues to be interested in preserving and improving warm relations with Europe which is a very important market for Thai business and Thailand's exports. France is till today seen as one of the most influential European powers. Thailand's improving relations with Europe were on display in June when Thai Prime Minister Prayuth Chan-ocha met the French President Emmanuel Macron in Paris and the UK Prime Minister Theresa May in London. On his trip, which included a productive visit to Paris, the Thai prime Minister promised elections in Thailand next year while his Deputy prime Minister was meeting political parties in Thailand to pave the way for a successful elections.
Thailand and France have a warm relationships at this critical time as it returns to democratic rule

Thailand has particularly warm relations with France and during that trip the Thai prime Minister and a strong business delegation made a presentation on Thailand's ambitions economic development programme Thailand 4.0 to French business leaders. In fact, that warm relationship with between the current Thai administration and France could also been seen in comments made by the current French ambassador to Thailand Gilles Garachon in late 2015 when he expressed mild praise for the relative restraint shown by the military government in how it exercised its powers in Thailand even though France is one of the most conscientious countries in the world when it comes to upholding human rights. France has been quite supportive of the Thai government's programme as it readie sthe country to return to democratic rule in 2019.
French ambassador praised Thailand's support for the fight against global warming
The French ambassador, at the time, praised Thailand for signing up to the global treaty on climate change and pointed to French firms competing in the Thai market as a positive signs of trade between the two countries.
Thailand is the second largest market for France in the Asean region after Singapore and over half the French people who visit the Asia Pacific region journey to Thailand. In 2016, this  represented 740,000 French visitors to Thailand. There are nearly 300 French business concerns already operating in Thailand, mainly in the service industries and it is hoped that this will be boosted by French participation in Thailand's ambitious 4.0 economic programme.
The French gave Thailand the term for foreigners – 'farang' and they've been coming ever since

In fact, France is one of Thailand's oldest international partners since that first French embassy to Thailand being sent over 300 years ago. In fact the colloquial expression for foreigners in Thailand, 'farang', is reputed to extend from the Thai pronunciation of how the French styled themselves back then as 'francais'. The formal treaty signed between Siam and France in 1856 was the treaty of Friendship and Commerce.