Three people were killed in the bus crash which occurred in slippery road conditions. The bus driver was among the dead. The priority of rescuers was to extract the injured and dispatch the most critical to hospital. During the emergency operation, rescuers encountered a 3 year old boy. He left them deeply upset with his response to their inquiries.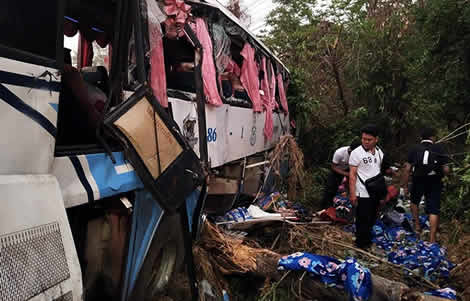 Normally cool and hard headed Thai rescue workers were driven to choked tears this Wednesday night at a poignant incident that illustrates that tragedy of Thailand's road traffic carnage.
This week was another terrible one on Thai roads where, on average, over 500 people die every week. However, one poignant incident on Wednesday night stood out. It left hard headed and experienced emergency rescuers emotional with many even shedding tears.
Three dead and 10 seriously injured in road accident
The accident occurred on Thailand's Nakhon Ratchasima province in the north east of the country. It was one of Thailand's many lethal bus crashes. Three people died in the accident and thirty two people were injured, 10 of these were reported to be in serious condition in hospital.
Bus with 44 passenger hit a three
There were 44 people on the bus traveling from That Phanom to Bangkok. Phanom is a district in Thailand's Nakhon Phanom province which borders Laos on the Mekong River. It is reported that the bus was travelling at high speed along the road in rainy conditions when it reached Noen Sung in Nakhon Ratchasima in the centre of the province. The passenger bus appears to have spun out of control on a highway and then to have hit a tree.
Hard headed Thai rescuers reduced to tears by interview with 3 year old Laotian boy
In the aftermath of the accident, as the injured were extracted and emergency workers worked to dispatch those in a critical condition, they came upon a three year old boy, barely yet able to walk. When asked by rescuers about his condition, he pointed to one of the dead bodies lying covered on the ground. 'I'm not hurt,' the little man said. 'My mum hurts and she is now sleeping under that blanket.'
Thailand's road traffic carnage is killing the most needed in society and the most active
It sums up the heartbreaking tragedy of road traffic deaths in Thailand. Each year, week, day, Thailand's roads claim the lives of the most active and most needed young adults with simply horrendous knock on consequences. The Laotian woman was named later as 39 year old Doung Pimmasorn. The two others killed were Thai woman, Lawan Charoenwong who was 45 years of age and the bus driver who was reported to be in his early 30s.
Please follow and like us: