Thaksin's honours were removed by royal command last weekend in statement in the Royal Gazette which alluded to his flight from Thailand, breaking bail conditions and subsequent conviction and prison sentence for corruption. It comes days after the Thai military also removed honours held by the former Thai prime minister. It has not been a good election for the ex premier even though he played a leading role in its outcome. Last week, in a New York Times opinion piece Thaksin had stinging criticism for the conduct of the March 24th election which he branded as 'rigged' saying: 'This is a terrible, and sad, moment for my country.'
The aftermath of the Thai election which looks like we will see a pro junta government take power again has also seen a number of moves which repudiate the influence and continued role of Thailand's ex Premier Thaksin Shinawatra in Thai politics. The hand of Thailand's former head of government was increasingly seen in the election campaign as it progressed and may have impacted the result in unforeseen ways not all to the benefit of parties aligned with him. His strident criticism of the election in a recent opinion piece on the international New York Times newspaper has also irked many in Thailand. This was before moves against him this week not only by the Thai military but also, most significantly, by Thailand's revered monarchy.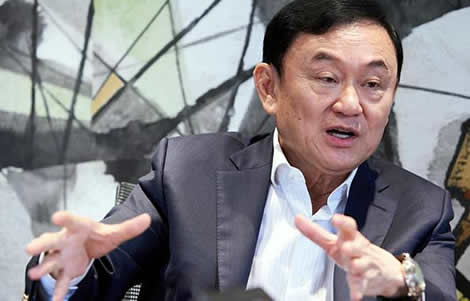 Last weekend, Thailand's ex premier Thaksin Shinawatra was divested of all his honours and decorations from Thailand's monarch. The news came in a command issued directed by Thailand's new King Vajiralongkorn and published officially in the official Royal Gazette.
The statement referred to Thaksin's 2008 decision to jump bail granted by Thailand's courts as well as a conviction and prison term subsequently confirmed against him in corruption charges. The royal announcement described such developments, as well as outstanding legal proceeding against the former Thai Prime Minister, as 'extremely inappropriate' and come after a similar move was initiated last week by the top brass in the Thailand's military establishment.
Election looks like decisive victory for the junta
It comes in the aftermath of what looks like decisive victory for the currently military junta, the new Palang Pracharat Party and Thailand's current Prime Minister Prayut Chan ocha. This has also seen a strongly worded article published last week in the New York Times where the ex Premier criticized the March 24th election and said, in very definite terms, that the election was 'rigged' and that the election result failed to reflect the will of the people. 'More than anything, Thailand should have a government that reflects the will of the people, not the will of the junta. This is a terrible, and sad, moment for my country,' he opined.
Thaksin warns of political instability
The ex premier was particularly critical of the handling of election results on the night of the election. He pointed out that even if a new government is formed in Thailand through the use of the Senate or Upper House, that it will face opposition in the lower house and will be essentially unstable.
Election commission standing by May 9th date for final election results as indicated at the outset
In the last few days, there has indeed been some publicly aired unease in Thailand at the handling of the election results. This has included a nationwide impeachment campaign launched by students and even some protests in Bangkok. Nevertheless, the election commission has defended its performance and insists that it is working to a target date of May 9th, as originally provided for, to announce the final election result.
Pheu Thai unveiled 7 party coalition to form next government last week at a Bangkok hotel
A number of government ministers have warned that it would be wrong to come to any conclusion as of yet in relation to the result or outcome of the election. Prime Minister and Defence Minister Prawit Wongsuwan has warned that there should be no talk about possible coalitions or the shape of any future governing coalition until after May 9th when final election results are confirmed. This was later echoed by another Deputy Prime Minister, Wissanu Krea-ngam, who dismissed a 7 party coalition mooted last week and presented by the Pheu Thai Party at a lunch at Bangkok's Lancaster Hotel.
Deputy Prime Minister warns parties not to count their chickens suggesting disqualifications
It is thought that the Pheu Thai Party will have the most seats in the new lower house of Parliament but, in a surprising election outcome, the pro junta Palang Pracharat Party looks like it has emerged with the highest number in the popular vote. The Deputy Prime Minister also warned that many MPs may face disqualification as, so far, there have been 100 complaints lodged with the election commission over irregularities in the course of the campaign.
Thaksin's high profile at the end of the campaign galvanized former yellow shirt feelings
In the days leading up to the election, the profile of Thaksin Shinawatra, who has long lived in exile from Thailand, was heightened and this appears to have strengthened the pro junta parties who benefited from a hostility towards the ex Premier in certain sections of the electorate who may have voted either for the Democrat Party or the new Future Forward Party. It is also being reported that a statement by the Thai King, on the eve of the election, calling on the public to vote 'good people' into public office benefited the Palang Pracharat Party which has been trying to create a new approach to Thai politics and includes some former political stalwarts of Thaksin.
Thaksin won election as Thai prime Minister in 2001 and was reelected again in 2005
Thaksin was elected Prime Minister in 2001 and subsequently won a landslide victory in 2005. His personal dynamism, skill at communication and populist policies won him a devoted following in Thailand. As a self made billionaire, poorer Thai people were impressed by Thakisn Shinawatra and he delivered his promises.
Decisive and bold personal style grated with more conservative elements in Thailand
Ultimately though, his decisive and bold style of governing grated on more traditional and conservative elements in Thai society as much as it impressed his poorer base. A popular backlash took hold against him from these, more traditional quarters. He was ousted in 2006 by a military coup following street protests which began over a controversial deal to sell his telecommunication holdings in Thailand to a Singapore investment firm under scheme that provided for a minimum of capital gains tax. This galvanised others disaffected with the dynamic prime minister and his fast paced style of government
Thaksin's influence has been a long and strong one on Thai politics even though in exile
The influence of Thaksin Shinawatra has been a strong one since 2001 and after the 2006 coup even as successive governments identified with him have been elected and then subsequently removed. The unwavering support for Thaksin Shinawatra among some Thai people continued through violent street protests against the 2008 to 2011 government of Abhisit Vejjajiva which was installed when a pro Thaksin political party was disbanded by the Constitutional Court.
Thaksin's sister Yingluck Shinawatra was Thailand's first female prime minister
The last government, identified with the ex prime minister was led by Thaksin's sister Yingluck Shinawatra, Thailand's first female prime minister. It held office from 2011 until 2014. Yingluck was similarly loved by Thaksin's base and developed her own particular following among some Thai women. Her government was brought down by a combination of protests, legal prosecutions in relation to corruption and dereliction of duty followed ultimately by an army coup even though she had resigned shortly before that moment came. The coup saw the current Prime Minister take up office.
February 9th nomination of Thai princess by Thai Raksa Chart was a turning point in the election
The startling political development in the recent election was the nomination of Thailand's royal Princess Ubolratana as prime minister by a pro Thaksin party, Thai Raksa Chart, on February 9th last as that party's sole candidate for Prime Minister. The move was a disaster for the party as it, quite rightly, was disbanded for involving the monarchy in Thai politics. While this was ultimately a decision by the Thai Raksa Chart executive, Thaksin was linked with the party. It was understood that his support for that party was part of an election strategy to maximise the number of parliamentary seats for pro Thaksin groups including Pheu Thai. The shock that occurred in Thailand on February 9th 2019 when the royal princess was formally confirmed as a candidate for prime minister, will not be forgotten in Thailand for a long time. The late night issuance of a royal announcement via the Royal Gazette was unprecedented and underlined the serious implications of the move.
Events from that day have damaged Thaksin politically even among his own supporters
The fallout from that day damaged Thaksin's reputation as a politically savvy operator even among his own supporters. Many saw the move as a bold and high profile one which ultimately was damaging politically and may have been potentially even more dangerous for the nation. A high profile appearance by the Thai princess at a wedding celebration for Thaksin's daughter days before the election showed Thaksin welcoming Princess Ubolratana and even referring to the election in Thailand when he made a speech .
There has always been a strict line between the monarchy and politics in Thailand. The royal institution stands above politics in the interests of the nation.
Pheu Thai now reported to be willing to support Future Forward Party leader Thanathorn Jungrungreangkit as Prime Minister
In the aftermath of the election, there also seems to be a high level of co operation between the Pheu Thai Party and Khunying Sudarat Keyuraphan who its most prominent leader and the new Future Forward Party. The Future Forward Party is believed to have won up to 80 seats. Future Forward and Thanathorn Jungrungreangkit represents a break from the pro and anti Thaksin factions in Thai politics. The new party wishes to define its political aims and battles on an axis between conservatism and the Thai army against a more progressive and more left of centre vision for Thailand which it espouses. One report this week suggested that Pheu Thai was even willing to support Thanathorn Jungrungreangkit as a candidate for Prime Minister in any future coalition. However, this still remains an extremely unlikely prospect but may indicate the direction of Thai politics for the future.