The help and support given freely for years by Henk Vanstaen to South African women abused as drug mules and abandoned in Bangkok's Lard Lao women' prison is an uplifting story. The Belgian man, born in Rwanda but living in Thailand, has formed a special bond with Thando Pendu and her close friend 'Babsie' or Nolubabalo Nobanda, another drug mule who returned home to South Africa last month directly after both women were freed under a royal amnesty. The Belgian believes that both women were innocent victims of human trafficking.
Over a month after being granted a Royal pardon, a South African woman was on the verge of returning home this week when the Home Affairs Office in Pretoria instructed the South African Embassy in Bangkok to issue her with a temporary visa. However, behind the story of Thando Pendu, sentenced to 25 years in prison in 2009 is another extraordinary one. One aspect is the amazing work of Belgian 'Angel' Henk Vanstaen who for years has helped abandoned South African women imprisoned in Bangkok. It is an uplifting story. The other aspect of the story however is dispiriting. It is the story of the cynical and evil Nigerian human trafficking gangs who run drugs mules in Asia often delivering women, including some Thai women, up to their deaths or long terms of imprisonment in calculated acts.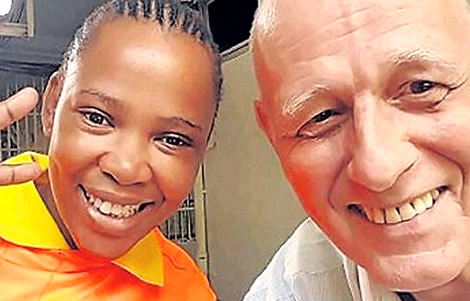 After waiting over one month and following days of international media pressure, the South African Department of Home Affairs has finally granted a South African former prisoner, still being held at the detention centre in Bangkok, a temporary passport to return home. It comes over one month after the woman was made a free woman in Thailand having spent 10 years as an inmate in Bangkok's infamous Klong Prem Central Prison outside Bangkok.
Thando Pendu released early last month following a Royal Pardon on the eve of the Thai King's coronation
Thando Pendu was arrested in October 2008 at Suvarnabhumi Airport carrying 2 kgs of heroin wrapped around her waist and stuffed into her private parts. She has been jailed since and was initially sentenced to 25 years in prison in 2009 before, early last month, being pardoned by the Thai King on the eve of his coronation.
Her close friend Nolubabalo Nobanda was arrested in Bangkok in 2013, five years later, with 600 grams of cocaine hidden in fake dreadlocks on her head. It was a bizarre drug trafficking incident
74 year Belgian man has acted as an 'Angel' to imprisoned South African women in Bangkok
A Belgian man who has dutifully and compassionately offered support to the South African woman and others like her in Bangkok's hellish Lard Yao Prison for women within Klong Prem prison, Henk Vanstaen, has developed a genuine belief that Thando Pendu and the other South African woman released last month were, unlike many other drug mules, innocent parties.
Thando and her close friend Nolubabalo Nobanda have been featured in books and documentaries 
Vanstaen had even helped and facilitated Nolubabalo Nobanda, Thando's friend, in a communications study course through the University of South Africa which led to the imprisoned South African drugs at one point, teaching prison staff in Thailand English. The two drug mules have also been the subject of documentaries and books focusing on the exploitation of vulnerable young South African women as drug mules.
South Africa women were innocent victims of human trafficking according to Belgian 'angel'
The Belgian, born in Rwanda and living in Thailand, believes the two women were genuine victims of human trafficking at the hands of shockingly evil Nigerian drug traffickers who seem to operate with impunity. Henk Vanstaen had led the protest against the outrageous failure by South African authorities up until Thursday this week for failing to provide the documentation to allow the freed South African woman to finally go home to her family and her own country after 10 years of a nightmare.
Request sent to the South African embassy to issue temporary passport so South African woman can finally go home to her family and a new life
The breakthrough was confirmed on Thursday when South African government official David Halbane who had been the contact at the Home Affairs Office in Pretoria confirmed: 'An official spoke to her parent earlier today. We have sent a request to the South African embassy to issue her with a temporary passport so she can travel home,' he said.
Freed South African woman transferred to a detention centre in Bangkok last week
The 33 year old South African woman had been finally transferred last week from Bangkok's feared Klong Prem Prison and the Yard Lao women's facility there, to an international detention centre where conditions are better. During the week, confusion and obfuscation raged as it has for weeks as the woman patiently waited for what she needed in order to be put on a plane home. A temporary passport.
South African Embassy wanted proof of nationality
The South African authorities had been insisting that she prove her nationality to the South African embassy. It is not clear what the problem or issue was as the South African Home Affairs Office had already confirmed her status as a citizen. The issue seemed to be a communications one or perhaps one generated by official red tape or bureaucracy. Finally on Thursday however, it was confirmed that the necessary permission had been obtained for the South African embassy in Bangkok to grant the South African woman a temporary passport.
Pardon granted in early May saw many foreign prisoners in Thai prisons benefit
Earlier in May, a Royal pardon or amnesty was granted to a wide range of prisoners in Thailand's overcrowded prisons. The sweeping royal pardon affected many foreigners particularly those serving long sentences for drug dealing and trafficking where a large proportion of the prison sentence had been served and even for those recently jailed, there were significant remissions in sentence.
Thando Pendu imprisoned after mysterious tip off to Thai police, given up by her captors
One of these prisoners was black South African woman Thando Pendu for whom the Royal pardon meant freedom from Thailand's infamous Klong Prem prison where she has been incarcerated since late 2008 when she was caught red handed with drugs strapped to her body at Bangkok's Suvarnabhumi Airport attempting to fly to Japan. Her arrest came about as the result of a mysterious tip off to Thai police. This tip off, according to her friend, Thai resident Hank Vanstaen, was made by the drug traffickers who lured her to Thailand as a victim of human trafficking and then found that she was of no further use to them. The reason, she could not swallow drug packages.
Young woman was offered a job in Bangkok driving ambulances and naively believed
The South African woman's nightmare story began in the Free State in South Africa where she has offered employment in Bangkok on the pretext of driving ambulances. The young, naive South African girl had never driven an ambulance or any vehicle in South Africa before. It was a human trafficking scam.
Landed in Bangkok right down into to the reality of life as a drugs mule for a Nigerian gang
Once landed in Bangkok, the South African was told bluntly that she was to become a drugs mule and owed money to the drugs ring that had paid her airfare and expenses. Refusal to cooperate would mean death. She was locked first in a hotel room and later in a small condo. As it was, it was a virtual death since the tip off resulted in her being sentenced to 25 years in Bangkok's notorious Klong Prem or specifically the Lard Yao prison for women, a hell on earth, even for Thai prisoner but in particular for an African woman.
Red tape and obfuscation tempers joy of freedom after Royal pardon before flight home
Thando's joy at the Royal Pardon being issued by the new Thai monarch was tempered by the paperwork or red tape problem. It was particularly frustrating to see her fellow South African drug mule and prison mate Nolubabalo 'Babsie' Nobanda leave without her. Both were victims of a Nigerian drugs trafficking gang and ended up serving a long sentence together. Both were innocent victims according to Henk Vanstaen who openly admits that many of the other drug mules jailed at Klong Prem were probably guilty of their crimes.
Over one month after being granted freedom and still behind bars because of South African bureaucracy
This week, over one month after she was declared fee, Thando Pendu was still behind bars in Bangkok. Family and friends of the 33 year woman were waiting in South Africa to welcome her home and her expenses were paid for though friends and supporters but Thai authorities insisted on having a passport or positive identification so that the South African woman could be officially deported back to her own country. The unfortunate South African woman had to wait, after she saw her fellow South Africa inmate Nolubabalo Nobanda, also jailed as drug mule, quickly released from the notorious Thai prison and return home.
Belgian born in Rwanda but living in Bangkok has helped abandoned South African women in Thai prisons, he believes in the two South African women
Henk Vanstaen, a retired businessman who lives in Thailand and is of Belgian descent but was born in Rwanda, has for many years dedicated his life to assisting the abandoned South African women languishing in Thai prisons having been used as drug mules. He is no bleeding heart but he has believed, for some time, in these two South African women, Thando Pendu and Nolubabalo Nobanda.
Failure to expedite release of South African woman shows a lack of concern by her country's authorities
To him and others who work to support these women, the failure to secure the South African's woman's release in the last month is another symptom of a 'couldn't care less' attitude from South Africa authorities towards the South African nationals who find themselves jailed in Thailand. He has long been critical of the poor support being offered by South African authorities to South African nationals incarcerated in Thailand.
No clarification, explanation on why the woman has been left in prison for over one month
Despite the temporary passport now being issued, it has not be clarified what exactly held up the release of the woman for over one month. When she was arrested in 2008, Thando Pendu was in possession of a passport issued in May 2008 in South Africa and which expired on the May 2018. It appears that authorities in Thailand required that Thando's nationality be verified through the South African embassy in Bangkok. This had proved to be difficult for some reason and the matter has dragged on while the legally free South African woman remained behind bars awaiting her repatriation.
'She was simply a victim of human trafficking'
Speaking to the Daily Dispatch newspaper in South Africa on Wednesday this week, Henk Vanstaen could not hold back his annoyance and disappointment over the situation. 'She is officially free. She served 10 years in a Thai jail when she was simply a victim of human trafficking. But now they are punishing her even longer. All they have to do is confirm her existence,' he cried from Bangkok.
Plane ticket ready to allow Thando to fly home
It was reported that funding for the jailed South Africa woman's plane ticket home is in place. The family of the convicted drug mule in South Africa appointed the Belgian man as a spokesman for them in order to resolve the red tape quagmire or confusion that caused the delay.
South Africa agencies pass the buck prior to authorisation to issue a temporary passport
In South Africa, it is reported that a spokesperson for the country's Home Affairs office suggested that the matter was one for the Department of International Relations and Cooperation. The Belgian man, assisting the South African woman, however was adamant that the verification required in Bangkok as to the citizenship of the jailed woman had to come from the South African Home Affairs Department. It was also reported that the South African woman had supplied her birth certificate number to Pretoria but there was no response until Thursday when the breakthrough came. It appears that the South African Embassy in Bangkok should have formally requested the confirmation from the Home Affairs Office in Pretoria and not the press!
Belgian man has been scathing in criticism of South African authorities and neglect of South African prisoners in Thailand
In a press interview with the South African newspaper, The Mercury, in 2014, Henk Vanstaen was scathing in his criticism of the South African authorities and their care of South African nationals imprisoned in Thailand. Not just the embassy in Thailand but also the South African police in relation to human trafficking of South African women outside the country's borders.
Vanstaen had formed a special bond with the two South African women released under the pardon
The Belgian man who is a permanent resident in Thailand, has repeatedly said that he believes that Thando Pendu, who was arrested in Bangkok in October 2008, while in her twenties, was an innocent victim of human trafficking. He is similarly sure about Nolubabalo Nobanda who was released last month, straight after the Royal pardon was announced. Vanstaen knows this South African woman by her nickname, Babsie. The Belgian man has formed a particular bond with the two South African women who he feels have been wronged.
South African deliberately set up for arrest to protect their human traffickers
He explained that amount of cocaine found hidden in Babsie's dreadlocks when arrested by Thai police in Bangkok would not have been worth the price of her plane ticket. He explained how the drug traffickers give up drug mules who are no longer any use to them. He believes that the girls like Thando Pendu are not only victims of human trafficking, having been tricked and forced to act as drug mules, but then later deliberately given up so that by being incarcerated they cannot reveal more about their handlers and are also discredited.
In 2014, he helped both women to apply to the then Thai King Bhumibol for a pardon. This including getting supporting letters from the girl's families and even examination results from South Africa.
Has felt these two South African women should not have been imprisoned in Thailand
In his weekly interactions with all the South African women he helps, he has gotten a feel for the truth of their positions and life stories. Being a successful businessman, Vanstaen is shrewd judge of character. He knows that most of the South African women held at Lard Yao women's prison in Bangkok are probably guilty and deserve to be there. Not so with Thando Pendu and her friend Nolubabalo Nobanda also known as 'Babsie'.
Belgian has found it easy to track down the women's human traffickers on Facebook
Vanstaen revealed that he is astonished at the detailed information that the girls have about the people that handled them. Thando Pendu was sent to Suvarnabhumi Airport with 2 kg of heroin strapped around her waist and more product stuffed into her vagina.

Someone tipped of the police and she was arrested. Hank Vanstaen has gone out of his way to track the handlers down. He revealed it was easy, even on Facebook. Similarly, he is astonished that police in South Africa and elsewhere have not interviewed the girls about the low life people who inveigled them into the drugs trade and destroyed the best years of their lives. Vanstaen says that most of the handlers are online and boast about their wealth and lifestyle. All, significantly, are Nigerian.
Role of Nigerians in drug trafficking and the use of drug mules is a dominant one
The role of Nigerian nationals in Thailand who recruit drug mules is one that has never been properly investigated or fully exposed. Many Thai women also have also found themselves facing stiff sentences and even on death row in Vietnam, Malaysia and China as a result if being duped by Nigerian handlers. Many of these Nigerian drug traffickers have, in the past, come to live in Thailand on study visas. Since Thailand moved, in the last two years, to strengthen its borders, life is thankfully become more difficult for these people in Thailand.
Nevertheless, some unfortunate Thai women have even gone to their deaths in China, executed by lethal injection in the past without any voice being raised about the outrageous activities of those behind the scenes, using vulnerable women and destroying their lives and that of their families.
Police in South Africa have never interviewed the South African girls about the human traffickers
Henk Vanstaen says that the South African woman who initially recruited Thando Pendu in South Africa has never been interviewed by police in that country. In 2014, he said the the Nigerian handlers seemed 'untouchable' and cannot understand why the South African women, jailed in Bangkok, were never interviewed by the South African police in order to apprehend the human trafficking networks.
Clear and vivid picture of Nigerian drug traffickers
Based on the information the Belgian man has attained in working with the South African girls for many years, he has been able to put together a vivid picture of how the Nigerian drug mule handlers ply their trade. 'When they arrived they were locked up in a condo and a hotel room by Nigerians. The handlers force them, train them, to swallow drugs. They cut whole carrots in half and make them swallow them in one go to get them used to it,' he explained to a reporter in 2014.
Drug mules are 'given up' by their drug trafficking handlers when of no further use
The Belgian man explained that when drug mules can't swallow or conceal the drugs within their bodies, they are 'given up' by the Nigerians. He revealed that one of the South African girls (Babsie) refused to swallow the drugs while Thando Pendu simply could not swallow the drugs. He explained that drug mules, in this way, who are of no use to the drug traffickers are simply given up. The drug mule that can swallow the drugs is then used to ply routes to countries in Asia including Vietnam, China or Malaysia where they face the death penalty if apprehended by authorities. It is a cruel and despicable criminal activity.
Some women have been handed up to face death sentences after being trafficked
Vanstaen explains the staggering extent of the evil that is being employed by these Nigerian gangs. He says that the human traffickers deliberately give their human trafficking victims up to the authorities when they are no longer required deliberately in order that they will be either locked up or face the death penalty. 'The handlers do that so they know the girls won't ever get out and identify them or talk,' he explained.
Belgian has been dedicated to the service of the South African women imprisoned in Bangkok
The Belgian, who is now 74 years of age, has spent three days a week for many years helping the South African drug mules imprisoned in Bangkok Lard Yao women's prison, part of Bangkok's Klong Prem facility. He visits there every Wednesday to spend an hour with selected prisoners on a rotational basis. 'It's hell'  he says, when asked about life in the prison for the South African women. The older man Wednesday visits for an hour at a time on a schedule. This has for years meant that he has been able to support them all. This has included depositing money into their prison accounts sent by their families and helping with their studies or carrying post.
Belgian is just giving back after a good life
The Belgian has, in the past, insisted that he is not religious man or does not see his work as missionary one. Born in Rwanda of Belgian parents, Henk Vanstaen has done well in Thailand where he started his career working for a Swedish company before later setting up his own business. This work, in his later years, he sees as his way of giving back.
'They are special girls'
Vanstaen revealed that the woman in South Africa who recruited the younger 23 year old Thando Pendu for work in Bangkok ostensibly driving ambulances in Bangkok was a close friend of her mother's. 'Thando and Babsie, they really are special girls. They are from rural places. They were so naive. Babsie was asked by a friend if she wanted to go with her to Brazil to buy hair products. Thando was offered a job by her mother's best friend to drive ambulances in Bangkok. She didn't even have a driver's licence.'