Is Thailand ready for the ride: The arrival of new technology and the global scramble to secure trade means that Thailand can no longer count on business as usual. Perhaps the only area of the Thai economy that his may apply to is tourism and the only way that could fall apart is if political tensions spill out onto the streets. Thailand's auto industry, the symbol of Thailand's arrival as an industrialized economy, now illustrates the challenge being faced as electric cars drive on to the world stage and countries begin to phase out petrol and diesel engines.
Thailand's economic situation is declining as the newly royal endorsed Prime Minister ponders his next cabinet which will see new faces from a range of political parties work alongside long serving minister from the previous administration. It is reported that Thailand's Deputy Prime Minister and economics expert, Somkid Jatusripitak, will serve in the next government. The problem is that as well as a highly damaging trade war between the US and China, Thailand is now facing the arrival of the new economic era of digital trade and electric cars that has only been talked about for so long. Demand for electric cars, for instance, is one of the reasons for the decline in Thailand's auto industry in the last 12 months.
Thailand has plans in this area with a number of exciting firms and organisations. For now, however, only 10,000 vehicles in Thailand are electric out of 37 million. That is 0.02%. European countries have already set dates for the phasing out of conventional vehicles. Is Thailand ready for these changes?
In addition, consumer confidence in Thailand is at a 15 month low. A tightening of credit and lackluster farm prices are part of the reason. Thailand's huge black economy which could be as high as 50% of economic activity, is threatened by technological changes and the tightening of credit. The farming sector which employs up to 40% of Thai people, is suffering from the twin threats of trade competition which has morphed into warfare and the highly valued Thai 'mega baht' that has made Thai farming produce simply too expensive to sell.
As Thailand rolls out its plans to embrace the new digital economy and electrical vehicles employing new firms and educated young graduates, it is in danger of producing a similar divergence as we see in Europe which may leave many Thai people behind. However, Thai people have often shown great innovations skills and perhaps they will find new ways to adapt in the fast changing world is right now upon us.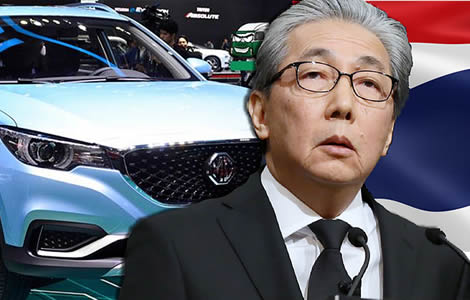 It is expected that Thailand's economics czar, Deputy Prime Minister,Somkid Jatusripitak, will still take up a similar role when the new government is announced shortly by the Thai Prime Minister Prayut Chan-ocha. The scale of the economic challenge, now presenting, is vast. The new government is coming into power at a time when consumer confidence is at a 15 month low, the country's auto industry and manufacturing is reeling from the impact of the US China trade war and perhaps just as significantly, technology changes and shifts have arrived that threaten to make redundant whole sections of the Thai economy.
Economic challenge will require political cooperation
Talk of political tensions and instability also does not help but it may also occur to Thailand's political leaders that the scale of the economic challenges that have developed quietly over the last 12 months may convince some that the time may yet come for cooperation across the political divide.
Thailand has been anticipating the biggest free trade area in the world in 2020 but bickering between India and China is holding things up
One of the key aims of the new Thai government is to commit and double down on the value of global trade on a non friction basis. The Deputy Prime Minister is known to be the champions of such a course. Howver, this is already beginning to look like something from another era. The huge Regional Comprehensive Economic Partnership (RCEP) trade agreement, including economic giants such as India and China as well  as other Asian and Pacific economies, has long been targeted as a significant event for Thailand's economy.
The trade agreement is not yet in force but was planned to be operational in 2020. It would account for nearly 40% of total world trade and be, by far, the biggest free trade agreement in the world. The problem is that bickering has broken out between Indian and China.
It is reported that India is the party presenting obstacles to the agreement, at this point, with fears that by allowing full market access in India to Chinese firms, it would be damaging to Indian operators and its economy overall. Indian has been offering only limited access to China. Negotiations between the parties is ongoing and being assisted by other countries to the pact.
Thailand's tourism industry is holding up well and 2019 could still be record year
Meanwhile, Thailand's tourist business is performing steadily this year and may yet reach a figure of over 40 million visitors or another record year. The industry represents 18% of Thailand's GDP and is projected to generate up to ฿3.4 trillion in revenue this year.  Last year, over 25% of visitors to Thailand originated in China and the Tourism Authority of Thailand has been working hard to bolster these figures to taking advantage of the dramatic fall off of Chinese visitors to the United States which was down barely 6% last year, the first drop after 15 years of sustained growth due to heightened trade tensions.
Working on attracting more Chinese and Asian visitors to the Land of Smiles
The Thai tourism authority's five Chinese sub office are working hard on this. The problem may be that the downturn in China may put many Chinese visitors off going abroad at all this year. Even so, Thailand's position as highly successful brand in world tourism is assured. The country's focus now must also is on preserving the quality of tourists, sustainable infrastructure and as well as the brand and goodwill itself.
Western foreigners keep coming to Thailand
Tourism is an industry that has served Thailand well. It will continue to do so with many tourists, particularly western foreigners, visiting Thailand more than once a year making it a second home from home. Thailand's tourist chiefs are now looking to other Asian countries this year as a source new visitors.
Political parties working in government will bolster confidence once a coherent policy is followed
The new Thai government is currently in the process of being formed as the Thai Prime Minister settles in after being royal endorsed his week. The political tensions and speculation as to who gets the prized economic portfolios will ultimately be for the PM himself to decide. Political deals have already been made between the Democrat party, the Bhumjaithai party and the governing Palang Pracharat party. Keeping a functioning coalition of parties in government will help bolster confidence. It is expected that Deputy Prime Minister Somkid Jatusripitak, Thailand's economic czar will be part of the new government to ensure coherent response to the economic challenges ahead.
Thailand's auto industry on a path downwards
The new government will take power with an emerging range of problems besetting the economy. For the last nine months the country's auto industry has been facing an unprecedented crisis brought about primarily by the US China trade war. The domino effects of the trade war has seen Thailand's auto exports decline. Even in the first four months of this, the President of Thailand's Thai Auto Parts Manufacturers Association believes exports are actually down by 4%.
Second half of 2019 is not looking good
The outlook for the second half of the year for this powerful segment of the economy is also not predicted to be good. In addition to the brutal effects of the trade war and tariffs, the industry is also facing other challenges. At home, the stability of the government has become a consideration with its slim margin the lower house and talk of possible street protest sending a shiver through those who recall the dark days of 2013 and 2014.
Switch to electric car has already arrived with sharp decline worldwide car sales
In addition to this, the sudden switch and shift of focus by global auto firms to electric cars and hybrids in response to the climate change controversy, is also a disruptive factor. It has already become an underlying deterrent to growth. Market demands for cars is actually falling worldwide and the move to these cleaner cars is not helping Thailand's auto industry, at least for now.
Nissan outlines its vision for electric cars in Thailand
There are calls from some quarters in Thailand for the kingdom to speed up its own electric car industry. At a recent forum on electric vehicles in Thailand, Sanpetch Tangsawapark who is the Vice President for Corporate Planning, Marketing and Sales strategy for Nissan Motor (Thailand), outlined the future as he sees it, for electric cars in Thailand. He was speaking at a forum in Bangkok to preview the industry and its development. 'We will see many innovations, such as vehicles that can be connected via the internet, self-driving models and technology that allows us to communicate directly with the wife and kids at home,' he said.
Millenials embrace electric cars while 44% of Thai people plan to purchase an electric car next
The Thai government itself has made it a formal policy to embrace the move to electric cars both for use in Thailand's home market where such vehicles can help cut emissions and address Thailand's growing problem with urban smog and particulate matter in the air and also Thailand's industrial base. There is talk of linkimg the manufacture of such vehicles with self driving technology and artificial intelligence centered on Thailand eastern corridor where advanced industry is to be developed. It also advances Thailand's goal of becoming a manufacturing hub for the industry supplying the Asean market.

The Nissan Vice President, at the forum, said that even now in Thailand, 40% of electric car buyers are millennials. The smartphone and its use in driving is very much part of the new consumer experience. The Nissan marketing executive had suggested that their own surveys showed that 44% of Thai people are interested in purchasing an electric car as their next automobile.
New MG electric car for launch later this month
MG in Thailand has announced that it is to launch a new electric MFG model the MG ZS EV later this month with a price tag of ฿1.5 million
The new MG will have a 44 kilowatt battery with 150 horsepower and will have a fully charged range of 337 kilometres. Pongsak Lertruedeewattanavong is the Vice President of MG Sales (Thailand). 'Most Thai and foreign car makers are still reliant on the general compression engine technology and they have faced environmental and energy issues,' said Pongsak. 'To overcome the challenges, many car manufacturers are striving to reduce emissions as much as possible. They have turned to alternative energies and innovations to tackle the issue.'
Thailand has yet to announce a phase out of conventional cars on the kingdom's roads
Unlike many countries, Thailand has not yet announced any move to phase out conventional petrol and diesel cars. But many in the motor industry, even among Thai based firms, believe that this might be the way of the future.
Thai company at the cutting edge of electric car technology is already highly profitable
A number of Thai companies are already hard at work bringing the electrical car to the kingdom of Thailand. One of those companies is Energy Mahanakhon which is subsidiary of Energy Absolute (EA). This is a SET listed company based in Din Daeng in Bangkok. The company is already highly profitable with activities in biofuels, wind and solar energy. The company has recently entered into a joint venture to develop high powered lithium ion batteries in Thailand with a firm in Taiwan.
Orders for 4,500 electric cars at Bangkok Auto Show this year held at Muang Thong Thani
Theerapol Wonglertpichit is a technical director with the fast growing firm. He outlined, at the recent forum on electric vehicles in Bangkok, his firm's plans to be at the center of the development of electric cars in Thailand. At the recent Bangkok Motor Show in Muang Thong Thani in Bangkok the companies 'MINE Mobility' model received 4,500 orders including a major order from a taxi firm for new electric vehicles to drive in Bangkok.
Company has 400 charging stations already in Thailand and plans to have 1,000 by the end of 2019
EA is already operating 400 charging stations in the kingdom and plans to increase this number to 1,000 by the end of 2019. Already government policy in Thailand is very supportive of this  industry with many of the pioneers anticipating the country becoming a manufacturing base for electric cars in the short term. Yossapong Laoonual is the president of EVAT which stands for the Electric Vehicle Association of Thailand. The organisation is an umbrella of all the key auto industry players in Thailand. It sees the new dawn of electric cars as a new era in the auto industry in Thailand.
10,000 electric vehicles in Thailand but that is only 0.02% of the total, a long way to go
Mr Yossapong revealed that there are now 10,000 electric vehicles in Thailand. This represented a 200% growth from last year. 'We would like to have a turnkey research and development project on electric vehicle technology in the country so that Thailand can be a hub for manufacturing and exports of electric vehicles to potential markets around the world,' he said. However the reality is that Thailand has 37 million conventional vehicles and this still represents only 0.02% of the total.
Electric Tuk Tuks are now a thing in Bangkok
An imaginative and perhaps highly successful scheme is underway to convert Thailand's traditional Tuk Tuk transports to cleaner and quieter electrical vehicles. Currently there are still less than dozen electric vehicles available for sale in Thailand to potential.
Thailand's auto industry now being undercut by Asian competitors in the market
In addition to the challenge of electrical automobiles and vehicles Thailand, the conventional auto industry is being challenged by other Asian countries. Thailand had forged its position in the industry by being a manufacturer and also supplier of parts in partnership with other Asian firms. This approach is now wearing thin as regional competition has become cut throat.
Vietnam is emerging as Thailand's key trade competitor with the advantage of an EU trade deal
Vietnam is emerging as a key competitor to Thailand and despite the talk of an EU trade deal, Thailand is still at a disadvantage since the EU preferred Vietnam to Thailand and signed a trade deal with that country. The president of the Thai Auto Part Manufacturers Association, this week, told the Bangkok Post that the industry is not performing well this year. The outlook is unpredictable. In addition, she said that the continued high value and unpredictability of the Thai baht has many exporters 'very worried' about the future.
Tightening of money supply and manageable rise in bad loans reported to continue in 2019
Thailand's internal economy and consumer market is also suffering from a tightening of money supply and credit. In the long term, this might not be such a bad thing. The prudent and decisive action by the Bank of Thailand in April to toughen lending criteria for motor and property industry now kooks justified given recent figures, just released, for non performing loans for the many Thai commercial banks. They have increased and are projected to increase by 9% in 2019 to ฿487 billion from a figure of B450 billon right now. These figures come from TMB Analytics boss Naris Sathapholdeja.
Bad loans situation is under control, 53% linked with SME business operations in Thailand
However, the good news is that the situation is manageable and under control. 53% of the bad loans are connected with SME firms who are suffering badly in the current economic down turn also buffered by long term trends towards a digital economy. Small Thai traditional businesses are hurting. This is always a harbinger of problems for he status quo.
This may also be a bigger source of concern for the new Thai government as it means that Thailand's huge black economy, which has traditionally offers employment to people when economic headwinds strike, is suffering just as is the traditional farming sector with the exception of some fruit growers.
Consumer confidence index fell again in May
All these changes are reflected in a sharp decline in Thai consumer confidence. It fell in May for a third straight month and now stands at 77.77. The fall is believed to be driven by political uncertainty but it is perhaps more driven by tightening of credit and a deterioration in economic conditions affecting the less well off, living on pay check to paycheck in Thailand. The low level of return from Thailand's huge farming sector, facing stiff competition from other Asian countries and exacerbated by the strong Thai baht contributes further to a dim economic outlook.