Doctors found some colored tissue in the star's nasal cavity. This led them to conduct tests which tested positive for a rare form of TB which develops behind the nasal cavity and shows no symptoms. When the star developed nosebleeds on June 11th, the disease had already succeeded in destroying her vital organs. 'Numtarn the Star' died three days later.
Doctors at Bangkok's elite Siriraj Hospital on Thursday finally identified the 'mystery' illness that killed one of Thailand's best loved showbiz stars nearly two weeks earlier. They revealed that Butsaran Thongchio or Numtarn had died from a rare form of tuberculosis which does not show any symptoms but which is nevertheless just as lethal for human beings. The doctors explained the nature of TB in Thailand pointing out that the bacteria develops in other in parts of the body outside the lungs. They warned that it is still a substantial health threat and that the Thai public should have annual health check ups.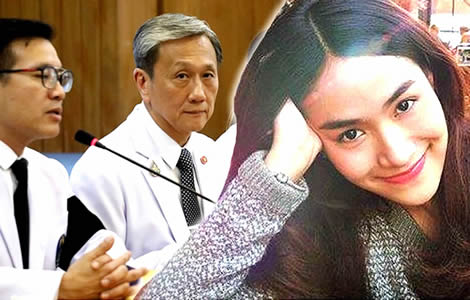 A famous Thai singer and actress who died suddenly two weeks ago, was suffering from a very rare form of Tuberculosis according to top Thai doctors in Thailand's elite Siriraj Hospital. Doctors at the hospital began a thorough inquiry after public concern. The beautiful young star appeared in perfect health up to three days before her death on Friday June 14th last. They delivered their shocking conclusion on Thursday and warned the public about the need to have annual checkups and to investigate any unusual health symptoms.
Star was most famous in Thailand for her TV role Lieutenant Ran on a Thai TV show
Butsaran Thongchio was known in Thailand as Numtarn or 'Numtarn The Star' as she had come to the public's attention through a Thai reality TV show where she was given the nickname. The singer, actress and daughter of a recognized Thai director, was most widely known in Thailand as Lieutenant Ran from a Thai TV show that was aired from 2007 to 2016, Phu Kong Chao Saneh. She recently featured in the hit Thai TV sitcom 'A Time for Love' in 2018. The attractive 28 year old star was also an acclaimed singer. The first her family knew of any health problem was on Tuesday June 11th last when Numtarn was rushed to hospital after starting to bleed profusely from her nose. She ended up at Siriraj Hospital, considered to be Thailand's best hospital. However, just days later, on June 14th, the star was dead. It shocked Thailand and indeed doctors treating her.
Star appeared to be infected  from a 'mystery' illness that caused her death in three days
It was reported that the star had become infected with a disease that had attacked and laid waste to her vital body organs. Naturally, the death and news from the hospital left her fans bewildered and members of the public anxious. The young star had lived in a rural location, 50 km from Bangkok. She was known to be a young woman who led an upright lifestyle. The death of Numtarn sparked reports of her death from a 'mystery' illness in Thailand.
Siriraj Hospital's top doctors began an examination to find the medical answer
At a loss to explain the star's demise, a full examination was carried out by top doctors this week. They later found themselves in a position to explain the underlying medical cause for the young woman's tragic death. Professor Dr Prasit Watanapa briefed the media on Thursday. He is the Dean of Mahidol University faculty of medicine at Siriraj Hospital. He explained that doctors noticed that some tissue in the star's nasal cavity was an unusual color. 'Now, the result confirms that she tested positive for tuberculosis,' the medical expert this week announced.
He outlined how an advanced test using a chain reaction technique showed DNA traces if tuberculosis in the young star's body.
Press briefing hears how TB in Thailand develops outside the lung area of the body
The doctors used the press briefing to explain that, contrary to popular knowledge, tuberculosis develops outside the lungs. In 2017, they revealed that some 80,000 Thai people contracted TB and nearly all these except for 83, were infected with the bacteria in other areas of the body. The doctor explained that in 1% of cases, the infection occurs behind the nasal cavity.
One third of those infected by the bacteria in the nose show no symptoms at all
Dr Prasit explained that medical research worldwide has shown that about one third of people who develop tuberculosis behind the nasal cavity fail to show any outward symptoms of the infection. In other cases, this sort of TB resulted in enlarged lymph nodes and a lump in that area. The doctor said that the star's untimely death and medical story illustrates the need for Thai people to become more aware of the threat of tuberculosis. It is still a serious concern in Thailand. He urged the public to have an annual checkup for the disease and certainly to visit a hospital with any suspicious symptoms.
Symptoms that may be suggestive of tuberculosis include unexpected weight loss with no reason, a distinct lack of appetite, low fever or lumps in the body. Any of these symptoms should be investigated by a health professional.
Doctors express a hope their investigation can give closure to fans of the Thai star
The doctors at Siriraj said they hope that the clarification of how Numtarn died would help her fans understand how the well loved star, a young woman who appeared to be the picture of good health, died so quickly.
Dengue fever in Chiang Mai claims its first victim this year as schoolboy dies on Wednesday
Thailand's northern region is the midst of dengue fever epidemic as authorities scramble to deal with the outbreak. This week saw the first death from the health threat, a 12 year old schoolboy in Chiang Mai.
An official at the Chiang Mai Public Health Office however was anxious to assure the public in the region that the death of Chanon Jomputu, who died on Wednesday, was not due to a new strain of the virus. He scotched such reports as rumors.
Boy released from local health clinic on week prior to his death but his condition worsened
It is reported that the young boy became infected with the virus in Pang Kwai village. He was taken to be treated at a local clinic in the Fang area on the Wednesday previously and later sent home. The boy's condition deteriorated on Sunday last and he was taken this time to Fang hospital. From there, he was moved to Nakhon Ping Hospital where he as given blood but the young boy died in spite of the treatment.