German man Maximilian Fernsebner was only arrested after two days hiding in a local creek where he used a straw to submerge himself in water after he became the subject of a Thai police manhunt in rural Nakhon Ratchasima province. The German man was the subject of a viral video in May, made by a passerby, which showed him helping his Thai wife as she tended to her mother's barbecued chicken stall as his mother in law was ill. This was followed by a stampede of national broadcasters looking for the story of the German and his Thai wife. It was an unfortunate combination of events for the foreigner which ended his tranquil life in Thailand where he was evading serious criminal charges awaiting him at home in Germany.
A German foreigner or 'farang' who was the talk of the town in Thailand in May is now in Immigration police custody and will be deported from Thailand to German within the week. Thailand's Head of Immigration, 'Big Oud' Police Lieutenant General  Sompong Chingduang told reporters on Tuesday that the demise of the man and the discovery of an Interpol arrest warrant linking him to a string of serious crimes in Germany including drug dealing and the sale of child pornography, only came about after Thai National TV stations began to approach the foreigner to appear on their shows.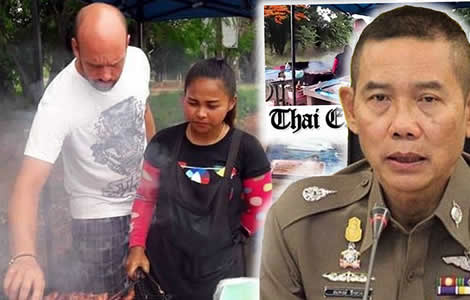 A German man wanted on a range of criminal charges in Germany will be deported from Thailand within the week. This was confirmed today by Thai police. The 24-year-old Maximilian Fernsebner has already been convicted and fined ฿6,600 for immigration offences including entering Thailand without a visa in October 2017.
German arrested in Nakhon Ratchasima at the end of June after a 2-day manhunt
The German man was arrested at the end of June after police enquiries including a tip-off from the Geman embassy in Bangkok. 34-year-old Maximilian Fernsebner had in May become an internet sensation when an amateur video shot by a local, showed the  German man earnestly assisting his Thai wife at a grilled and barbecued chicken food stall in a rural area of Nakhon Ratchasima in northeastern Thailand.
Numbers of foreigners marrying Thai women growing all the time including more younger men
There is still a growing number of foreigners lately including younger foreigners, marrying Thai women in Thailand. In the last 2 decades, not only are foreigners taking Thai women to live foreign countries but they are also increasingly settling in Thailand where the simple, low cost, low-pressure way of living holds a lot of appeal for stressed-out westerners. This and the love of a good woman counts for a lot. For Maximillian Fernsebner, this appeal was greatly strengthened by the fact that he was already on the run from German authorities for a range of very serious crimes.
German arrived in Thailand in 2017 on the run
The German man had arrived in Thailand in 2017 and quickly met a Thai woman whom he developed a relationship with. The man on the run was facing charges including selling drugs online, child pornography and robbery. These pending criminal actions against the German were confirmed this week by Thai police officer Chatchawan Thippichai of the immigration bureau and also separately by the head of the immigration police in Thailand. Police Lieutenant General Sompong Chingduang briefed the press on Tuesday.
Interpol warrant for the arrest of Maximilian Fernsebner issued after he arrived in Thailand
Once in Thailand, an Interpol arrest warrant was issued in respect of the German national. The Thai police explained this week that this was not received by them until after the German man had arrived in Thailand. The German moved quickly to avoid being arrested under the warrant in 2017. In October that year, he left Thailand, at least officially. His exit was recorded by immigration authorities at Nakhon Phanom province as the German entered Laos.
However once in Laos, the German hired a boatman to ferry him back across the Mekong River and into Thailand by a well-known route. The 34-year-old then returned home to the Pak Chong area of Nakhon Ratchasima province to live with his Thai wife. 
May internet viral sensation brought about the end of German's sojourn in the Land of Smiles 
The incident that blew Fernsebner's cover happened in May this year. The German was helping his Thai wife manage a food stall which belonged to his wife's mother who will ill. Then along came a Thai man with a video camera who thought the sight of a foreigner working at a lowly Thai food stall was one to capture. He was right. The video became an internet sensation.
In Thailand's machismo society, the sight of a man or 'farang'  assisting his wife to cook is amazingly something of interest to Thai women
The reason for this is that Thailand, being a machismo society, seldom sees Thai husbands or men engaged in such activity with a spouse. Also, foreigners in Thailand are understood by Thai people to be wealthy. The act of the German man or 'farang' assisting his Thai wife played very well with Thai audiences. It was unheard of. Thai women, while they are always supportive of their partners, regard such acts in a very positive light. It signals respect and gratitude for the unending Thai woman's help to her spouse.
Growing communities of foreigners with Thai wives and foreigners around the world
 In spite of the number of foreigners marrying Thai women, the media story is still one that generates strong interest as the phenomenon continues to grow to such an extent that there is now a substantial community of foreigners in Thailand married to Thai wives and similarly, an even bigger community of Thai women living abroad married to foreign men. 
Thai national TV stations approached German man in May, he declined them all
In May, the viral video of the German man preparing barbecued chicken with his wife working in perfect harmony together drew the attention not only of the Thai public but also several Thai national broadcasters. They all approached 34-year-old Mr Fernsebner to appear on their TV shows. He declined them all.
It is not clear who tipped off who but it does appear that the German embassy was quickly involved in the issue. This prompted an investigation at Thailand's immigration bureau where police dug out Mr Fernsebner's details. They discovered from their records that he had left Thailand in October 2017. They then unearthed the Interpol warrant for his arrest.
Thai police were quick to join the dots
Thai police were not long joining the dots. Chatchawan Thippichai of the Thai Immigration Bureau: 'The news led us to check his immigration record and we found that he entered Thailand illegally because the last record was when he left Thailand for Laos in October 2017,' he said this week. 'Upon further inspection, we also found that the man is wanted by the German authorities. We didn't know about his crimes at first because the notice (Interpol warrant) was issued after he fled to Thailand,' he explained to the media.
This sequence of events was confirmed by the Immigration Bureau Chief Police Lieutenant General  Sompong Chingduang on Tuesday last. 
Police squad sent to Nakhon Ratchasima province to arrest the German man on the warrant
At the end of June, a Thai police team went to Ban Pong Prathun in the Pak Chong district of Nakhon Ratchasima province to arrest Mr Fernsebner based on the Interpol warrant and for immigration offences. He was nowhere to be found. The German had gotten wind of the police search and fled to a local creek to evade arrest.
The police team were two days searching for the elusive German
The Thai police unit sent to arrest him at Pak Chong spent two days looking for the 34-year-old German man. It is reported that Fernsebner hid in the water to avoid them by using a straw to breathe in air. The German managed, however, to put a call through to his mother in Germany. He explained to her that he wanted to give himself up but would only do so to German officials. She arranged for German embassy officials to travel to the home he shared in Nakhon Ratchasima with his Thai wife. He was later arrested there, handed over to Thai police and taken into custody where he now remains pending deportation.
'Big Oud' confirms the role of TV stations in the demise of the German and his expected deportation from Thailand within a week
Thailand's Immigration Chief 'Big Oud' or Police Lieutenant General Sompong Chingduang confirmed this on Tuesday. He also has confirmed that the interest in the man by national TV stations played a big part in his demise as authorities moved to check out his profile. The coverage of the German man and the viral video occurred in May.
It has also been reported that the German man, aside from the charges he faces in Germany, has in the past, been convicted for theft, robbery and offences related to the abuse of young children. He will be deported and gone from Thailand, probably for quite a long time, within the week.
German man in May viral video arrested by Thai police

The German man who appeared in a viral video helping his Thai wife tend to a barbecued chicken stall in May was wanted in Germany in connection with serious criminal charges including robbery, selling drugs online and child pornography. His arrest at the end of June by Thailand's immigration police only came about through a curious set of cirumstances. Read our full report coming up online.James Morris reports fron Nakhon Ratchasima province in Thailand

Posted by ThaiExaminer.com on Wednesday, July 3, 2019