Swedish man who came to Thailand with ฿50 million knew it was the end when he saw the handcuffs. This week, it was the same for German man, Sascha Arnold Durst, who was initially arrested on immigration charges but police later discovered an April 2018 warrant for his arrest after a German court sentenced him to 2 years and eight months in prison over fraud and forgery charges relation to €460,000 or ฿16 million theft in Germany. He has lived in Thailand for nearly four years on a tourist visa with his Thai girlfriend.
Thai police have been rather busy over the last three weeks bringing an end to the Thai dream for a range of European fraudsters living it up in paradise with their ill-gotten gains. The latest arrest is a 45-year-old German man arrested this week on visa overstay offences at a resort on Phetchabun province. On June 17th last, the day after arresting Italian fraudsters in Pattaya in a story publicised worldwide and linked with George Clooney, Thailand police confronted another forty-something European, this time 43-year old Swedish man Roger Nils-Jonas Karlsson with an arrest warrant and handcuffs in the kitchen of his mansion on the island of Koh Chang.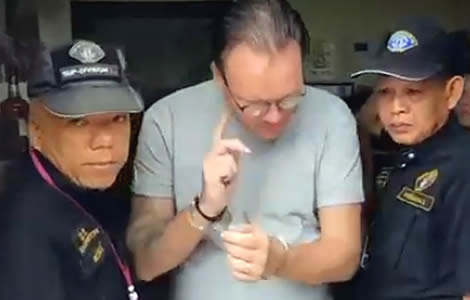 Thailand retains its reputation as a paradise for criminals and those seeking to enjoy ill-gotten gains from around the world. The high profile arrest of two Italian fraudsters Francesco Galdelli and his wife Vanya Goffi on June 16th gathered world attention because the fraud involved movie film star, George Clooney. Many more are just the subject of criminal charges and the use of the Interpol arrest warrant mechanism.
45-year-old German arrested for immigration offences found to be a fraudster from Germany
The arrest of a 45-year-old German in Phetchabun province this week on immigration charges led police to discover that he is also a man who is wanted on an Interpol arrest warrant and already sentenced to jail for fraud and forgery in his home country. The amount involved was €460,000 or ฿16 million. It follows the June 17th arrest of a 43-year-old Swedish man facing a criminal complaint filed in California for money laundering and internet fraud in March this year.
That sinking feeling when two Thai police officers place handcuffs on your hands
The moment that a raiding party of Thai police officers from the elite Crime Suppression Division pull up at your luxurious mansion on a tropical island off the coast of Thailand and bring your 8 years of living a dream lifestyle to abrupt end must surely be a shocking one. Although perhaps not as terrifying as the moment when two Thai police officers, wearing caps, place the handcuffs on each of your hands. Then you know it's all over.
That was the experience of a worldly and slightly grumpy looking 43 year Swede, Roger Nils-Jonas Karlsson, on Monday the 17th of June last on the island of Koh Chang off the coast of Thailand's eastern Trat province. 
Karlsson promised $45,000 in gold for a $98 investment in pension offer online
Mr Karlsson has already been deported to the United States where he is facing a trial following charges by prosecutors in 2013 in relation to a range of fraudulent schemes which the Swedish man had perpetrated on gullible US investors. One scheme promised investors 1.15 kilograms of gold at some point for an investment of $98. At the time his tempting offer was made, the gold would have been worth something like $45,000. 
Simple fraud perpetrated online to gullible US investors saw criminal charges filed in March
Karlsson's schemes were simple fraud using internet sites and a range of offers involving bitcoin investments as well as his gold offer. This was packaged under the title 'Pre Funded Reversed Pension Plan' and promised a minimum return of  97% of the funds invested if the generous gold payment, by some unlikely misfortune, did not occur.
Swede's getaway plan was Thailand
The Swedish man's investment arm was very simple and effective, at least for him. He would simply take the funds invested from his corporate entity and transfer them to his account. At some point, the Swede had already discovered Thailand and earmarked it at his getaway.
Fended off investors with lies and false promises
As questions mounted about his company and money disappeared in losses, the Swede fended off his investors with promised payouts. At one point, he told them that he was working diligently with the banking system to effect payments but that the scale of funds involved necessitated and orderly and gradual payout. The fraudster's claim that a bulk payout on his hugely popular fund would affect the US financial system must have finally brought some investors to their senses.
$11 million lost by investors but Swedish man arrived in Thailand with ฿50 million 
The charges or complaints filed against the Swede in the United States included defrauding nearly 3,600 victims out of $11 million. Some reports suggest that as the end of the scheme approached, the Swede and his partners simply divvied up $3 million in remaining funds between them leaving the Swedish man to jet out to Thailand with ฿50 million. This figure was quoted in June by Police Colonel Arun Wachirasrisukanya who is superintendent of sub-division 2 of the Criminal Suppression Division of the Royal Thai Police.
Warrant to arrest Swede and search his home issued by Trat provincial court
When CSD Thai police turned up at his mansion on the island last month, they were acting to execute an Interpol red notice for his arrest and also to gather evidence at the home where he was living with his Thai wife. Electronic devices were taken from the residence. The search and arrest were carried out after a warrant was issued by the provincial court in Trat. The complaint and charges against him were lodged with the courts in northern California on March 4th this year and unsealed the day after the Swedish man's arrest.
Karlsson is facing up to twenty years in prison. His best hope is some sort of plea deal but prison sentences for fraud in the United States are substantial particularly when the charges involve wire and securities fraud.
German arrested this week at a resort in Phetchabun province in northern Thailand
A 43-year-old German national has been arrested on forgery and visa overstay charges in Phetchabun province. The German man had entered Thailand nearly four years ago in 2015 on a tourist visa and was living with his Thai girlfriend. Immigration police on Friday named him as Sascha Arnold Durst and fully briefed the media. An Interpol warrant for his arrest was issued on April 2018. He was picked by Immigration police at a resort in the Lom Kao area of Phetchabun in north-central Thailand this week.
Already wanted by Interpol and sentenced to prison in German for serious fraud and forgery
Following an investigation into the German, police found that he was already wanted on foot of an Interpol red list arrest warrant for fraud and financial crimes in Germany. It is understood that the man had already been tried by a court in his home country and found guilty of fraud and forgery. Sascha Durst was sentenced to 2 years and eight months in prison. The trial occurred in absentia after the German had fled the county in 2015.
While in Thailand, it is reported that the German had, at one point, run a bar in the neighbouring northeastern province of Chaiyaphum province.
'They stayed in Thailand and never left' – Italian fraudster lived in Pattaya after escape from Thai prison
Crackdown on fraudsters using Thailand as a getaway

End of the line for European fraudsters living the dream in paradise with their ill gotten gains as Interpol warrants are executed by Thai police.James Morris reports from Phetchbun and Koh Chang in Trat. Read his report coming right up.

Posted by ThaiExaminer.com on Saturday, July 6, 2019