The World Bank and Bloomberg last year reported, following an in-depth study by experts, that Thailand risks losing 22% of it future GDP if it fails to do something about the extraordinary level of road deaths in the country, 73% of which are linked to motorbikes. In addition, to up to 24,000 people being killed every year, there are over 100,000 serious injuries which have huge ramifications not just on the basis of loss and trauma but ongoing costs to both the economy and Thai society.
Friends and family of a Canadian man and his Thai girlfriend were devastated this week when the couple were killed instantly in yet another horrific motorbike accident in Thailand. The crash occurred in the Ban Chang area of Rayong province. It again highlights the very real and pressing issue of the number of motorbike deaths in the kingdom where more than twelve people die every six hours from motorbikes including multiple foreigners on a weekly basis.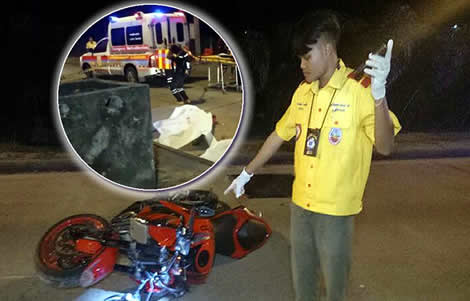 A 43 year old Candian and his Thai girlfriend in her mid-twenties were killed instantly in the early hours of Tuesday morning when the high powered motorbike they were riding spun out of control when it hit a roadside kerb. The couple were flung from the bike and hit a concrete traffic control bollard on the road killing them both instantly.
Motorbike accident victims in Rayong on Tuesday morning were from Canada and Khon Kaen
Thai police have identified the victims. The Canadian was named as Joseph Brian Villeneuve who was 49 years of age while the Thai woman he was travelling with, his girlfriend and relationship partner, was identified from a photo id as 19-year-old Nadda Kaisorn originally from Khon Kaen province. Since then, it has emerged that woman was in fact in her mid-twenties and known as May. Initial press reports described the Canadian as an American national.
Loving couple were on their way from socialising with friends nearby and headed for Pattaya
The horrific accident occurred in the Ban Chang area of Rayong. It is believed that the couple were on their way back from socialising with friends when the accident occurred. It is reported that the Canadian man was visiting Thailand and staying in Pattaya. It is understood that the Canadian and his girlfriend also known as May were in a loving relationship for the last two years. The sight of the two bodies lying on the ground covered awaiting emergency services at the scene was a poignant one on Tuesday morning with the disintegrated motorbike nearby.
High-speed accident involving bollard meant there was no other outcome possible
Police reports in Rayong have revealed that the Canadian had suffered a collapsed skull such was the force of the impact when it collided with the large concrete bollard. The middle-aged man and his girlfriend were wearing motorbike helmets but the velocity at which they hit the obstacle meant that there could be no protection or any other outcome. The Canadian was riding a red Kawasaki 1000 motorbike.
Thai police believe that Mr Villeneuve failed to exercise full control over the motorbike as it rounded a corner and this caused it to veer thus allowing the front wheel to hit the kerb at the side of the road. This conclusion was reached following an analysis of tyre tracks at the scene.
Accidents that cause endless trauma and heartbreak in Thailand and around the world
Sadly, fatal motorbike accidents involving foreigners occur every week in Thailand often with multiple fatalities in any one week period. The danger of motorbikes in Thailand cannot be underestimated and cause 73% of the deaths on Thai roads. That figure is near 24,000 per year with over 100,000 serious injuries. Each death or injury involves a circle of people causing disruption and trauma to countless lives both in Thailand and among families of foreigners living and visiting the country. The frequency of these accidents is neither normal nor acceptable.
Over 12 people die from motorbikes every 6 hours in Thailand, every day of the year
It is estimated that every 22 minutes someone dies on the road of Thailand. For a 6 hour period, this means that 12 people die from accidents linked to motorbikes alone and this happens four times per day. Every day of the year, the death toll continues without respite.
Motorbike injuries and deaths could wipe out 22% of Thailand's potential future GDP
It is, in fact, a serious issue for Thailand obviously first and foremost for the devastation caused to friends and family left behind but also one that is having hugely detrimental economic consequences. This was highlighted last year in a Bloomberg initiative in association with the World Bank which suggested that Thailand could lose up to 22% of its future GDP potential if action is not taken and progress on the issue is not made urgently.
Thai police investigate caucasian foreigner found dead in mysterious circumstances
In northeastern Thailand's Buriram province, Thai police are investigating what looks like the death of another caucasian foreigner found in an outbuilding of the Buriram College of Agriculture yesterday morning Tuesday 23rd July. The investigation team is being led by Police Captain Chalermphol Kaewnate who is the deputy investigation chief in the Mueang area of the province.
Buriram police trying to determine if the death was suicide or murder as plastic bag covered the head
The enquiry is initially trying to determine if the cause of death was suicide or murder after the body of a man was found covered in a blanket and hidden from view behind green metal noticeboard against the wall. The body was found with a plastic bag covering the man's head and firmly fixed in place. The bag was linked by a tube to a small canister of butane gas. Police believe that the body had been lying there for 2 to 3 days before students at the college discovered it.
Post mortem examination to be carried out
The police investigating the scene later found two black plastic bags in which they found a laptop computer and cables. Near the body itself, there was a black shoulder bag containing gloves, scissors and a lighter. Curiously, there were no identification details. The man was wearing a grey shirt with long sleeves and long black slacks.
The body has now been sent to a forensic facility where a postmortem will be carried out. They are working on establishing the identity of the man so that next of kin can be informed.
Further reading or information:
World Bank report warns Thailand of huge potential economic loss caused by road carnage
Italian couple die in Chumphon in another horrific motorcycle accident on Thailand's deadly roads
Battlefield friends help UK man and wife escape medical bill of £12k in Thailand. Now safely home
UK lad was riding his motorbike illegally when killed in January – bike shop fined by Thai police for offence
Dane killed in Phuket bike smash had a Thai wife, son and was a respected online anti vaccine campaigner