34-year-old Mayuree Tuangkesorn was arrested on Thursday by police investigating the case after the boy's mother filed a complaint on Monday. She admitted to biting the child and also revealed to police that he fell down a stairs
A Thai nanny has been arrested in Samut Prakan and brought before the courts for assaulting a 2-year-old boy in her care. The toddler is currently at Phra Samut Chedi Sawatyanon Hospital in Samut Prakan and being kept alive by a respirator and cardiac stimulation. On Friday, the boy's father rushed to his bedside in the hope that his presence may revive the toddler but to no avail. Doctors have told the boys mother and father that there is no hope of him recovering.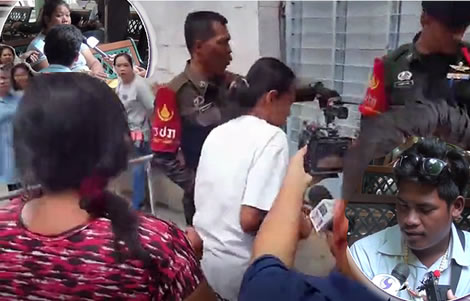 A Thai nanny appeared in court on Friday in connection with charges of causing harm and assaulting a two-year-old boy who was placed in her care a few weeks ago on July 10th by his mother. It is now reported that the boy is in a coma at Phra Samut Chedi Sawatyanon Hospital in Samut Prakan.
The accused woman is 34-year old Mayuree Tuangkesorn. Thai police who brought her before the court on Friday asked for a 12 day detention period while they continue their investigation into the case following a formal complaint made the mother of the boy, 33-year-old Piangkhamporn Boonpat on Monday last, the 22nd July to police at Phra Samut Chedi.
Doctors told mother her son was facing a serious medical emergency last Monday
The mother had taken her son to the local hospital where she was informed that the toddler was facing a serious medical emergency. They also revealed that there were indications and signs that the 2-year-old and been bitten and beaten. The mother was aware that the child's nanny had absconded and suspected that she was somehow culpable for what had happened to her child.
Boy had slipped into a coma by Friday – kept alive by a respirator and stimulants
The medical prognosis for the little boy became bleaker on Friday when doctors informed his mother that he had slipped into a coma. They told her that he had suffered an injury to his brain which had worsened leading to a situation where it was necessary for him to be put on a respirator to breathe and cardiac stimulation. This was the only way the boy was being kept alive as of Friday as doctors consulted with the boy's parents.
Distraught mother says she will as for the death penalty or severe penalty against the nanny
The distraught mother said afterwards that she would call for the ultimate penalty against the woman who she entrusted with the care of her son if she is convicted at a later stage on whatever charges are brought against her in line with the law.
Nanny arrested and questioned on Thursday by police – charged with assault causing harm
Police have revealed that Ms Mayuree, the nanny, was arrested on Thursday in Samut Prakan province. She was questioned intensely by investigation police officers on the injuries suffered by the 2-year-old boy who she had been responsible for. She is reported to have admitted to biting the toddler as he misbehaved and soiled bedsheets. She revealed to police that the boy's injury to his head came about after he fell downstairs.
Police are still sceptical about the woman's evidence and have provisionally charged her with assault causing serious injury to the child.
Father rushed to his boy's side from Songkhla province in the vain hope that the boy might revive
It is also reported that the 24-year old father of the injured boy, Marut Pisala, had on Friday rushed to his child's bedside at the hospital. The man travelled from Songkhla province to Samut Prakan to be with his 2-year-old son. He told reporters that he is overcome by the events and can not properly express his feelings. He said that no one would wish to feel like he feels at this time. The boy's father had come with some hope that maybe his son would revive when he was told his father was at his bedside but there was simply no response.
Doctors held out no hope for the 2-year-old boy on Friday as they consulted with his parents
Doctors have told the mother and father not to hold out much hope as the boy is effectively brain dead. The doctors are consulting with the mother and father to decide on the next course of action which may result in artificial life supports being discontinued.
It is reported that Ms Piangkhamporn and Mr Parut, the boy's mother and father, have already consulted with authorities at the local temple. The 2-year-old little boy's name is Nong Dew.
Nanny charged with assault as doctors say no hope for boy

+ A Nanny who was arrested by Thai police on Thursday appeared in court on Friday charged with assault causing harm to a 2 year old boy. On Friday, the boy's mother and father were told by the local hospital that there was little hope for the toddler who was effectively brain dead.https://www.thaiexaminer.com/thai-news-foreigners/2019/07/27/nanny-2-year-old-boy-samut-prakan-police-charges-mother-father-doctors/Carla Boonkong reports from Samut Prakan province

Posted by ThaiExaminer.com on Saturday, July 27, 2019
Please follow and like us: