45-year-old Candian highlights the lack of psychiatric care for foreigners in Thailand who at times lose their mental capacity and become a danger to themselves and others. It is a growing issue that is leaving a decidedly high death toll and causing heartbreak.
A foreigner who is clearly a menace to locals and expats alike in Pattaya was arrested for the second time last week on Wednesday, July 31st, after harassing craft and swimmers offshore of the resort city and the adjoining island of Ko Lan. After his eventual arrest following hours of playing cat and mouse with police authorities, he continued to taunt and harangue arresting officers who captured him at a marina in Jomtien. At one point during his interaction with the police, the man said that he had 'suicidal tendencies' to police as he challenged them. The statement was an echo of another outburst by the Canuck who on July 14th last while standing with a machete at the top of the roof of his home, brazenly challenged Thai police officers below to take a shot at him.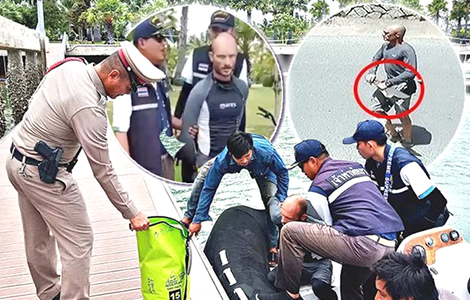 The Canadian man who has now been at the centre of two standoffs and public confrontations with Thai police told arresting officers on Wednesday that he had suicidal tendencies and at the same time challenged a Thai police officer to a physical confrontation if officers removed his handcuffs.
Threatened Thai police with a large machete knife from his rooftop in Pattaya
The scene in which Thai police officers exercised remarkable restraint and patience, came after a day of mayhem caused by the evidently unstable man on the seas surrounding Pattaya and the beautiful island of Ko Lan. It came just over two weeks since the man was arrested by Thai law enforcement officers for threatening police and locals with a large machete knife on a road and at one point while standing on the top of the roof of a property he claims to own in Pattaya.
Second day of provocative and outrageous behaviour in Pattaya by the same man
The man who has been named at 45-year-old Willam Alexander Baker has drawn the ire of expats in Pattaya and local alike online over his outrageously provocative and dangerous behaviour. It appears to be deliberately contrived. Following the incident on Wednesday, it is understood that the man was detained by immigration and tourist police who are believed to have initiated a second prosecution against him and revoked the permits associated with his jet ski.
 'Take a shot and then I will return fire'
This follows the first incident on July 14th when he caused a local disturbance and threatened to cut someone's head off with his machete. On that occasion, he defied police officers surrounded his property to shoot at him on top of the roof: 'You have seen nothing yet,' he said. 'Take a shot and then I will return fire.'
Canadian tells police he has 'suicidal tendencies'
On Wednesday last after Thai police had surrounded and arrested him at the Ocean Marina Yacht Club near Jomtien Beach, he said 'I have suicidal tendencies right now, do you think you can handle me with my cuffs on?'
This followed hours of police activity in the harbour in Pattaya, Ko Lan and Jomtien in pursuit of Mr Baker who was riding a jet ski after he began to harass local boats and craft at around 10 am on Wednesday. The Canadian, who is thought to have a background at sea, began to cut across other boats in Pattaya and at one point, boarded a number of other craft. The 45-year-old was seen taking his jet ski into waters reserved for large vessels. This is potentially very dangerous. This includes the area around Bali Hai pier where he was seen driving at will.
Canadian led police on a harbour chase to Jomtien Beach after police responded to reports
Following the arrival of a harbour police craft to the area after reports reached the police led by Police Lieutenant Colonel Piyapong Ensarn at approximately 10.30 am, the Candian moved on to Jomtien Beach and from there to the island of Ko Lan just off Pattaya to the south by approximately 7.5 km.
Soon seen off Ko Lan harassing swimmers and a tourist boat after running from Jomtien
This posed no difficulty for Mr Baker who was soon off the shore of that island harassing swimmers nearby and a boat delivering tourists from Pattaya. At Ko Lan, the erratic Candian was reported to be speeding his jet ski close to people swimming on the beach and was also observed cutting across a tourist boat as it approached its docking area.
Canuck had all the necessary papers for his jet ski according to arresting Thai police
The Canadian was later apprehended by the harbour police who found that he had all the necessary permits to ride his jet ski. However, it is now reported that because of last Wednesday's harassment and threatening manoeuvres towards other craft, steps have been taken to withdraw these permits.
July 14th – another day of mayhem in Pattaya as the Canadian is found shouting from his rooftop
On July 14th, the Candian was again harassing his neighbours and taunting the police. Carrying a large machete, he at one stage engaged in a standoff with a Thai man incensed by his loud outbursts and the fact that was using a weapon in a threatening manner. The Canadian was seen on a local video adapting a crouching position on a public road with his machete as the Thai man approached. Luckily, friends dissuaded the local man from the encounter. This was certainly a potentially dangerous situation.
Dispute about water from a washing machine and a motorbike with local neighbours reported
The Canadian was also recorded that day stomping from one corner of the pitched rooftop of what he claimed to be his property in Pattaya. It is understood that a dispute had developed between him and local people over a motorbike left in front of his property and water coming from a nearby laundromat.
William Baker: 'You're a ****** minion, I'll cut your head off' as he taunted police
The Canadian issued a series of wild accusations about terrorism and drugs as police quietly surrounded the building. On more than one occasion, the Canadian invited the Thai police to shoot at him. 'If you want to take a pop shot at me, go ahead', he shouted from the rooftop. On that occasion, he also threatened either those below or police who were surrounding his property at the time, it is not clear from the video, that he would kill them on a number of occasions. At one point he bellowed: 'You're a ****** minion, I'll cut your head off.'
The Canadian was eventually arrested by Thai police who are reported to be processing a charge against him in relation to that incident as they are following last Wednesday's antics and dangerous sea born capers.
Canadian man is obviously a man of substance and intelligence subject to bouts of mental instability
Mr Baker is clearly a man of some substance who appears to own a property and seems to be quite capable in other respects at following the law. It is easy to understand why Pattaya police appear to be so indulgent towards the colourful character who has not yet harmed anyone. However, the man is clearly subject to extended periods of mental instability like some other foreigners in Thailand, although they may not exhibit it so openly until it is too late. 
Growing issue with foreigners in Thailand
This is a growing issue as evidenced by the growing incidence of suicide among foreigners in Thailand which sees many take their lives every year. These acts are often committed publicly causing distress and heartbreak to local bystanders those that know the individuals. Often they leave behind family and friends who did not know how to help then in Thailand, a country with a health system that is busy enough taking care of its own growing mental health crisis.
Mental Health Act 2008 – the question is its application to foreigners in Thailand
Thailand's mental health laws are simple and effective. They allow third parties and the police to refer patients for examination and diagnosis under the Mental Health Act of 2008. Significantly, this involves Thailand's mental hospitals run by the government. It is not clear whether foreigners can be referred under the provisions which cover any person deigned to be a danger to himself, herself or others as well as those obviously exhibiting mental health issues under Section 22 of the Act.
Section 29 provides for a 30 day examination period at a psychiatric facility
The law provides for a report to be made under Section 23 and carefully designates steps to be taken by police and medical professionals at psychiatric hospitals designed to protect the rights of the person being examined or detained. Section 29 provides for a thirty day examination period where doctors can determine if the person is mentally ill. 
The provisions of the Mental Health Act 2008 may also be useful to friends of foreigners in Thailand who are suicidal or those exhibiting mental health issues.
For further reading:
Thailand's women, culture and weather are all factors which lead to more foreigner suicides
Crazy Canadian in Pattaya arrested twice in 17 days

+ Crazy Canadian raises the issue of mental health concerns for foreigners in Thailand -45 year old William Baker has been at the centre of two altercations with Thai police and public disturbances. Last Wednesday, after being captured following a sea chase on his jet ski, he told police that he had 'suicidal tendencies' while on July 14th last, he invited police to take a shot at him on top of his property.https://www.thaiexaminer.com/thai-news-foreigners/2019/08/04/pattaya-canadian-man-thailand-mental-health-foreigners-thai-police-william-baker/Joseph O' Connor reports from Pattaya

Posted by ThaiExaminer.com on Sunday, August 4, 2019