The woman explained to police and officials that she had no money to buy milk or diapers for her little boy named as Nong Andrey after his Russian father when they arrived at her Khon Kaen home shortly after the social media incident that provoked widespread public horror. Police had to be called back on Thursday when the woman turned violent and began attacking her children.
A Thai woman on Thursday was sedated by medics and taken away for a mental health evaluation following two days of mayhem and chaos at her home in a village in Khon Kaen province. The emergency began on Wednesday with police and public health officials attending at the home after the woman live-streamed a disturbing video on Facebook where she threatened to throttle her 19-month-old baby boy with a belt after failing to receive financial support from the boy's Russian father believed to be working in Pattaya.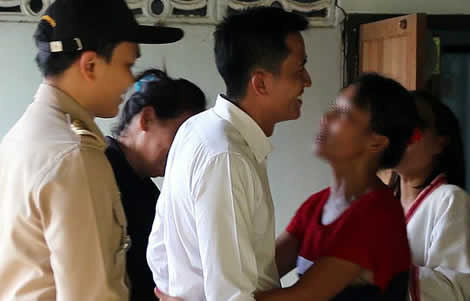 A Thai woman at her wit's end and suffering from mental instability threatened to strangle her 19-month-old toddler online on Wednesday prompting Thai police in her area and officials from social services to intervene. The crisis erupted in the Phu Pha Man district of Khon Kaen province.
Live streamed video on facebook threatening to throttle her 19-month-old son
The woman was named as 41-year-old Supaporn Prab-arin who is reported to have live-streamed a video of her with a belt attached to her 19-month-old baby, a boy named as Thanachit 'Nong Andrey' on the social network Facebook. The infant is reportedly the son of Russia man working in Pattaya. It is believed that the Thai woman felt exasperated at a lack of funds to care for the young boy. The woman has two older daughters who are believed to live with another relative nearby in the village of Nong Haew in tambon Wang Sawab.
Officials and police quickly arrive at her door on Wednesday after public outcry over video
Following the live stream of the disturbing video on Wednesday, the woman welcomed officials and police officers who quickly mobilised and arrived at her home. She assured them that she did not intend to hurt the baby but had reached rock bottom when she found she did not have enough money to buy milk to feed the baby or provide more diapers for his care.
The stream and video drew online outrage from concerned Thai people online who demanded that the baby be taken away from the woman because of her actions.
Woman hugged one official at the scene
When officials arrived at her home on Wednesday, she seemed pleased to see them and even hugged one officer at the scene. She explained the situation to them even though the officials felt she may have been inebriated. 'Like other parents, I love my child. I didn't intend to hurt him, but I felt neglected and had to act like this,' she disclosed.
Thai woman said she wanted to get the attention of her Russian partner, the father of the infant
She explained that she had staged the act on Facebook as a means to get some reaction from her Russian boyfriend, the father of the child who had not seen fit to visit his son or provide any financial support.
Later on Wednesday, authorities left the home somewhat assured by the woman's explanation but they were quickly recalled to intervene again on Thursday when things flared up again.
Older daughter called authorities back on Thursday as woman turned violent on children
This time the intervention was called in by her eldest daughter named as Nong Dream. She alerted officials the day after that her mother was again in a dangerous mental state. She revealed that her mother had turned on her younger sister accusing her of stealing money for milk and diapers provided by local services. She told authorities that her mother became violent and hit the young girl and also turned violent on her little boy, Nong Andrey.
Mother continuously attacked younger daughter
The older girl said she arrived at the house and witnessed the altercation. Her mother was violently attacking the younger girl and refused to stop. The older girl extricated her sister from the home and dispatched her to the home of their aunt where they both lived. Their mother followed the girl still in a violent state.
Woman threatened to kill herself with a knife
Local police were soon at the scene. The Chief of the local police, Chinnakorn Kaenkhong, said that the woman was clearly drunk and officers had to wait until she sobered up before they could deal with her. Later, officials with the public health service arrived and began to question the mental stability of the woman. This prompted Ms Supaporn to run to the home of one of her relatives from whence she returned with a knife. The woman threatened to slit her own throat.
Woman sedated and taken to a local psychiatric hospital for a mental health evaluation
After some coaxing, police managed to obtain the knife from her and sedated the woman with a drug. Ms Supaporn was then taken to the nearest psychiatric hospital where she will be evaluated.
It appears that the baby boy will for now be cared for by relatives and his sisters. A local official with the administrative organisation said some money will be found to buy provisions for the child. He will also work with health authorities and the relevant government department to look at the family's living arrangements and conditions.