Chief Inspector for Pattaya Police led the crackdown on Thursday morning as Thai police also investigated the murder and shooting that left one man dead and another Thai national in a coma. A crime reenactment was staged under tense conditions on Saturday as a bouncer at the Teng Si Bar in Rungland village in Pattaya faced a murder charge after being arrested earlier in Surin.
A shooting at a Thai suburban bar involving local factions and a bouncer has led to Thai Police launching a crackdown on late-night drinking and opening hours in the resort city that is a favourite for foreigners visiting Thailand.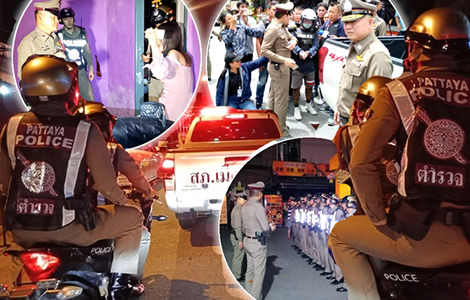 A bizarre sequence of shootings led to the death of one Thai man in Pattaya early on Wednesday morning and another being hospitalised in a severely critical condition. The incident which happened in a housing estate in Rungland Village on the south side of the resort city has led Pattaya Police to launch crackdown on all bars, nightclubs and entertainment venues breaching the city's 2 am closing hour law.
Tense scene as 200 police in Pattaya cordon off a crime reenactment exercise at the suburban bar
On Saturday, a hostile crowd gathered as up to 200 Thai police officers carried out a crime reenactment of the shootout outside the Teng Si Bar. The Teng Si is reported to be a local bar in a Pattaya residential neighbourhood frequented predominantly by Thai nationals.
 It is understood that the background to the shootout is a rivalry between a number of factions who happened to patronise the bar. On Saturday, as police carried out their reenactment with a man arrested earlier in Surin province, over 100 people tried to break through the cordon.
Shootings took place at 6 am approx on Wednesday
The shootings are understood to have taken place at approximately 6 am on Wednesday the 11th. The murdered man has been named as Anuwat Suksamran whose nickname was Tee Lai Kor Phai. The man accused of murdering him was a bouncer working at the bar named as Warut Sae-jia or 'Arm' who is reported to have gunned down the murdered man in anger after witnessing him shooting his friend, Chatchai Srisen, a number of times in the head.
Two 37-year-old men went outside to settle differences – neither came back into the bar
It is understood that a row developed in the bar and Mr Anuwat and Mr Chatchai, both 37 years old, went outside to settle their differences man to man. Once outside, Mr Anuwat drew his gun and shot Mr Chatchai in the head. This caused the bouncer Mr Warut who was observing proceedings, to become outraged. He ran inside to retrieve a firearm of his own and when he returned, he expended up to six rounds shooting Mr Anunwat to death.
Crackdown ordered by Pattaya police boss
This led to the crackdown which began on Thursday and which was led personally by Colonel Saranyapong Maithongkunthorn, the Chief Inspector of Police in Pattaya. 
In the early hours of Thursday morning, police patrols were seen throughout the city monitoring compliance with the closing time law by bars or establishments. Most venues were found to be operating within the law. However, those breaking the 2 am closing time order were summoned to Pattaya Police station where proceedings or measures were taken against them.
Violence driven by alcohol damaged the reputation and image of Pattaya – Pattaya Police Chief
Police Colonel Sranayapomng told reporters that the shootings and murder were related to alcohol consumption and that the incident was damaging to Pattaya's standing and reputation. He warned that late-night drinking would not be tolerated by the police. He said that action would be taken against managers in charge of bars or nightclubs found to be flouting the law.
Man shot in the head in a coma
Meanwhile, Chatchai Srisen, the first man to be gunned down on Wednesday, is reported to be in a coma in hospital. Police are carrying out a full investigation while his friend Mr Warut is facing a murder charge for shooting down the man who put him there. 
The bouncer had fled the resort city after killing Mr Anuwat but was found and arrested by police at his girlfriend's home in Surin province. He was brought back to Pattaya to face legal proceedings.
Pattaya Police launch Crackdown on late night drinking in bars

+ Crackdown on drinking in Pattaya bars follows murder, shooting at a local bar in Rungland village in South Pattaya that the police chief attributes to alcohol.https://www.thaiexaminer.com/thai-news-foreigners/2019/09/16/pattaya-police-alcohol-crackdown-after-bar-shooting-thai-suburb-rungland-bouncer-charged-murder/James Morris reports from Pattaya

Posted by ThaiExaminer.com on Monday, September 16, 2019