Last Friday, over $1 billion in investment projects were announced by the Board of Trade as Deputy Prime Minister Somkid Jatusripitak indicated that the European Union could be an important partner in finding inward investment for the Eastern Economic Corridor. The trading bloc and powerhouse is already the 2nd largest investor in Thailand. 
Thailand is gearing up to resume talks with the European Union towards a free trade agreement between the bloc and kingdom. It is expected that the decision will be taken by the cabinet on the issue by the end of November.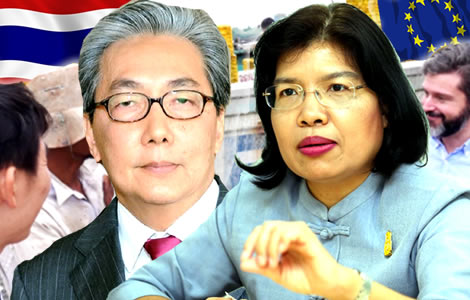 The Thai government is intensifying efforts to ramp up investment into the kingdom and open up new markets in response to the ongoing and escalating US-China trade war. With figures last week that showed August exports down by over 4%, on Monday, the Commerce Ministry announced steps to begin negotiations with the European Union towards a free trade agreement.
Public hearings in October and November
The director-general at the Trade Negotiations Department at the Commerce Ministry, Auramon Supthaweethum, briefed the media and revealed that as well as a public hearing on the proposed free trade area talks with the EU being held in Bangkok, there will be further public meetings organised throughout the country.
Interested in hearing from all vested interests so the cabinet can make a decision
Mrs Auramon said a briefing document will be prepared for government and policymakers so that a decision can be made on whether to recommence the stalled EU Free Trade talks with European negotiators.
The hearings are set to take place in October and November this year. The commerce ministry will be seeking out all parties who may have a vested interest in the outcome of such talks and a possible free trade deal. 
The current plan is that the cabinet will decide on whether to resume negotiations with the European community on a free trade agreement by the end of November.
Notoriously difficult and demanding process ahead
Free trade agreements with the EU are notoriously difficult and demanding. The process of negotiating such an agreement can take up to five years to complete and the deal itself is then subject to approval by the executive and legislative branches of both parties. In the EU's case, this means the European Parliament and the European Council of Ministers. However, any one of the currently 28 governments may decide to impose a veto.
EU envoy to Thailand indicated to Deputy Prime Minister Somkid that Europe was ready for talks
It is understood that the spur for the latest move came on September 12th when the EU ambassador to Thailand, Pirkka Tapiola, informed the Deputy Prime Minister Somkid Jatusripitak, Thailand's economic policy chief, that the European Union was now ready to resume talks with the country. It is understood that a similar move has been made in relation to an EU ASEAN free trade pact.
European Union interested in emerging ASEAN 
The European Union is keen to not be left behind by development in ASEAN region and is also understood to be interested in exploring cooperation with the looming Regional Economic Comprehensive Partnership, a trade deal between ASEAN and 6 other partners including, China, India as well as Japan, South Korea, Australia and New Zealand. This pact is proving difficult to conclude but could be the biggest free trade area in the world if it comes about.
EU free trade talks suspended after 2014 coup
The European Union suspended negotiations on a free trade agreement with Thailand following the 2014 coup and subsequently went on to sign agreements with Singapore and Vietnam. The current situation has left Thailand at an economic disadvantage both in terms of exports and attracting inward investment.
The affluent market of 512 million people
The EU represents a market of 512 million people with strong economic purchasing power. It is already Thailand 4th largest trade partner with exports to the bloc in 2018 of $25 billion and imports of $22 billion. More significantly, it is the second-largest investor in Thailand and Deputy PM Somkid has intimated that many European firms are interested in locating to Thailand's Eastern Economic Corridor area to use as a base to export to the Asian market.
Europe has promised to help find high tech partners for Thailand's flagship Eastern Economic Corridor
The Deputy Prime Minister said that the EU has agreed to assist Thailand in finding companies in the high technology sectors that kingdom seeks for its ambitious Eastern Economic Corridor project. These include smart cars, electronics, digital industries, aviation, logistics, robotics and medical services.
$1 billion in inward development projects given the green light on Friday by Board of Investment
On Friday, the Board of Investment announced four investments into Thailand valued at $1 billion. The most significant was a $616 million joint venture between Japan, Taiwan and Singapore. This year, the board expects to see inwards investment of $24 billion compared to $23 billion in 2018.
Cabinet approved generous incentives for investment in Thailand on September 10th
Earlier this month on September 10th, the cabinet approved an investment package for foreign firms offering a generous 50% cut in corporate tax for a five-year period in addition to existing tax breaks and incentives to firms who commit to investment projects by 2020 and spend $32 million by 2021.
The Thai government is also very interested in attracting specialist staff and learning programmes to Thailand so as to upskill the existing Thai workforce in developing high technology industry. 
Thailand moving on despite the US-China trade war
It is clear that the second-largest economy in south-east Asia is barreling ahead with efforts to shake off the still mounting effects and disturbance caused to its existing export base and industry by the damaging US-China trade war. The country is striving to set the foundations for a new economic future. The problem for Thailand is that it is also facing significant challenges, an ageing workforce and the growing problem of high levels of personal borrowing. However, the biggest factor of all could be the darkening global economy which for an export-led economy like Thailand's, determines whether times are ultimately good or bad. 
Further reading:
Bank of Thailand governor warns about growing debt levels, calls for sufficiency economic thinking
Trump causes jitters in Bangkok as he signals a further deepening of the trade war with China at G7 meeting