At a press conference on Tuesday, the police commander of Provincial Police Region 2 outlined the police operation that led to the arrest of a total of 6 suspects. He also revealed that the kingpin supplying the network had escaped as police moved to arrest him. He is now being tracked down.
Pattaya police have unveiled their biggest drugs bust in a decade after a September 15th arrest led to a chain of discoveries as they broke up a drugs ring operating in three other provinces besides Chonburi. 6 suspects were arrested including 5 men and 1 woman. The drugs haul taken off the streets is estimated to have a value of ฿100 million.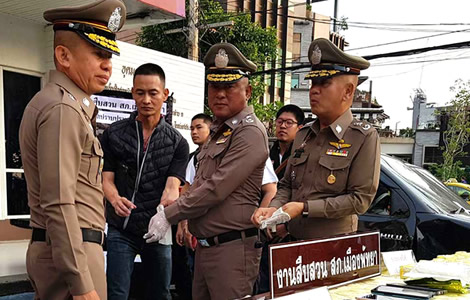 Thai police in Pattaya have revealed the biggest drugs bust in 10 years after they seized nearly 1 million speed pills and 1 kg of crystal meths in a chain of arrests that began on September 15th last.
Arrests in four provinces as police followed the drugs trail where it took them
The details of the case were given at a press conference held on Tuesday by the Commander of Provincial Police Region 2 Police Lieutenant General Montri Yimyaem.
The arrests involved the police in raids and activities in Chonburi and three other provinces including Pathum Thani, Nonthaburi and Suphan Buri.
September 15th arrest in Ban Bueng in Chonburi
The string of events kicked off on Sunday the 15th of September when police apprehended a known drug dealer in the Ban Bueng area of Chonburi named by the police commander as Mr Ek. He was caught in possession of 50 grammes of the crystal meth drug.
When interviewed at length by police he briefed them on a major drugs network operating in Nonthaburi province adjacent to Chonburi and Bangkok.
Sting operation led to 3 arrests in Nonthaburi
This led police to send an undercover police officer to Nonthaburi posing as a drug dealer. Once he had made contact with the gang, he arranged to make a deal for the purchase of methamphetamine pills and a quantity of crystal meths.
Police swooped on the gang members after they pulled up outside a house in the centre of Nonthaburi to make the drug deal.
This led to the arrest of three suspects named by police on Tuesday as 33-year-old Mr Supoj Nikrawat, 45-year-old Mr Chalermphol Nokkaeng and 35-year-old Mr Supanatchakun Khongtadam.
Couple arrested in Pathum Thani
The arrest of this trio and the seizure of 10,000 methamphetamine polls and 1 kg of crystal meths led police to the two more suspects in Lad Lum Kaew, an area of Pathum Thani province. 
Police arrested a man and woman named as 37-year-old Paithoon Panyawattanakorn and 35-year-old Chonthicha Setkit. Police found 100,000 methamphetamine pills in a pickup truck being driven by the pair.
Drug kingpin known as Bang Ei in Suphan Buri
The two arrested drug-dealing suspects told police that they had obtained their supply of methamphetamine pills from a man named as Mr Somsak whose nickname is Bang Ei.
However, when police went to arrest the drug kingpin, he fled the scene leaving behind a Toyota Fortuner vehicle in which police discovered 700,000 methamphetamine pills.
Police then executed a search warrant on his home and found a further 100,000 drug pills buried on the grounds of the house.
Legal proceedings against five suspects
Police are still searching for the drugs boss and have begun legal proceedings against the latter five drug dealers arrested in the investigation.
Police Lieutenant General Montri revealed that all have criminal backgrounds including prior convictions for drugs offences, fraud, possession of illegal firearms and gambling.
Police have seized two vehicles and a number of motorbikes also as evidence. The police commander confirmed to reporters that the estimated street value of the drugs haul is ฿100 million.
Further reading:
Police chief warns any officials linked to arrested Koh Samui drugs boss will face punishment as probe moves on
Thailand's fight against recreational drugs is escalating and deadly even as medical cannabis is legalised here
Drug lords using an Australian gang to ship concealed drugs to Australia and Canada – more arrests promised