His 50-year-old Thai wife arrived home just in the nick of time as the men had tied the German man to a chair with black tape and were demanding valuables and money. He was already injured with a gash to his left arm 12 centimetres long.
A Thai woman married to a German had to deal with a nightmarish home invasion yesterday at 5 pm when she arrived home to find two men armed with knives in her home. Her 70-year-old husband was bound with tape to a chair.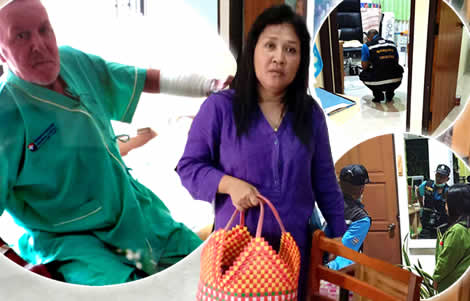 The German man had earlier found himself under attack at his home in the Rassada area of Phuket late yesterday afternoon while his wife was out.
The two men entered the home and in a confrontation with the 70-year-old German man, he received a 12 cm gash to his left arm.
Attackers were young Thai men aged 20 to 25 years
The attackers were said to be between 20 and 25 years old, then bound the elderly man to a chair and began attempting to extort money and valuables from him.
At 5 pm, his 50-year-old Thai wife Chuthaporn Chudam returned to the couple's home and was greeted with the appalling scenario of a violent home invasion with her husband injured.
Looking for cash and valuables
The attackers demanded that the couple produce valuables and threatened further harm to the German man named as Wilhelm Christain Shrei. Eventually, the  Thai woman convinced the men to accept two bank ATM cards for the couple's account and also provided them with pin codes.
Wife rushed husband urgently to hospital
When they left, Ms Chutaprn swiftly released her husband and took him to Bangkok Hospital in Phuket for treatment. She also alerted police and the couple's banks.
She was informed by one bank that there had been a withdrawal of over ฿1,000 at 5.46 pm but the total amount taken by the two attackers only amounted to ฿5,100.
Quick response from Phuket City police
Officers from the Phuket City Police responded to the urgent summons from Ms Chthaiporn led by Captain Anuwat Raksayot who arrived at the property at 6.20 pm. The couple's home is located near a bypass road.
Ms Chuthaporn provided them with a description of the attackers and the police carried out a full forensic examination of the home.
She recalled to police that one of the men had brandished a large knife approximately 70 cm long while the other had a weapon with a 30 cm blade. Both were extremely intimidating.
German suffered a gash on his left arm as he attempted to fight off the intruders alone
The 70-year-old German man was recovering in hospital in Phuket on Friday following his ordeal after doctors had bandaged and treated his left arm from the injuries suffered including the 12 cm gash to his left-hand received as he tried to fight off the intruders before his wife returned.
Further reading:
German in Chiang Mai assaulted over bar bill shows danger of some karaoke bars to foreigners
Highway robber arrested and charged on Ko Samui led double life as hotel employee on the island