Karaoke bars sound to some foreigners visiting Thailand like a good compromise between indulging in Thailand's sex of sale industry or listening to moral scruples and opting for a discreet compromise. Unfortunately, a happy ending to such stories does not exist as there are many unlicensed karaoke bar type establishments in Thailand that offer the veneer of female company, alcoholic drinks and entertainment but are really a scam. The end result is often an inflated bill, far in excess of any bar girl venue or even a brothel, which often leads to assault if questioned.
An incident which occurred over a week ago in Chiang Mai is a story that keeps repeating itself in Thailand. It is when foreigners are extorted, often in unlicensed karaoke bars, when faced with a choice between either paying an outrageous bill or the threat and actual use of violence.
Last week, a German national filed a complaint with Thai police in Chiang Mai after being attacked by staff at a local karaoke bar in the ancient city. The German had refused to pay his bill which was presented to him at ฿10,000 for 4 beers.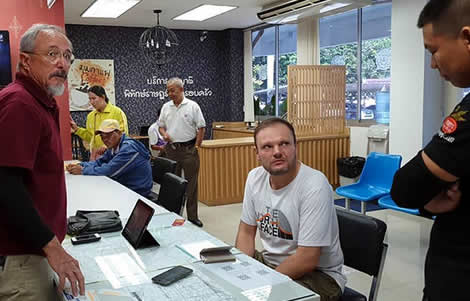 He was named as 35 year old  Arthur Wojciechowski. In the ensuing fracas, the German received a number of blows to his face which later developed into bruises. His report to the Thai police was taken by Deputy Inspector Boworn Somboon. In it, he said that he was walking in Chiang Mai near the famous Tha Pae Gate on Tuesday, March 26th last when a Tuk Tuk driver accosted him. The driver inveigled him to visit an establishment called 'Together Karaoke' on the Chang Klan road. He told the police that he had four beers at the bar and during that time, he sat with and was attended to by a number of  women who appeared to be hostesses at the bar.
Outrageous bill at Chiang Mai karaoke bar
When he decided to leave, he was presented with the outrageous bill for payment. In Thailand, four beers at a local bar would normally cost between ฿450 at the low end to ฿1,000 at more expensive establishments and hotels. He refused to pay and subsequently became embroiled in a fracas with staff. He insisted that he wished to call the police to the premises to discuss the bill on the spot. After being threatened with further physical assault, the German man handed over a sum of ฿5,000 and was thrown out of the establishment.
Outside, a local person came to the German man's assistance and called for an ambulance.
Area in Chiang Mai now known for unlicensed karaoke bars – foreigners should be careful
The area in Chiang Mai where the karaoke bar is situated is known to have a number of karaoke type establishments that are unlicensed. There have been similar reports, in recent times, of foreign visitors being duped into visiting these sorts of bar with similar outcomes. It is a part of pattern that often includes Tuk Tuk drivers acting as promoters. Third party promoters is always a sign to be careful in Thailand.
Thriving karaoke extortion trade across Thailand but particularly the city of Chiang Mai
Chiang Mai seems to have a thriving karaoke bar extortion trade. Last year, the media in Thailand covered the story of a wealthy South Korean tourist who was forced to pay over ฿160,000 ($5,100) after a visit to the wrong sort of establishment. He later also reported his story to the Thai police and was initially offered a 50% refund but instead insisted on being returned a minimum of ฿120,000. He got the money back.
Chinese visitors get the VIP treatment at Chiang Mai karaoke bar before calling in Thai police
In September last, a Chinese visitor experienced a similar situation. His bill was ฿14,000 and he also sought help from the Thai police. In this case, he was accompanied by three friends. The four men consumed 27 bottles of beer at the bar in question. They were invited to move to the VIP section of the establishment. There, they were attended to by four attractive Thai women who brought them drinks and kept them company during the night's entertainment. They were also supplied with a selection of food and snacks
The Chinese men were later aghast when presented with the bill and protested. It was reported that there was a heated confrontation between the men and the bar staff while attempting to settle the bill. The Thai police were again called in and fee of ฿7,000 was finally agreed to settle the matter.
Reports on karaoke bar extortion now mundane on Thai media – always the same story
Such reports are common place and have been featured in new reports in Thailand since forever. Chiang Mai has a particular problem. In 2013, a Swedish man was the subject of another news report when presented with a ฿50,000 bill. There have been a continuous stream of news reports since that time centred on Chiang Mai and one area of the city in particular.
Foreigners should exercise caution about karaoke establishments in Thailand
However, it is important for all foreigners either living in Thailand of visiting the kingdom to be wary of certain 'karaoke' establishments. It should, of course, be pointed out that not all karaoke bars in Thailand are bad or seek to extort customers. Many karaoke bars in Thailand are quite popular with Thai people and are often considered a fun night out. This must weighed against a large range of stories on social media and Thai news forums where foreigners, even those living in Thailand for some time, have had similar experiences to the German man last week. It appears that many karaoke bars employ the same service charges for female company as some brothels in Thailand and present bills based on inflated prices for alcoholic beverages and spurious 'personal services' in addition to house management fees.The incidence of such reports is very high.
Some karaoke bars are  front from brothels but even these offer an ambiguous service
There are also some reports of karaoke bars operating as brothels even if on a somewhat more ambiguous nature to many bars and sex for sale business fronts which operate quite openly in Thailand as brothels with some establishments existing for up to 40 years. Prostitution in Thailand has always been illegal unlike many western countries such as Germany and New Zealand where prostitution was legalised in 2003.
Thailand still has a large sex industry despite government curbs and an overall decline
Thailand's still has a huge sex industry despite a decline in the last decade and efforts by Thai authorities to stamp abuses and curtail its excesses. There are many facets to Thailand's sex industry displaying the flair and innovation of Thailand's commercial and business savvy operators since the industry took of in the 1960s. From massage parlors to go go dancing bars, sex is for sale in various guises within the neon light strips that are found in the popular hot spots for foreigners but also in lesser locations throughout Thailand catering for the biggest segment of the Thai sex industry which is the local market. In contemporary Thai society, it a little more acceptable than in western countries for men to pay women for sex.
Karaoke bars – some venues offer a more discreet but dangerous form of adult entertainment
Some karaoke bars, a minority, are a variation of the adult entertainment industry. It would be true to say that they exist in Thailand catering for a more local market. While some are a front for prostitution but on a more discreet basis, most are not. Many karaoke bars offer something that is a little bit more ambiguous. The problems begin when foreigners, seeking to enjoy the Thai nightlife, decide that this form of adult entertainment is more acceptable that visiting bars that clearly sell sex or massage parlors. For some reason, there is a long history in Thailand of such establishment overcharging foreign visitors with disagreements often ending in violent confrontation where the police have to be called in.
Some karaoke bars have links with Thailand's criminal underworld as story from 2017 shows
There is also an overlap between some karaoke bars and Thailand's extensive criminal underworld. A 2017 murder case in Thailand saw four karaoke bar girls convicted and receiving  jail sentences of over 30 years for the murder, dismemberment and disposal of he body of another Thai girl working at the karaoke bar. The murder was reportedly, according to the four defendants, the result of an accident occasioned by a desire to take revenge on the bar girl who had reported to the police on the activities of a boyfriend of one of the girls working at the karaoke bar. He had been a drug abuser and was arrested for being in receipt of stolen goods.