Conflicting reports surround the arrest and interrogation of the American man after he tried to board a bus out of Chiang Mai, on public indecency charges connected with a schoolgirl. Local media reports suggest that the incident with the 13-year-old girl involved sexual assault and that the American has confessed to the crime. National media reports speak of a public indecency charge denied by the man while demanding US Embassy assistance.
A 75-year-old American was arrested by a police taskforce yesterday on what has been reported as a charge of public indecency against a 13-year-old Thai girl outside her school on August 7th last. However, local media reports suggest that the matter may more serious and may have involved the sexual assault of the young girl.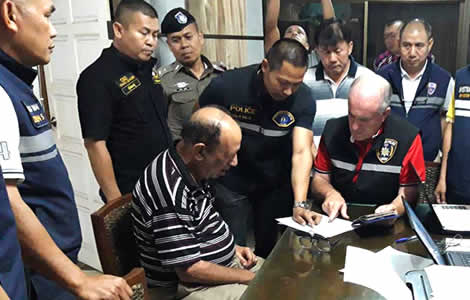 An elderly US man was arrested by Thai police on Thursday in the Ta Pan area of Chiang Mai as he was about to board a bus to Mae Hong Son. The arrest was made by a police task force comprising of the Crime Suppression Police and officers from Chang Phueak as well as Chiang Mai Police.
Arrest linked to a disturbing incident at a Chiang Mai school on August 7th this year reported by parents
The man was arrested in connection with an incident involving a 13-year-old Thai schoolgirl which occurred on August 7th last.
This led to a police investigation after parents of the girl made a complaint that she had been confronted by a foreign man in a peaked cap who was masturbating himself. Media reports suggest that the septuagenarian afterwards fled the scene.
An arrest warrant was subsequently issued for the American citizen named as Bruce Michael Fein who is 75-years of age, on September 12th last.
Local media reports suggest that the incident also involved a serious sexual assault
However, there are discrepancies between local media reports and national reports on the allegations being pursued against Mr Fein and the extent of his alleged criminal actions.
In some media reports, he is being charged with masturbating or committing am indecent act in public while local media in Chiang Mai are reporting that the girl was sexually assaulted by the man.
Also conflicting reports on Mr Fein's reaction to the allegations laid before him
There is also some conflict as to Mr Fein's position when confronted by police who have been investigating the incident now for over 3 months.
Local media reports suggest that the man has already confessed to engaging in acts of indecent assault including fondling the young girl's breasts and genitalia while national reports suggest that he is denying all the charges against him.
Local police fear there may have been other similar incidents relating to the American
Indeed police sources are suggesting that they believe that this would undoubtedly not have been an isolated occurrence and that such incidents would have occurred before. 
It may be possible that the man may have paid off former victims and families to avoid a full legal prosecution.
This happens quite often in Thailand even in cases where charges are laid in what is quite a different legal system both in theory and practice to western countries.
Asked for US consular assistance
It is being reported that during interrogation by police at the Chang Phueak Police Station the US citizen asked for assistance from the US Embassy. 
He is currently being held in custody at the station on a charge of public indecency which is thought to refer to the allegation that he masturbated in front of the young girl.
Further reading:
Foreigners snared in sex industry crack down as Thai police promise that wrong doers will be detected