Death toll already confirmed at 33 is likely to rise to 42 with nine unaccounted-for people thought to have perished and 28 people still being treated in Thai hospitals across the border. There are rising concerns about the speed of the response to the emergency with eyewitnesses suggesting that it took over a half hour for firefighters to arrive at the hotel after they saw a faulty light-fitting connection setting fire to the ceiling of the casino. 
The heartbreak caused by the casino fire that broke out in Poipet, Cambodia in December causing scores of lives to be lost in the conflagration was brought home in recent days when a 36-year-old Thai woman recalled the moment she found out that her retired parents had died in the disaster after an initial moment of hope when she received a call from their mobile number. It comes as the likely number of Thai nationals who perished in the fire has risen to at least 42, a number that is expected to rise with 28 people still being treated in Thai hospitals from injuries inflicted by the fire that appears to have started over a faulty light fitting connection on the casino floor of the Grand Diamond Casino and Hotel.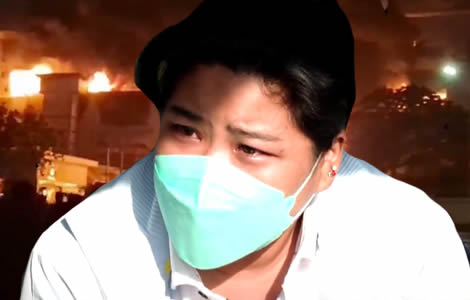 Authorities in Thailand and Cambodia have so far confirmed the deaths of 33 Thai nationals in the fire which gutted the Grand Diamond Casino and Hotel complex in Poipet Cambodia on December 28th and 29th while a further nine are still unaccounted for with the chances of them being found alive deemed unlikely.
This means that at least 42 Thai people are thought to have perished in the inferno with a further 28 still being treated in Thai hospitals with some of these in a serious condition.
Rescue operations at the site were wound down by Cambodian authorities last Friday with no further remains expected to be found within the ruin
On Monday, Deputy National Police Commissioner General Surachate Hakparn told reporters that Cambodian authorities had called off the search operation at the site of the fire on Friday afternoon on the basis that it was unlikely any further remains would be found.
General Surachate said many of those from Thailand who had died had been found in their rooms at the casino hotel and were elderly people.
Two of those who died were the parents of Ms Nunthida Kongreung who has been mourning their untimely deaths just before the new year since she heard the news from Poipet on the night of the fire as Cambodian and Thai rescue crews went through the building looking for survivors and identifying the dead.
36-year-old Ms Nunthida has been told that her parents Puttika and Udon did not burn in the blaze but instead died from smoke inhalation generated by plumes from the huge fire as it consumed the building fed by the opulent furnishings and decor of the hotel which had become a firm favourite for Thai nationals over the years seeking a cross border excursion for gambling or shopping.
Thai woman recalls traumatic phone call from her parent's phone number to be told by rescuers that they had died together in their casino hotel room
The hotel was one of several developments in Poipet owned by fugitive Thai politician and former Deputy Minister of the Interior Vatana Asavahame who fled the kingdom in 2008 after the Supreme Court upheld corruption charges and sentenced him to six years in prison.
Ms Nunthida, this week, speaking from Aranyaprathet in Sa Kaeo Province, recalled the traumatic moment she heard that her parents were dead.
'They (my parents) didn't answer the phone,' she explained. 'Later the number called back and I was glad and thought it was them.'
'But it turned out to be a rescuer. They asked who Puttika was. I told them she was my mother. They said her body was found. They also asked if I knew Udon. I replied he was my dad and the rescuer said they were both found together.'
She is convinced that a slow response to the emergency may have cost her parents their lives in the tragic disaster.
'The rescuers said my parents were not burned, but they choked from inhaling smoke. So, if help had come earlier they might have survived,' she told Reuters this week.
Cause of the fire now thought to have been a faulty light fitting or electricity connection in the main casino area of the hotel that went unattended to
Her parents were retired and enjoyed travelling in the vicinity of Thailand for holidays and short excursions.
Their bodies were found slumped against each other in their hotel bedroom by the rescue crew that had spoken to their daughter on the couple's mobile phone.
Initial reports from the disaster scene suggested that the fire started with a gas explosion but Cambodian authorities in recent days have intimated that it was initially caused by a short circuit in the hotel's electrical system.
One survivor, Piyapol Sukkaew, speaking on Thailand's Channel 7 TV, thought he may have witnessed the beginning of the fire that morphed into a raging inferno.
He said he saw a light fixture throwing off sparks which appeared to cause flames which reached the ceiling while gambling continued in the casino area of the complex.
'Then it started getting chaotic. After the fire hit the ceiling, I don't think it was ok. It had gone on for half an hour and the fire trucks hadn't arrived,' he recalled.
400 people staying at the complex mainly Thais
It is understood that the hotel and casino complex was home on Wednesday night, at approximately 11.30 pm when the fire broke out, to 400 people including staff and overnight guests with a very large proportion of both being Thai nationals.
The complex on 120 rai of land and a sister resort nearby on 20 rai of land had both been reported as being for sale in recent times for a reported ฿12 billion with trade having declined substantially due to the extended border closure between Thailand and Cambodia caused by the pandemic emergency which saw significantly reduced cross border trade and tourism even after the border reopened late last year.
Further reading:
Death toll in casino disaster could be as high as 50 with 10 bodies repatriated to Thailand on Friday
PM orders 'full force' help for Thai nationals and families linked to the Poipet casino disaster
Paranoid Swiss man died in Pattaya home fire on Thursday from prolonged smoke inhalation
Appalling New Year's start in Pattaya as a just engaged UK man's life ends in a split second fireworks explosion
Norwegian dies from smoke inhalation after fire erupts at 16th story Pattaya condo building
Two Polish fiends sought by Pattaya police for a callous, cruel and sadistic attack on a Cambodian woman
Thai and Cambodian police reveal that young woman's 'organ harvesting' claims were a lie