Happy ending: Chinese Christians arrived in Dallas Texas on Friday to a warm welcome but the US State Department was playing down their arrival and refused to issue a detailed statement citing privacy concerns while officials in Thailand had not even divulged the group had left the kingdom.
A group of Christian asylum seekers who fled religious persecution in China in 2019 and who were arrested at the end of March in Pattaya, on Friday, arrived in Dallas Texas after flying out from Thailand on Thursday night amid a veil of secrecy as to their destination after a week of negotiations between UN, US and Thai officials to resolve their fate.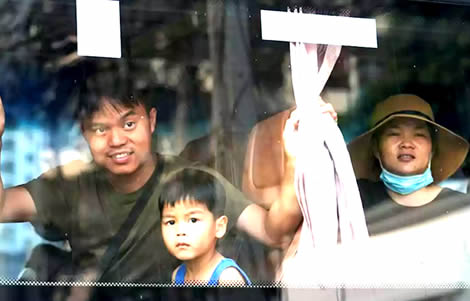 63 Chinese asylum seekers including 31 adults and 32 children have reportedly landed in the United States after the country offered them asylum following their arrest last week in Pattaya after complications arose over their immigration status and they were found to have overstayed their visa in Thailand.
They are understood to have flown out of Thailand Thursday night last amid tight-lipped secrecy as to their fate with US and UN officials in Bangkok as well as Thai authorities refusing to confirm which country had agreed to take them in.
Top police officer on Friday points out Thailand is not a signatory to the 1951 UN convention on refugees and has no laws to deal with asylum seekers
On Friday, as the group members made their way to their new home, Police General Surachate Hakparn, deputy national police commissioner, would only comment that Thailand is not a signatory to the 1951 UN Convention and Refugees and has no laws that can address the plight of such individuals seeking asylum.
However, General Surachate drew attention to the fact that the group had received their UNHCR papers in Thailand within four months of their arrival after waiting for years in South Korea.
'Principally, we will not let them stay in Thailand, otherwise, people from all over the world would come to Thailand,' the top police officer explained. 'You see, they were in South Korea for years and did not receive the UNHCR paper. They did within just four months of arriving here.'
Anonymous Immigration Bureau official confirmed a third country would be found for the Chinese group even after they had already flown out of Thailand
However, an unidentified source within the Immigration Bureau did confirm that a third country other than China would be found to take the group in.
'The Immigration Bureau will continue to take care of them on humanitarian grounds in the meantime,' the official was quoted as saying even as they were already en route to their new home in America.
The group had been accompanied by two US nationals throughout their ordeal including Ms Deana Brown, the Chief Executive Officer of a non-profit organisation, Freedom Seekers International, which is based in Tyler in the US state of Texas.
The group are members of the Shenzhen Holy Reformed Church also known as the Mayflower Church.
Arrested in Pattaya on March 31st and held before being transferred to Bangkok with some jailed at the notorious Immigration Detention Centre (IDC)
They were taken into custody by Nong Prue police in Pattaya on Friday, March 31st after which they were transferred to Bangkok with the women and children being detained within special quarters while the men were transferred to the notoriously overcrowded Immigration Detention Centre (IDC) in the capital, a facility which still houses Uighur asylum seekers who have been stuck in limbo since arriving in the kingdom in 2015 with some men even being deported back to China as wanted terrorists while women and children were given refuge in Turkey.
It is understood, according to several NGO sources, that the group landed in Dallas Texas on Friday after negotiations last week between United Nations officials, US diplomats and the Royal Thai Police through its Immigration Bureau.
The adults in the group appeared in court after their arrest and were each fined ฿1,500 and ordered deported from the country.
Head of NGO Texas-based ChinaAid thanked all officials in Thailand and the United States who helped the Chinese group to, at last, find refuge in America
Mr Bob Fu of ChinaAid, who is believed to have played a key role in persuading US authorities to offer sanctuary to the group, on Friday, thanked all involved including both US and Thai officials for bringing about a resolution to the plight of the group who, before arriving in Thailand last year, had unsuccessfully tried to obtain asylum in South Korea while living on the island of Jeju.
The group fled China in 2019 as the Communist Party tightened its social controls in the country including the suppression of unofficial religious worship. 
On the group's arrival in Dallas Texas on Friday, the US Department of State maintained the aura of secrecy surrounding the story issuing a terse statement citing privacy concerns.
'Due to privacy and security considerations, we do not have anything to share,' the statement read.
Jonathan Dingler, the communications director of ChinaAid, however, was extremely happy with the arrival of the group on US soil. 
'We know that these Christians are going to fit into our society. They're excited to do ministry here in America and excited to contribute to our culture and society as a whole.'
Further reading:
32 Chinese Christian asylum seekers arrested by Pattaya police for visa overstays on Friday cry for help
Tragic death of Uyghur Muslim in Immigration detention raises case of 50 men seeking asylum from China
Visitors warned of the deadly danger of working in Thailand without a proper visa and valid work permit
Crackdown on illegal foreigners sees American teacher arrested in class and Russian at his restaurant lunch
Immigration boss warns that a new crackdown on foreigners flouting Thai laws has begun
UK man claims FBI investigating the death of 41-year-old American held at Thai immigration jail in May