A 35-year old Nigerian was arrested on Sunday outside his home on Ko Pha Ngan. Police found 10 grams of cocaine as well as cash and notebooks containing details for his drug network. The arrest of Ezihe Collins in the beautiful island in Surat Thani province followed the arrest there on October 23rd of 39-year-old Italian Naomi Cometto also for drug dealing. Mr Collins has reportedly being transferred to Bang Kwang Prison in Bangkok while awaiting criminal trial.
Following a string of arrests involving foreigners involved in criminality on Thailand's popular southern islands, the Head of Thailand's immigration Bureau announced this week that a renewed campaign against foreign nationals breaking Thai laws has begun and will be escalated to protect the country's tourism industry.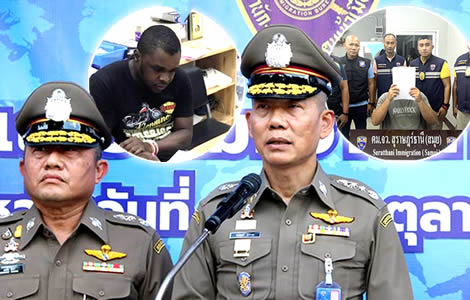 Thai police authorities have, in recent days, renewed their drive to detect and remove foreign criminality in the country with a hard-hitting statement from the Head of the Immigration Bureau Lieutenant General Sompong Chingduang on Tuesday. He warned that the current ramping up of police activity was only the beginning.
Focus on Thailand's popular southern tourist islands
The focus of the campaign seems, at least at the outset, to be on the south of the country, in particular, the popular island destinations with western foreigners of Ko Samui, Koh Pha Ngan and Ko Tao.
In the last week or so there have been a number of high profile arrests involving western foreigners involved in crime including an Italian arrested for drug dealing after drugs were found at his traditional raised home on Ko Pha Ngan.
Days earlier Thailand's postal service in Bangkok intercepted 500 ecstasy pills mailed to him in consumer package from the Netherlands. There was also the arrest in early October of a Dutchman living in Ko Samui involved in petty theft on the island of Ko Tao.
46-year old Dutchman arrested outside a resort 
These arrests were followed on Monday by the arrest of Dutchman found walking on the street Ko Samui. 46-year-old Alexander de Rooij was approached by immigration police outside the outside Big Trees Village a popular resort on the island. When asked or his passport, police discovered that his permission to stay in Thailand expired on July 21st last.
The Dutchman had entered Thailand for Malaysia in Narathiwat province as a tourist in June. He was later paraded in front of the media where he hid his face using a sheaf of paper and sent to Bor Phut Police Station where legal proceedings were processed against him for overstaying his visa which is a criminal offence.
European will be banned from Thailand for 5 years
After this matter is finalised whether, through a fine or prison sentence, the Dutchman will be subsequently deported from Thailand and will be subject to a 5-year ban from entry into the kingdom. Thailand's borders are now monitored and guarded by its biometric system making enforcement of such a ban quite certain.
Nigerian stopped on a motorbike outside his home
On Sunday, the bay before the Dutch man's arrest, a Nigerian national was arrested by police on a motorbike outside his home on the island of Ko Pha Ngan where Italian drug dealer Naomi Cometto was arrested on Wednesday 23rd October.
36-year-old Ezihe Collins was found to have neither a passport nor permission to be living in Thailand. His Nigerian passport had expired on September 28th last.
Six bags of cocaine found at the African man's home
Police Colonel Sathit of Ko Pha Ngan police said that a later search of his home unearthed six bags of cocaine with a weight of 10 grams.
Police also found ฿34,000 in cash and two notebooks believed to contain the contact details of his drug-using clientele
Transferred to Bang Kwang Prison in Bangkok
Police took the drug dealer to Ko Pha Ngan Station where charges were pressed against him or possession if illegal narcotics with intent to sell as well as immigration offences.
It was later reported that the Nigerian was being transferred to Bangkok's infamous Bang Kwang Prison pending his criminal trial. It is understood that he may be facing up to 5 years in prison.
New war on foreign criminality in Thailand
Meanwhile, this week the Immigration Bureau boss Lieutenant General Sompong Chingduang of 'Big Oud' at a press briefing at the Bangkok headquarters of the police division in Suna Phlu gave notice of an escalation in the war against foreign nationals in Thailand linked with crime and who are disrupting Thailand's legitimate tourism industry with their activities.
The police chief clarified that he was talking about transnational crime groups engaged in a range of criminal enterprises in Thailand which posed a danger to Thai people and tourists alike.
They included pickpockets gangs as well as those involved in fraud and theft. The bureau boss explained that these groups are taking advantage of tourism to Thailand and posing as tourists to get into the country.
Orders from the Chief of Police, Prime Minister and Deputy Prime Minister to get tough
He said that orders to renew the campaign which has been ongoing under his predecessor Lieutenant General Surachate Hapkarn or 'Big Joke' and saw tens of thousands of foreign nationals arrested and deported from Thailand. 
He confirmed he had received orders to mount the campaign from Thailand's Chief of Police Chakthip Chaijinda as well as the Prime Minister Prayut Chan ocha and the Deputy Prime Minister for security affairs Prawit Wongsuwan.
At the press conference, he announced 15 more arrests of foreign nationals found to have overstayed their visas most of them having entered the country as a tourist. These included 8 Somali nationals, 4 Chinese and 3 Syrians.
Further reading:
Nigerian and Thai wife arrested by police after online romance fraud costs woman ฿1.5 million