UK man recalls the harrowing and sad end of the university-educated US man who was only held at the facility for 4 days. He claims he was picked up on by a gang of foreign detainees who targeted him because he was American by beating him and denying him access to water.
A UK man who was deported from Thailand in June has revealed that he has given a statement to the FBI concerning the death of 41-year-old US citizen Rickey Eric McDonald who died at the International Detention Centre in Bangkok run by the Immigration Bureau. The US man died at the facility 4 days after arriving there on May 21st.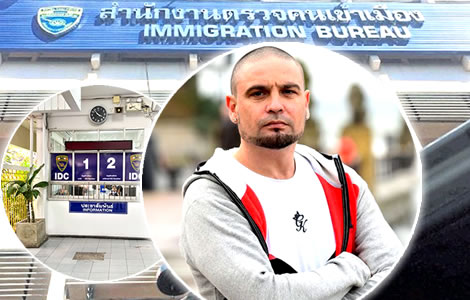 A UK man has told a national UK newspaper, the Sunday People, that the FBI is investigating the death of an American citizen who was arrested in Thailand and held by immigration authorities at the International Detention Centre in Bangkok.
The Brit was detained in Thailand after breaching the country's strict immigration laws. He was held for a number of months and claims to have witnessed the US citizen's death.
American laid to rest in Kentucky on June 13th following his death in Bangkok on May 21st
On June 13th this year in Lexington Kentucky, a 41-year-old American was laid to rest. He was a college-educated man having studied at the University of Copenhagen and Georgetown University. A teacher, the American had travelled extensively. On May 17th of this year, the American ended up in detention at Thailand's main immigration detention centre in Bangkok.
35 year old detained at IDC from March this year to June after a 6-month visa overstay
35-year-old UK national Kai Isaacs from the Isle of Wight had been detained at the facility in March on a visa overstay charge.
The UK man had flown into Thailand on a one-way ticket in August last year to visit his Thai girlfriend and ended up being arrested after a 6-month overstay.
Arrived in August 2018 but found wired money stolen
He had arrived in Thailand last August and had wired $2,000 by Moneygram planning to pick it up when he landed at the airport.
His plan went awry when he found out that someone else had withdrawn the funds before his arrival.
This left him without the funds to purchase a return ticket. He later took up with Thai friends until in March, he found himself seeking the help of the UK embassy in Bangkok.
They arranged for him to surrender to Thai authorities 
American man abused and picked on by a gang
Mr Isaacs spoke to the UK media this week and explained the terror and suffering he experienced while detained in Thailand.
In the course of his account, he detailed the circumstances surrounding the death of the American who he claims was beaten and abused by a group of suspects being detained at the facility in a sustained and concerted effort.
Gang comprised of violent men not wanted back by their own countries says Mr Isaacs
'There were people from 47 different countries,' he said, referring to the cross of nationalities in one room where up to 150 people were incarcerated lying in rows of 10. 
'There were suspected ­terrorists. Their own countries didn't want them back so they had been there for years. They ran the place,' Kai Isaacs explained this week as he described his three months being held at the facility. 'It was the worst three months of my life.'
UK man claims to have given a statement to the FBI on the death of the American in Bangkok
Mr Isaac claims that he has recently given a statement to the American Federal Bureau of Investigation into the death of the American man who he says was viciously beaten and tortured by a group of inmates at the institution.
Mr Isaacs said their motivation from the outset was because Mr McDonald was an American citizen.
'When this American lad, Rickey McDonald, came in they singled him out,' he recalled 'They didn't like the USA much. He'd only been there for four days when he died.'
American beaten and not allowed access to water
Kai told the UK media that the American was not allowed to stand up by the gang in an overcrowded room.
When the American arrived at the facility, he was beaten repeatedly. 'They picked on him from the minute he walked in the room. They beat him and beat him and beat him,' he revealed.
'If he stood up they hit him'
The UK national disclosed that authorities at the detention centre handed all inmates a 3-litre plastic water bottles to refill from a tap which was switched on 1 hour each day.
He said the gang refused to let the American man get up from the ground.
'If he stood up they hit him,' said the UK man.
Brit tried to help Mr Mc Donald
This prompted Mr Isaacs to refill the water bottle for the American. He also recalls on one occasion intervening to stop the gang attacking the American. He pulled the attackers off Mr McDonald. 'A few of them grabbed me and I was kicked,' he said.
Despite this, the UK man said that he had not experienced bullying from the group.
'There was a bit more respect for me ­because I'd been in there for quite a long time, a lot longer than normal for westerners,' he explained.
US man died in his arms. Reported as heart failure
Finally, 4 days after being lodged at the facility, the American man died. Mr Isaacs recalled that the US citizen had died in his arms.
'The guy died in my arms in the ­morning. It was suspected heart failure. It was horrible and I was still in there for weeks after it happened.'
Released in June this year and deported back to the United Kingdom
Mr Isaacs was eventually released in June this year and returned back to the United Kingdom.
He is currently banned from entry into the kingdom for one year.
Further reading:
Immigration boss warns that a new crackdown on foreigners flouting Thai laws has begun
UK man scrambles online to raise funds before he is lodged in a Bangkok remand prison
Kiwi who created a $50 million 'legal high' drugs empire in New Zealand dies in Thai prison after visa arrest
Thailand's top immigration cop wants genuine foreigners to come forward – new visa regime is forever