Amid the sadness of the passing of a character who was part of the world's entertainment firmament for longer than most people have lived and the joy of reliving some of the laughter, there is a more serious point to note. What kind of a world has the entertainer left behind, a world which only a few years ago was ready to cancel the star?
The death of comic genius Barry Humphries last Saturday in Sydney saw a bright star who has entertained the world since the 1950s go out. Humphries was reckoned to be a genius on a par with the great Charlie Chaplin and likewise, in more recent years, ran into political difficulties because of controversial remarks on transgenderism, something that should not be looked over as, ironically, in the 1960s and 1970s, the performer who was also an accomplished actor, represented the height of individual personal freedom, as part of a UK centred comedy movement which pushed out the boundaries of what was then acceptable in what was, up to then, quite a rigid society.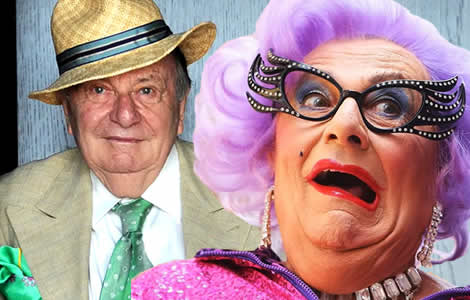 The death of Australian entertainer Barry Humphries last Saturday in Sydney, the creator of such characters as Dame Edna and the boozy, vulgar diplomat Sir Les Patterson, marks the end of an era for a world culture that centred around irreverence to authority and zany humour that sprang up in the 1960s and the 1970s in particular with such stars and acts as Spike Milligan, John Cleese, Dudley Moore, Kenny Everett, Marty Feldman and others.
Barry Humphries, a prodigious and polished actor in his own right, appeared in a multitude of movie productions over a career over 70 years and created the character in 1955.
Part of a comedy movement that sprang up in the United Kingdom and at a time when the world also found Thailand and Bangkok as a tourist destination
The comedy movement originated in the United Kingdom and would be described in today's modern world as 'politically incorrect'.
It coincided with an era and culture which saw the rise of Thailand and Bangkok as top international tourist destinations despite their own politically incorrect footing.
This was no accident even as many would-be travellers to Thailand first learned of the existence of the faraway country through sensational Sunday newspaper stories from the United Kingdom to Australia which 'exposed' the shocking nightlife of the 'sin' or 'sex' capital of the world.
This is the world that made international media mogul and 'dirty digger' Rupert Murdoch, who like Humphries also hails from Australia and today at 92 still dominates news headlines, but in a very altered context.
World where those who truly believe in human rights and dignity must also believe in personal freedom, common sense and be ready to laugh at themselves
Just as Thailand must address its sexist culture which produces a society where demeaning attitudes and grotesque levels of violence against women are prevalent in order to better uphold human rights, the modern movement in the world towards greater respect for human dignity means we are all called upon to change and impove.
This is an admirable thing but it has to come with some common sense and without impinging on the personal freedoms which were won back then and are what Dame Edna and the characters of John Barry Humphries, a boy who was a misfit at school but who grew up to make the world laugh, represented.
The comedy of the 1960s and 1970s taught the world to laugh at itself and to revel in the personal freedom to do so; that was the genius of characters such as Dame Edna and Sir Les Patterson who would have fitted right into the social milieu of Bangkok's expat world.
It was also part of a UK-centred movement that threw up masterpieces such as Monty Python's Life Of Brian and weaved its spell in a symbiotic relationship with a popular music culture which we are only slowly beginning to appreciate was a spectacular phenomenon that has not lasted into the new millennium.
Dame Edna was part of a unique culture that gave us vibrant, colourful and joyous popular music acts which has not survived into the new millennium 
The world is no longer churning out such acts as The Beatles, The Rolling Stones, Queen or Elton John in the same way as it did back then nor with the same explosive, universal appeal and colour.
Notably, Dame Edna creator Barry Humphries's death on Saturday was greeted in some quarters by continued criticism of the star's comments on transgenderism in 2019 which saw calls for him to be fired by the BBC and cancelled from the public domain.
At the time, a UK actress Rebecca Root described his remarks as 'very retrograde' while Australian comedian Hannah Gadsby a self-identified 'gender not normal' stand-up comedian criticised Barry Humphries as an 'inhumane d*** biscuit of the highest order' and also referred to him as 'irrelevant' and 'dangerous'.
'Dangerous' Humphries found himself in extremely hot water in 2019 over the debate on transgenderism
This reaction came in the aftermath of comments made by the decades-long star about Caitlyn Jenner, the former Olympic gold medal-winning decathlete who was born William Bruce Jenner in 1970.
Humphries told the Daily Telegraph in the UK: 'You're a mutilated man that's all. Self-mutilation, what's all this carry-on? Caitlyn Jenner – what a publicity-seeking ratbag.'
In 2018, speaking with The Spectator magazine, he described 'transgenderism' as a fashion while also seriously criticising its inclusion on the educational agenda for young people.
'How many different kinds of lavatory can you have? And it's pretty evil when it's preached to children by crazy teachers,' he said.
Defending his 2019 comments as being taken out of context he told the British Sunday Times that what he said had been 'grotesquely interpreted' while at the same time, calling out political correctness.
Made a Commander of the British Empire in 2007
'Edna carefully said she thought that men who had themselves castrated did not become women, and that got taken the wrong way,' he declared while he averred to political correctness as 'the new puritanism'. 
Humphries, who suffered from chronic alcoholism, was named by Queen Elizabeth II as a Commander of the British Empire in 2007 for his services to the entertainment industry which included one-man shows, TV production, theatre roles, films and of course his legendary characters of which Dame Edna became synonymous with the actor.
Genius, Dame Edna gatecrashed the Royal Box
As people fondly remembered Dame Edna in the last few days, the character's appearance at the 2013 Royal Variety Performance in London stood out.
Dame Edna was seen entering the royal box to the hysterical laughter of the future King and his wife Camilla. After an aide walks in and whispers to her and hands over a card, Dame Edna reads it and gets up to leave declaring to the royal couple 'So sorry…they've found me a better seat.'
The cameo appearance was comic genius, a genius that last Saturday left the world behind, a less colourful and funny place.
Further reading:
Iconic 70s Bangkok comes to life again as the dark story of The Serpent wows world Netflix audiences
King Charles III to be acclaimed as the World comes to terms with the loss of Queen Elizabeth II
Sean Connery, the sexiest man alive, who played James Bond, has passed away at 90 years of age in Bahamas
Filming of Fast and Furious movie begins in Krabi in what will be a big boost to the local economy