Thai government is working to try to improve prison conditions which are still highlighted by international rights bodies as inadequate due to overcrowding as well as what one human rights organisation cites as cruel and inhuman punishment. On Wednesday, the Department of Corrections promulgated a new regulation allowing certain prisoners to legally apply to serve their sentences outside the prison system, an issue that has been linked in recent months to the planned return of former premier Thaksin Shinawatra who is understood to be ready to surrender to  justice and serve several prison sentences imposed on him since 2008 while living in exile.
The state of Thailand's prisons was in the spotlight on Wednesday when a timely regulation was promulgated allowing for selected prisoners to apply to serve their time outside the prison system. It also came as the Director-general of the kingdom's Department of Corrections, Ayut Sinthopphan, confirmed the dismissal of five prison officers for failing to carry out their duties and various breaches of discipline. This includes one officer who extorted bribes from an inmate's family while having a sexual affair with the man's wife.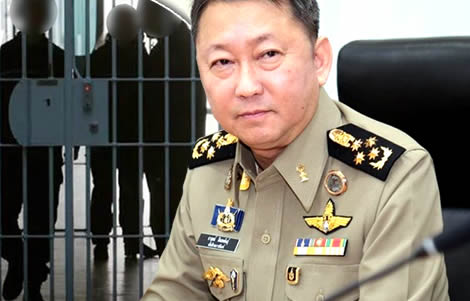 Thailand's Royal Gazette on Wednesday published a new regulation issued by the Corrections Department in a move seen as pioneered by former Minister of Justice Somsak Thepsutin which allows for certain prisoners to serve their sentences outside the prison system.
The move is seen as significant given the repeated insistence of former premier Thaksin Shinawatra that he will return from exile in Dubai on July 26th next and surrender to justice meaning he will be imprisoned as he is currently facing a 12-year sentence handed down by various Thai courts since 2008 when he skipped bail before being found guilty and ordered to be imprisoned in absentia for corruption.
New regulation allows prisoners to apply to prison governors, the Director-general of the Corrections Dept, ministers and the King to serve time at home
The new regulations allow prisoners to file applications with prison governors, the Director-general of the Corrections Department, appropriate ministers and to His Majesty the King seeking to serve his or her prison sentence outside the prison system or at home.
On Tuesday, we got a glimpse of what goes on behind the scenes in Thailand's notorious prisons when the Director-general of the Department of Corrections, Mr Ayut Sinthopphan, announced disciplinary measures against five former prison officers who were removed from their posts for either failing to perform their duties or engaging in behaviour that breached the department's disciplinary code.
Offences ranged from fraud to absenteeism as well as extortion to having an affair with a prisoner's wife on the outside as well as illegal drug taking
The offences ranged from being absent from official duties without authorisation for more than fifteen days to dishonesty related to expense claims to illegal drug use.
One prison officer was dismissed for demanding bribes from relatives of prisoners and consequently illegally performing his official duties.
The details released on Tuesday referred to a meeting held and decisions taken in March in which the five prison officers were ordered dismissed from the service.
The officer dismissed for drug abuse was stopped by police on the road and found to be driving under the influence of crystal methamphetamine.
Some progress in the prison system since 2020 but human rights groups still say Thai prisons are too overcrowded with deficiencies in hygiene and food
Although the Thai government over the last three to four years particularly since the COVID-19 outbreak in 2020 and across the prison service in 2021, has elevated the issue of tackling the country's notorious prison conditions and improving public confidence, progress towards the goal has been slow.
In March, the International Federation of Human Rights published a 65-page report which did acknowledge some improvement but concluded that conditions in Thai prisons were still inadequate and cited key concerns such as overcrowding, bad hygiene, poor food and medical facilities as well as inhuman and degrading practices regarding the punishment of prisoners.
It also complained about inadequate reporting systems to allow prisoners to file complaints.
Online reporting to complain about abusive officers
However, there is an online procedure in place and this has been highlighted in recent years with regular reports from the Director-general of the service highlighting online forms which can be used to make reports about abusive officers or practices within the service especially linked with attempts to extort families or relatives of those incarcerated.
In 2021, Director-general Mr Ayut even confirmed incidents of abusive treatment of prisoners that had resulted in serious injuries and deaths in the system as he announced the removal of four officers.
'One official had been terminated for allegedly demanding money from families of inmates in exchange for providing special treatment to prisoners,' Director-general Ayut Sinthopphan admitted. 'In separate cases, three other officials of the department have been fired for allegedly physically abusing inmates, which resulted in serious prisoner injuries and deaths.'
Handbook and guide for prisoners in Thai prisons printed in English available since 2017 for over 15,000 inmates or the 4% to 5% who are foreigners
By law after 2017, Thailand's prison system also introduced a handbook or guide for families of foreign prisoners incarcerated in the system explaining the policies of the corrections department in English which is of particular benefit to foreign inmates.
It is reported that there are 15,000 foreigners currently incarcerated within the Thai prison system representing 4% to 5% of the overall inmate population.
Among the five prison officers who were confirmed as dismissed on Tuesday, one case stood out.
This was related to a prison officer who was removed from his position for demanding and coercing bribes from the family of an inmate while also having a sexual affair with the prisoner's wife.
Further reading:
Thai prisons have a bad reputation with international human rights bodies due to chronic overcrowding, lack of hygiene and cruel punishment regimes
Thailand jails more women than any other country in the world over pink yaba pills and ongoing drug arrests
Prison guard gets life for attempted murder as Thai top brass crack down on prison corruption and ill discipline
More foreign nationals in Thai prison but there are conflicting reports on harsh conditions
Long road still for UK man jailed in Thailand for 50 years in 2015 but family support is inspirational
Thailand at war with drugs as regional anti drug effort gains steam, foreigners must not be the enemy