A frail and ill Roger Bullman, after a nightmare of nearly four years on the run, is recovering in Oslo with his family while police in the Norwegian capital plan to have the case transferred from Thailand to Norway to conduct their own murder enquiry. The Norwegian hopes that he will not be charged in the matter and has reiterated his 2019 claims of having acted in self-defence when attacked in his room by the victim wielding a knife.
Fugitive from Thai justice, Roger Bullman, who arrived home in Oslo last Saturday, the 27th of May, is still at liberty in the Norwegian capital and will not be returned to Thailand under any circumstances according to police in the Scandinavian country. It is understood that Norwegian authorities now propose to investigate the death of the 34-year-old UK man killed by the Norwegian on August 21st 2019 and it is expected that the case will be transferred from Phuket in Thailand to Norway to facilitate the process. The matter is likely to be treated as a murder enquiry but there is no confirmation that criminal charges will be brought against the 57-year-old who is reported to be suffering from chronic ill health after nearly four years of stress on the run in Southeast Asia as he tried to make his way home to see his young daughter again. The girl was only four years of age when he left with his partner in August 2019 for a holiday in the sun in Thailand that turned into a nightmare which, although not yet over, looks like it is coming to an end.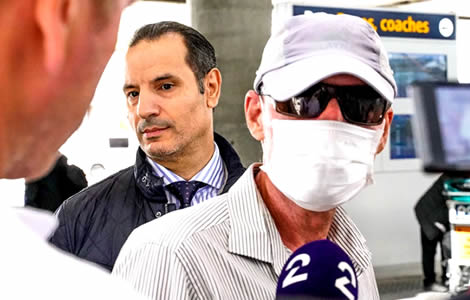 Reports from Norway where fugitive from justice 57-year-old Roger Bullman returned home on Saturday morning the 27th of May last, suggest that the Norwegian family man is recuperating from poor health before he is questioned by police there who are aware he has arrived back into the Scandinavian kingdom after a nightmare odyssey since he fled Thailand in September 2019.
Last Saturday, the Norwegian man who flew back to Oslo on a forged passport, told reporters on Norwegian television that he was tired, depressed and quite ill after his ordeal and simply wanted to be reunited with his young daughter who was only four years of age when he left for Thailand with his partner on a holiday in August 2019 which turned into years on the run in Indochina.
Norwegian, still the subject of an Interpol Red Notice lodged by the Royal Thai Police in late 2019 after he skipped bail in Thailand, not facing arrest
The Norwegian is the subject of a Red Notice from Interpol ordering his arrest on murder charges filed by the Royal Thai Police in connection with the killing on August 21st 2019 of British-born IT engineer Amital Bajaj in a violent and bloody contretemps that erupted between the two men as they were staying as neighbouring guests at a five-star resort in the Kathu area of Phuket.
This was filed in late 2019 around the time that Mr Bullman was sighted visiting the Norwegian Embassy in Hanoi.
Norwegian police in Oslo are expected to contact Interpol to address the situation as well as Thai police authorities as a result of Mr Bullman's return.
He is not facing immediate arrest although police are expected to interview him when his health has sufficiently recovered.
Holiday of a lifetime hit a sour note after a late-night serenade on Bullman's balcony interrupted UK man and his family sleeping in the adjoining suite
Reports from the time suggests that Mr Bullman was enjoying his holiday of a lifetime in Thailand and was found singing one night or what he termed 'serenading' his partner on the balcony of the Grand Centara Hotel on the island when he was interrupted by the British man in the adjoining apartment, a confrontation that quickly escalated into both men ultimately becoming involved a violent and deadly struggle which ended in the death of Mr Bajaj who was strangled to death in a chokehold by Bullman.
The UK man had been occupying an adjoining suite with his wife and young infant. It is reported that the family were having difficulty sleeping due to Mr Bullman's singing.
The Norwegian subsequently skipped bail in early September, just hours before a court was likely to order its revocation and his incarceration in a Thai prison.
Bullman made contact with Norwegian police in Oslo this week and talks are taking place between his legal team and officers concerning future steps
This week, Bullman's lawyer, Mr Farid Bouras of the law firm Elden Advokatfirma told TV 2 in Norway, one of Norway's largest media networks, that his client had been in contact with police authorities after his return home.
'I can confirm that he has been in contact with the police and informed them that he has returned home. He will be questioned when his state of health permits,' he told the broadcaster.
This was confirmed later by a spokesman for the Norwegian police in Oslo, Ms Unni Grøndal, a senior press officer.
She said that talks had taken place between Mr Bullman's legal team and the police on the matter.
'The man has stated via his lawyer that he wants to cooperate with the Norwegian police,' she told reporters.
Mr Bullman has made it known that he is willing to face justice for what happened nearly four years ago under Norwegian law and the reason for his flight from Thailand was the nature of Thailand's penal system in particular its corrections system with Thai prisons, this week, being labelled by Norwegian media outlets as among the most inhumane in the world due to chronic overcrowding, poor hygiene and food.
Thai prisons have a bad reputation with international human rights bodies due to chronic overcrowding, lack of hygiene and cruel punishment regimes
In March this year, the International Federation of Human Rights issued a 65-page report on Thailand's prisons reporting little progress made by Thai authorities on improving the detention conditions for prisoners held by the state.
'Former prisoners described the inhuman and degrading treatment to which no inmate should be subjected. While authorities have taken some positive steps to address some blatantly abusive situations, the overall picture of prison conditions remains bleak. The Thai government must increase its efforts to make prison conditions consistent with international standards and the country's human rights obligations,' the report stated.
The Secretary-general of the body, Mr Adilur Rahman Khan, referred to a plethora of issues such as crowded conditions with a lack of accommodation for the numbers imprisoned, cruel, inhuman or degrading punishments, unsanitary conditions, poor quality food and drinking water, inadequate healthcare, the use of exploitative work practices, limited contact with the outside, lack of recreational facilities and an ineffective complaint procedure.
80% of Thai prisoners are there for drugs
The body complained about a lack of access and an ability to inspect the facilities throughout the kingdom to ascertain how prisoners are being treated.
It noted promised reforms by Thailand's Ministry of Justice and the Corrections Department such as an end to forced labour and other reforms identified during the COVID-19 pandemic but these had not been confirmed.
The report noted the prison system remained largely problematic with overcrowding remaining the key issue with over 80% of convicts lodged there on drug charges and rising numbers (20%) being held on remand with another increase in those prisoners facing the death penalty (14%).
Norwegian police are planning to take over the case from Thai authorities and conduct their own murder enquiry, Bullman hopes to avoid being charged 
In Oslo, meanwhile, it is being confirmed that Norwegian authorities plan to take over the prosecution of the criminal case against Bullman with no extradition treaty between Thailand and Norway in place.
This was elaborated on by Ms Grøndal with Oslo's police, who made it clear that Bullman was safe from any threat of being deported back to Thailand: 'It is likely that the police in Thailand will transfer the case to Norway so that the case can be investigated here. It is up to the Norwegian police how they want to do it through Interpol. Now, he is in Norway and we do not extradite citizens to Thailand, so it is Norway that has to correct and look into this case.'
The police representative did say that Norwegian police were treating this as a murder case but accepted that Mr Bullman is hoping that no charges will be pressed against him at all. 
Bullman has always claimed self-defence in the killing and his testimony directly contradicts that of the victim's wife to Thai police in Phuket in 2019
Even so, she stressed, he will have an opportunity to defend himself in court.
'It is being investigated as a murder case, where there are questions about emergency guardianship and whether there is so-called subjective guilt. So all those questions will be relevant first for the police, then possibly for a court,' she explained.
Roger Bullman has always claimed that he acted out of self-defence on the night in question with a direct conflict of evidence as to which man stormed into the other's suite of rooms first with Bullman claiming it was Bajaj with a knife while Bajaj's wife, in testimony to Thai police in 2019, claimed it was Bullman who stomped into the family's room but she also told police that her husband had sent her away out of the room before the deadly struggle between the two men occurred.
Further reading:
Bullman, the Norwegian killer and fugitive from Thai justice lands in Oslo on a false name and passport
Bullman still on the run now to be charged by Thai police with murder after crime case review in Phuket
Bullman escapes Thailand, applies to the Norwegian embassy in Hanoi for a new passport – Interpol notice
Fugitive Bullman still on the run – Phuket police request additional manpower to arrest him
Norwegian killer Bullman hunted by police in Phuket, failed to turn up in court and disappeared
Norwegian killer accepts he's going to Thai prison after violent killing of UK man at Phuket hotel
UK man's wife says her husband died protecting his family in Phuket: 'He will always be our hero'
Norwegian claims he was attacked by UK man in his room with a knife as he is charged by police with his death