The onerous responsibility placed on authorities due to real underlying health problems, the advanced age of Mr Thaksin at 74 and his unique position as a politically important figure, means that officials must err on the side of caution and make sure that the country's most famous prison inmate is afforded the best possible medical care. This is a growing headache as political controversy over Mr Thaksin's status grows.
On Friday, outgoing Minister of Justice Deputy Prime Minister Wissanu Krea-ngam defended the decision by doctors at Bangkok Remand Prison in the early hours of Wednesday morning to transfer former Prime Minister Thaksin Shinawatra to the Police General Hospital in the capital for specialist care as he confirmed that Thaksin suffered a hypertensive crisis with dangerously elevated blood pressure levels. The minister was speaking as the top Police General Hospital physician issued a statement stating that Thaksin's blood pressure was now stable but that scans and tests on his lungs indicated the need for further care and treatment.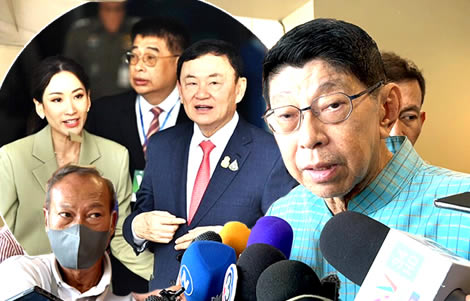 On Friday, the outgoing Minister for Justice, Deputy Prime Minister Wissanu Krea-ngam, defended the actions of authorities last week in removing former Prime Minister Thaksin Shinawatra from a medical facility at Bangkok Remand Prison to the Police General Hospital in the middle of the night when he suffered an adverse health reaction just hours after his incarceration.
Mr Wissanu indicated that he had been involved in the decision-making process and explained he felt some sympathy for the former Prime Minister because he suffered a dangerous hypertensive crisis with blood pressure over 200 which prompted doctors to take emergency action in which the former premier was helicoptered to the Police General Hospital at 12.30 am on Wednesday morning.
Deputy PM accepted that there may have been a mental aspect to Mr Thaksin's physical condition on Wednesday morning but said he was 'sympathetic'
Speaking to reporters on Friday, Mr Wissanu accepted that there may have been a mental aspect to Mr Thaksin's reaction to his imprisonment on the orders of the Supreme Court on Tuesday. 
He said that officials were bound to consider the danger to Mr Thaksin's health as a 74-year-old who has previously lived abroad in exile and may not have had a proper exercise regime. 
The outgoing government's legal expert also referred to previous instances of former ministers or politicians who were detained by the military junta, the National Council for Peace and Order (NCPO), being held in surroundings including private condos with swimming pools.
No question of a private hospital
The Justice Minister said that there was no question, at this stage, of Mr Thaksin being removed to a private hospital as there was no need for this as the police hospital in Bangkok is well equipped with the appropriate facilities as well as specialist doctors not available at the medical centre at Bangkok's Remand Prison where he was originally detained after his admission to the prison on Tuesday afternoon. 
The Corrections Department has a Memorandum of Understanding with the Police General Hospital in Bangkok to provide clinical care to prisoners for the last 30 years.
Mr Wissanu indicated that the length of Mr Thaksin's stay at the police hospital would depend on his medical condition and he would be open to reviewing updated medical reports.
News of an echocardiogram and lung tests on Thaksin related to the media on Friday, details sent to the Corrections Department Chief Ayut Sinthopphan
The latest Information from the hospital was given on Friday by Dr Sophonrat Singhajaru who indicated that an echocardiogram and lung tests had just been performed on Mr Thaksin with the results of the tests sent to the Department of Corrections where the Director, Mr Ayut Sinthopphan, has asked for updates on the prisoner's medical status.
Dr Sophonrat did indicate that Mr Thaksin's blood pressure had returned to normal and was now stable.
However, he confirmed that doctors were still concerned following the recent scans and tests on Mr Thaksin.
It is understood that Thaksin was the subject of extensive medical examinations in Dubai in the weeks before he returned to Thailand last Tuesday, including several MRI scans which were handed over to doctors at Bangkok Remand Prison when he was admitted.
Based on the information put before them, the prison doctors were sensitive to any adverse reaction by the prisoner to his incarceration. 
Elderly prisoner at 74 years old with four real underlying conditions. Thaksin's health and care are matters that should be of the utmost concern
At 74 years of age, Mr Thaksin is an elderly prisoner of the state and the high-profile nature of his imprisonment imposes an onerous responsibility on authorities to ensure that he receives proper and sufficient care.
Mr Thaksin's treatment as a prisoner is quickly threatening to become a political issue in the country, only four days after his admission to prison with activist lawyers and former yellow shirt campaigners against his rule, mobilising in recent days submitting complaints and petitions to relevant state agencies.
They are demanding to have Mr Thaksin's status within the Corrections Department be examined.
The activists argue that the former premier should be treated in the same way as any ordinary prisoner and that equality of treatment is an important principle in a democracy. 
One of those who has emerged as an ardent critic of events in recent days is the former Redshirt leader Mr Jatuporn Prompan, a former Thaksin ally who has morphed into a vocal opponent.
Former ally Jatuporn Prompan has emerged as an unforgiving critic of Thaksin Shinawatra questioning the basis of his ill health and his political actions
Mr. Thaksin arrived at Don Mueang Airport on Tuesday morning at 9.30 am after 15 years in exile and was arrested as he stepped out of his private jet.
The political party which he has been associated with was successful in having its prime ministerial nominee elected to the post, just hours later at 4.49 pm in what has been seen as a carefully choreographed act of reconciliation after two decades of political division including two military coups against pro-Thaksin governments. 
On Friday, speaking on the Thailand First show on satellite TV channel Peace TV, Mr Jatuporn questioned the veracity of reports about Mr Thaksin's health and whether he should have been removed from prison. 
'People are raising doubts about whether Thaksin is politically sick or really sick,' he said. 'The Thai people just learned that he fell sick when he was taken to prison. The Department of Corrections announced that he suffered four critical diseases: heart disease, lung disease, high blood pressure and a herniated disc. The prison hospital there is very good, able to quickly detect the four diseases with the use of the stethoscope.'
The sarcastic remarks of Mr Jatuporn, who served a number of stints in prison himself linked to his political activities in street protests over the past two decades, follow stinging criticism of the former Premier in which he accused Mr Thaksin of betraying the Redshirt support base which has been loyal to him since he was elected Prime Minister in 2001 and after he was ousted in the 2006 coup d'état.
Jatuporn wants Thaksin's medical and CCTV records
Mr Jatuporn called on authorities to make available all medical reports and in particular CCTV footage from Bangkok Roman Prison showing Mr Thaksin's treatment and incarceration at the facility from last Tuesday evening and early on Wednesday morning before Mr Thaksin's removal to the Police General Hospital.
Mr Thaksin is being accommodated on the 14th floor of the Police General Hospital which provides high-quality medical care in surroundings that are well-appointed, even luxurious by some standards.
The former PM's room does have air conditioning although it has been pointed out that it does not function properly.
Thaksin was accompanied to the hospital and is being guarded by four officers of the Department of Corrections who are being assisted by the Royal Thai Police with officers from the Metropolitan Police Bureau providing alternate shifts for the Correction Department officers as Mr Thaksin's stay at the Police General Hospital is expected to be an extended one.
Wissanu emphasises the vast scope of a royal prerogative and that Mr Thaksin could be cleared on all offences if his petition is ultimately successful
A key factor in this may be how long Deputy Prime Minister Wissanu Krea-ngam remains in power as acting Justice Minister.
Mr Wissanu has confirmed that an application from Mr Thaksin for a Royal Pardon either has or is being submitted.
On Friday, Mr Wissanu expanded on the legal power of the royal prerogative to grant a pardon in almost any situation when he singled out circumstances during the premiership of Anand Panyarachun when high-level judges were dismissed.
The then Supreme Court President, Pramarn Chansue, was granted a Royal Pardon in respect of disciplinary action resulting in the reinstatement of himself and other judges in a crisis within the judiciary in Thailand which played out in 1992. 
Mr Wissanu made it clear that Mr Thaksin is seeking a Royal Pardon related to all offences for which he has been convicted.
Fly in the ointment of national reconciliation between the Pheu Thai Party and the forces behind the 2014 coup d'état which was cemented last week
The ongoing controversy over Mr Thaksin's stay at the Police General Hospital is proving to be a fly in the ointment of last week's political manoeuvre and what is seen as a national reconciliation process between the Pheu Thai Party and the former military junta.
There will likely be pressure to bring the matter to a conclusion with the obvious solution being a pardon and Mr Thaksin's release from prison but this is a matter entirely in the hands of the Privy Council and ultimately the Monarch.
The news comes as it is reported the Move Forward Party leader MrPita Limjaroenrat has telephoned Mr Srettha Thavisin to congratulate him on his elevation and royal endorsement as Prime Minister while promising his healthy and constructive opposition in Parliament although Mr Pita insisted that his party was preparing to be the party of power as opposed to simply accepting the role of political opposition in the future.
Top doctor says the only concern is Thaksin's health
On Friday, at the Police General Hospital, Chief Physician, Dr Sophonrat made it clear that his mission and that of the hospital was the medical treatment of Mr Thaksin without concern for other matters such as political or even security concerns.
'The hospital only has a duty to treat patients and has nothing to do with security or politics,' he insisted.
Dr Sophonrat also made it clear that Mr Thaksin's medical records and information regarding his health care were governed by privacy laws.
A spokesman for the Royal Thai Police, Police Lieutenant General Achayon Kraithong made it clear that Mr Thaksin was being guarded as a prisoner and that any proposed visitors had to comply with the regulations laid down by the Department of Corrections.
It is understood that there are some exceptions for high-level officials and diplomatic corps figures.
Four officers with the Corrections Department at the hospital supported by police from the Metropolitan Police Bureau providing round-the-clock security
The senior police officer also explained that security arrangements are still being arranged or set up to deal with Mr Thaksin's situation if he continues to be a patient at the Police General Hospital. 
The next question is how long it will take for Mr Thaksin's application for a royal pardon to be processed. If denied, Mr Thaksin faces at least two years imprisonment before he can file another request.
It is suggested such applications can take one to two months to be processed.
In the meantime, a new cabinet will come to power headed by Prime Minister Srettha Thavisin.
This is expected to be sworn in in the coming weeks. During this time, the responsibility for his incarceration falls on the outgoing Minister of Justice Wissanu Krea-ngam. 
Next Justice Minister could be from the Prachachat Secretary-general Tawee Sodsong when Prime Minister Srettha Thavisin is sworn in with cabinet
It has not been confirmed who the new Minister of Justice will be but Police Colonel Tawee Sodsong has been suggested as the next holder of the portfolio.
Mr Tawee is the current Secretary-general of the Prachachat Party associated with the current House Speaker, Wan Muhamad Noor Matha.
Mr Tawee is seen as a highly respected figure and is known to be reform-minded.
The Prachachat Party is part of the proposed coalition government of eleven parties and was also, unusually, one of the parties to the proposed Move Forward and Pheu Thai eight-party coalition which was put forward on May 22nd last, but which ultimately failed to come to power due to opposition to the Move Forward from Thailand's upper house or Senate.
Further reading:
Thaksin helicoptered to Police Hospital at 3am after feeling ill says Department of Corrections
Police concerned for Thaksin's safety on Tuesday after he lands at Don Mueang and is arrested
Fears of political betrayal abound as Thaksin plans to touchdown at Don Mueang Airport on Tuesday
Thaksin and Pheu Thai have burned their bridges with its national 'family' and loyal support base