Dramatic moments are ahead in Thai politics with the public currently frozen in shock at the developments since the May 14th General Election. This may soon give way to anger and street protests if matters go as some senior and established analysts suggest they will from Tuesday and the days after that, as the Old Guard reasserts itself in power.
Next Tuesday may be a decisive day in Thai politics if former Prime Minister Thaksin Shinawatra lands at Don Mueang Airport and is imprisoned while later, in the evening, the Pheu Thai Party's nominee for Prime Minister runs the gauntlet of an increasingly activist Senate when his nomination to be Thailand's 30th Prime Minister comes before Parliament. Inside sources suggest strongly that it will be defeated and that the Pheu Thai Party and its longtime figurehead face betrayal and demise as a result of a conservative plot fashioned to install Deputy Prime Minister Prawit Wongsuwan in the top job at the head of a government favouring the old guard in Thai politics.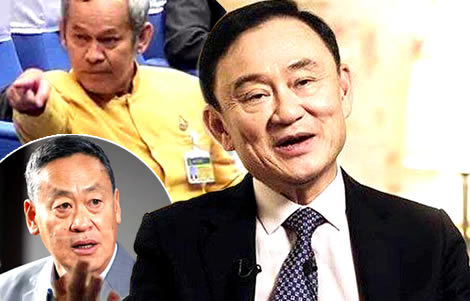 Next Tuesday, August 22nd promises to be a historic day for Thailand as it is reported that ex-premier Thaksin Shinawatra will finally return to the country after over 15 years in exile.
Thaksin left Thailand for China in July 2008 and has since been convicted in four cases of fraud, corruption and abuse of power with three of those judgements still in effect.
He faces 10 years imprisonment if he returns.
Pheu Thai appears to be sleepwalking into political oblivion and disaster since the election result came through on May 14th and it is linked with Thaksin
The return of the former PM and charismatic political leader of a large swathe of Thailand's population, up to events in recent weeks, has been shrouded in mystery and linked to political manoeuvres.
Negotiations to form the next government have led to an about-turn of the second-placed party in the May 14th General Election.
Mr Thaksin's Pheu Thai Party reneged on its pre-election promises to its followers and crossed the divide in Thai politics to treat with pro-junta parties of the right.
At the beginning of August, Pheu Thai abruptly severed its relationship with the winning and more progressive Move Forward Party to form a government, a move which has seen its followers burn their Red shirts and political paraphernalia across the country signifying disgust among its grassroots supporters at the party's conduct.
Yet, the party, inexplicably, continues its sleepwalk into disaster in a sequence of events that has left its voter base bewildered and alienated.
The public is unaware of what is going on.
Chuwit insists Thaksin will not return amid reports of the former Prime Minister en route to Singapore with his daughter due to meet him in Bangkok
On Saturday, political activist and whistleblower, Chuwit Kamolvisit, was still denying that Mr Thaksin would return to Thailand on Tuesday morning, next.
It comes despite a new message from Mr Thaksin's daughter and Pheu Thai prime ministerial nominee, Paetongtarn Shinawatra, again confirming her father's long-awaited return.
Mr Thaksin himself gave interviews to foreign media outside Thailand including the BBC.
It is understood that he has travelled with his sister, Ms Yingluck Shinawatra, Thailand's first female Prime Minister from 2011 to 2014, from Dubai to Singapore with reports that he is expected to arrive in the city-state on Saturday and from there will travel by private jet on Tuesday morning, arriving at Don Mueang Airport at 9 am where his daughter Ms Paetongtarn is expected to meet him.
Bangkok Remand Prison ready to host Thaksin Shinawatra while unconfirmed reports suggest a five-year prison term instead of ten when brought to court
Reports in Bangkok suggest that following high-level meetings on Friday, preparations have been made at Bangkok Remand Prison to house the ex-premier who will be met at the airport by Immigration Bureau police who will arrest him on warrants and bring him before the Supreme Court for Political Officeholders.
There are unconfirmed reports that an order of the court may be made so that Mr Thaksin will only have to serve five years of the ten years handed down in respect of three convictions which were sealed against him while in exile based on criminal justice law and procedure.
Speaking to the media on Saturday, Mr Thaksin explained that he was now old and simply wanted to return to Thailand to be with his family, especially his grandchildren.
However, he appeared to suggest that he was confident that Srettha Thavisin, the prime ministerial nominee for the Pheu Thai Party, will be elected prime minister on the same day of his return, Tuesday, August 22nd.
Many observers, however, think otherwise.
Analysts believe that the fate of Mr Thaksin is firmly linked to the election of Thailand's next government and political moves since May 14th last
They also do not believe that the return of the former prime minister and the nomination of a Pheu Thai candidate for prime minister by a political alliance which has caused consternation among Mr Thaksin's former support base, are not linked. 
On Saturday, Mr Thaksin was insisting that this was so and that the reason for his delay from the end of July when he first promised to return home was because of other factors. 
'Originally I set the date back on July 26th, but someone went to see the auspicious date and said it should be on August 22nd. He said it was a good day, which I don't believe, but I don't want to offend anyone. I simply want everyone to love each other. I want the country to be peaceful.'
If Mr Thaksin returns home, he will find himself incarcerated on the same day that a vote is expected at 5 pm on the nomination of Mr Srettha Thavisin in Parliament.
Strong and persistent rumours that Mr Srettha's nomination will be defeated by members of the unelected and unaccountable Senate on Tuesday next 
There are intense rumours from credible sources that this nomination before Parliament will not succeed with it being suggested that it will be the precursor to a move by Deputy Prime Minister Prawit Wongsuwan, who commands the support of many in the Upper House or Senate, to have himself elected as Prime Minister.
Over the weekend, there are reports that there could be defections from the demoralised Pheu Thai Party which will find itself in turmoil if Mr Srettha's nomination is shot down on Tuesday which experts believe is quite a likely outcome while Mr Thaksin has been jailed.
It will feel like betrayal and show up the poor judgement of the Pheu Thai Party's leadership.
Arch conservative Senator raises the land tax evasion controversy and also Pheu Thai's plan for a new Thai constitution to be discussed from Day One
An indication of the opposition that can be expected to Mr Srettha's nomination came this week in comments from Senator Kittisak Rattanawaraha, an arch-conservative who has suggested that next Tuesday we'll see quite an acrimonious session of Parliament when it considers Mr Srettha as Thailand's 30th Prime Minister.
Senator Kittisak has pointed to heated allegations of tax evasion linked to the dealings of Mr Srettha's former firm, Sansiri Public Company, in recent days as a key subject which will attract the attention of senators in the upper house in the joint session of Parliament.
The senior senator also said that he believes that plans by Pheu Thai to initiate a movement towards a brand-new constitution from the first meeting of the new cabinet are also raising hackles among senators and may be one of the reasons why Mr Srettha's nomination for Prime Minister will be opposed and possibly defeated.
Senators oppose a new constitution 
Pheu Thai when it announced its move to jettison the Move Forward Party, promised the electorate a new constitution and thereafter an immediate General Election to restore full democracy in Thailand.
Senator Kittisak said the view of most senators was that any changes to the Constitution should be approached on a section-by-section basis without the need to fully rewrite the 2017 Charter.
Press conference on Monday to add to Mr Srettha's woes and baptism of fire with a police investigation now also opened into the Bangkok land deals
On Monday, August 21st, Mr Chuwit Kamolvisit who has become a strident if somewhat controversial voice in opposition to Mr Srettha's nomination for Prime Minister, has promised to give another potentially explosive press conference detailing further the tax evasion schemes which he has drawn to public attention linked with the purchase of land by the Sansiri Company, the property development firm from which Mr Srettha resigned in April this year to pursue a career in politics. 
Sansiri has repeatedly denied the claims by distancing itself from the actions of the sellers of the two properties in question although Mr Chuwit continues to argue that the schemes were designed to evade and not simply legally avoid tax by the sellers.
This would amount to a potentially criminal act even if Mr Srettha or his firm may not be technically liable.
Mr Srettha has issued defamation proceedings against Mr Chwuit for ฿500 million.
The two purchases in question concern land in the Thonglor area of Bangkok and a second plot on Sarasin Road.
Chuwit's intelligence on tax evasion claims lodged at the Police Club with General Surachate Hakparn
Last week, Mr Chuwit submitted a case file to Deputy Police Chief General Surachate Hakparn at the Police Club in Bangkok in which he asked the top police officer to question in particular the seller of one of the land plots, a respected doctor at a private hospital, as to whom he sold his land.
He revealed that the paper trail suggests that it was to a company, N&N Assets Co., controlled by two security guards and a housekeeper. 
General Surachate, on Thursday last, August 17th confirmed the opening of a police investigation which the renowned senior police officer, also known as 'Big Joke', has promised to expedite given the intense level of public interest in the affair.
Concerning one of these land purchases, it has been suggested by Mr Chuwit that a convoluted scheme involving 12 different transactions over a 12-day period was entered into by the sellers of the property as it was transferred to the Sansiri Public Company resulting in the loss of over ฿520 million in property taxes to the Revenue Department which would have been due to be paid by the selling party.
Momentous day in Thai politics dawns on Tuesday with a key battle in what is a war between the Old Guard and New Guard for Thailand's future direction
It is quite clear that Tuesday, August 22nd will be a momentous day in Thai politics with the potential failure of Mr Srettha's nomination likely to spell the doom of the Pheu Thai Party as a political force in Thai politics as it will, according to inside sources, see the rise of Deputy Prime Minister Prawin as Thailand's next Prime Minister.
Last week, in Bangkok, Mr Sukhum Nuansakul, a respected political expert and former Rector at Ramkhamhaeng University, gave a compelling appraisal of exactly what was happening in the last few weeks and developments since the May 14th General Election. 
He assesses that General Prawit is the standard bearer for the old guard in Thai politics who are determined not to let the country pursue a path of reform, unbridled democracy and progressive politics. 
Mr Sukhum was confident that Mr Srettha's nomination as Prime Minister on Tuesday would be defeated. 
Thaksin jailed and Pheu Thai neutralised
This will come after Mr Thaksin's return to Thailand meaning the key figure who has been held out in opposition to reactionary forces in Thailand will find himself behind bars while the political movement that supported him since he came to power in 2001 and through two coups in 2006 and 2014, will have been destroyed as its support base finds that it can no longer trust the party's leadership.
During the election, key figures of the Pheu Thai Party including its leader Dr Cholnan Srikaew, Srettha Thavisin and Pheu Thai Family leader Paetongtarn Shinawatra, gave solemn assurances to the public that the party would never form a coalition with the parties associated former coup leaders or military generals.
This has now come to pass.
In recent days, Mr Jatuporn Prompan, the former Redshirt leader, who has for months predicted such a turn of events, particularly questioned the leader of the Pheu Thai Party, Dr Cholnan Srikaew when he said on national TV in Thailand: 'Dr Cholnan said he would resign as party leader if Pheu Thai teamed up with those parties. How will he explain this to the Thai people?'
Mr Sukhum, on Tuesday last, predicted that Mr Srettha's nomination would be defeated.
Plot to hand power over to Deputy Prime Minister Prawit in a course of events that so far has left the voting public stunned with protests to follow
'I don't think the candidate's PM bid will succeed because the senators are close to the old power group and they will not vote in his favour.'
He explained: 'Actually their real aim is to help General Prawit secure the premiership. If things turn out this way, street demonstrations can be expected. The old power group wants General Prawit to become the next Prime Minister. They want to maintain the old political system and don't want any change.'
Mr Sukhum said the situation represents a battle between old and new political forces in Thailand with the current situation, as it is developing, likely leading to a victory for those who support the old guard in the near term and defeat for the 65% of Thai voters who plumped for a more democratic and reform-minded future in the May 14th General Election.
He also expressed concern for what the current turn of events has done to the psyche of the Thai electorate and the voting public: 'Such a move has left people baffled as to what is true or false regarding the formation of a government.'
Further reading:
Thaksin and Pheu Thai have burned their bridges with its national 'family' and loyal support base
Chuwit says General Prawit Wongsuwan will be Thailand's Prime Minister at the end of August
Political crisis deepens as Court takes up petition, voting on PM off until at least August 16th next
Pheu Thai gives Move Forward the boot, promises a new Constitution and another General Election
Fate of Thaksin linked to political fate of the kingdom as Chuwit predicts his return deal is off at this time
Fears grow that Thaksin has become a pawn for conservatives to break the 8 party democratic pact
Prime Minister, business leaders oppose strategy to countdown the clock on the Senate's power
PM votes suspended indefinitely as Constitutional Court asked to review last vote in parliament
Pheu Thai meets Anutin as Move Forward's Pita turns up the pressure on its conflicted leaders
Former police chief and political leader says Move Forward must sacrifice itself for the country
Anutin waits for the call from Pheu Thai but will not treat with Move Forward over its policies
Pheu Thai to install Srettha as Prime Minister by forming a coalition pact with government parties
Pita suspended as an MP and loses renomination attempt in parliament as Senate blocks his path
Tide going out in parliament for Move Forward as it faces being axed or sidelined from real power
US expresses concern about the democratic 'will of the people' as tension mounts over legal case
Senators to the fore as tide favours a conservative fix to install a more mature next government
Thailand is facing a deep political crisis as Pita loses key vote and top court takes up complaints
Plan is to rally parliament behind the people's will to elect Pita Limjaroenrat as Prime Minister
Move Forward leader says Pita will be PM despite the rumour mill and some vociferous senators on the right
Pheu Thai may face a terrible dilemma as outgoing government parties still aim for power in PM vote
Wan Noor elected unopposed as House Speaker, Move Forward Party nominee for deputy wins vote
King and Queen open parliament amid uncertainty as to Tuesday's vote on the Speaker of the House
Breakthrough deal could see either Pita or Srettha take job as Thailand's 30th PM on July 13th
PM's soothing words for frayed nerves as he says he will continue his role up to the next cabinet
Baht falls to 7-month low as unease grows over chances of Pita Limjaroenrat being elected as PM
New PM in July a turning point for the Thai economy in 2023 which could still see 4% GDP growth recorded
Pita's election as PM and political certainty would be a green light for new jobs and investment
79 new MPs face scrutiny as Election Commission says only 321 to be declared elected on June 21st
Way cleared for Pita's election as PM but seeds sown for political conflict with criminal probe under poll law
Dangerous political flux in the aftermath of the General Election is growing and poses a threat
Pita shares cast a pall over historic May 14th Election, fears that the results may be nullified by a court
Compromise mooted between Pheu Thai and Move Forward on House Speaker job before key meeting
Kooky Palang Pracharat reports rejected on Tuesday by Prawit as Pheu Thai stands by Pita for PM
Move Forward's 'Government of Hope' coalition delivers a programme promising a new charter
Jatuporn warns Pheu Thai may be turned as he predicts a political impasse. Should wait for 2024
Election vote for Move Forward may have been a cry for help from voters mired in short-term debt
Pita, Move Forward and eight other parties meet in Bangkok and come out smiling, ready to govern
Pita plots a new coalition government with Pheu Thai but open conflict has already raised its head in the Senate
Move Forward Party's good election result leaves uncertainty as to who will form the government