The Royal Thai Police chief gave a briefing to reporters on Monday as his force locked in details for Tuesday's operation to receive ex-Prime Minister Thaksin Shinawatra on arrival and his movements in Bangkok before he is committed to Bangkok Remand Prison after his appearance before the Supreme Court.
The Royal Thai Police has assured the public that its overarching priority in dealing with the historic return of former Prime Minister Thaksin Shinawatra will be the safety of the man who has dominated Thai politics for over two decades while police also have orders to ensure the safety of supporters who come out to cheer Mr Thaksin on his return and appearance before the Supreme Court in the capital before he is committed to Bangkok Remand Prison. The Supreme Court has scheduled a press conference after Mr Thaksin appears before it to explain the basis of any decision made on Tuesday regarding his prison sentences and terms of incarceration.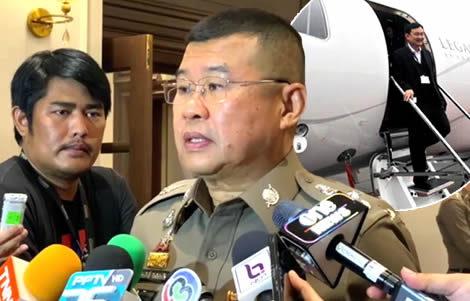 The Thai police chief, General Damrongsak Kittiprapas, on Monday, confirmed that his forces were ready to deal with the imminent return to Thailand of former Prime Minister Thaksin Shinawatra after over 15 years in exile.
The former premier is understood to be flying in with his son Panthongtae 'Oak' Shinawatra and other close family members on a private jet from Singapore where he has been since the weekend.
His daughter Paetongtarn Shinawatra will be at the airport with other family members to meet the exiled former government leader.
The controversial former prime minister who has been a dominating figure in Thai politics for over two decades, is expected to fly into Thailand on a private jet and to be received at a private terminal at Don Mueang Airport by Immigration Bureau Police accompanied by officers of Bangkok Metropolitan Police Division Two on Tuesday morning at 9.30 am.
Thaksin to be taken from Don Mueang to Metropolitan Police Bureau headquarters before going to the Supreme Court in Sanam Luang and to prison
On Monday, General Damrongsak outlined a preliminary schedule which would see the former Premier be taken to the headquarters of Metropolitan Police Division 2 before being taken to the Supreme Court in Bangkok where he will come before the Criminal Division for Persons Holding Political Positions.
Following a hearing of the court dealing with arrest warrants for the former Prime Minister, who is 74 years old, it is expected he will then be handed over to the Department of Corrections and taken to Bangkok Remand Prison.
Supporters of the former PM from across Thailand have mobilised as he surrenders to authorities to spend his last days with his family and grandchildren.
On Monday, General Damrongsak emphasised that police were preparing for all eventualities with their priority being the safety of the former prime minister, with the police chief underlining the potential danger to his person, given his unique status in Thai politics and modern history.
Police will try to facilitate Thaksin's supporters as they cheer him on during what will be a challenging moment for the 74-year-old former PM
General Damrongsak Kittiprapas also made it clear that efforts would be made by the Royal Thai Police to accommodate members of the public who are believed to be travelling to the airport to see Mr Thaksin's arrival back in Thailand and to cheer him on as his taken to court and subsequently to prison. 
The National Police Commissioner said that Mr Thaksin would be treated as a VIP arrival in the Kingdom.
He made it clear, however, that because he was an important political figure, this came with inherent dangers.
On Monday afternoon, police are understood to have received details of the aircraft to be used by Mr Thaksin on his return to Thailand as well as details of the passengers aboard the flight.
Reporters asked the police chief if this may include Mr Thaksin's sister and former PM from 2011 to 2014, Yingluck Shinawatra, but he declined to answer, saying it was important to deal with the current situation step by step and that police would adjust their plans as required. 
Ms Yingluck is also living in exile and is the subject of arrest warrants.
No threat of violence reported at this point
General Damrongsak said that police intelligence, at this point, suggests that there is no threat of violence in connection with the return of the former premier but insisted that his force would, nonetheless, be on high alert.
A spokesman for the Office of the Judiciary, Sorawis Limparangsi, told reporters that the court expected Mr Thaksin's arrival sometime on Tuesday morning at approximately 10.30 am.
Mr Thaksin and his family would be accommodated in a courtroom at the building but the press would be prohibited from the precincts and made to wait outside where a perimeter would be erected to satisfy security requirements.
Mr Sorawis said that the Supreme Court, after handing down its decisions on Mr Thaksin's detention period and transfer to prison, would issue a press release after the hearing, explaining the basis of the judgement.
The court's senior officials held a meeting on Monday to discuss Tuesday's proceedings. 
Thaksin is hoping that his jail term may be cut by the Supreme Court from ten to five years under the Criminal Procedure Code when he appears before it
Mr Thaksin faces jail terms over three convictions for fraud, abuse of power and corruption.
Having left Thailand in July 2008 to attend the Beijing Olympics on bail, he failed to return in August 2008 and was subsequently convicted with his wife Khunying Potjaman na Pombejra, in a case linked with the purchase of state land in the Ratchadaphisek area of Bangkok.
The statute of limitations on this case has expired and it will not be considered before the court on Tuesday. 
Based on the three convictions that are still applicable, Mr Thaksin faces ten years imprisonment, although reports suggest that this may be reduced to five years under the Thai Criminal Procedures Code and various regulations within the justice system.
Police chief says his force will be responsible for the former Prime Minister until he is handed into the custody of Bangkok Remand Prison on Tuesday
The police chief, General Damrongsak, told reporters on Monday that police and senior officials with various agencies had rehearsed the arrival of Mr Thaksin throughout Monday after weeks of speculation that the return of the former prime minister was imminent. 
He emphasised that the public was welcome to observe proceedings on Tuesday and the role of the police would be to ensure the safety of bystanders and Mr Thaksin himself.
'Procedures for the officials dealing with the former Prime Minister at Don Mueang Airport, particularly for immigration officers who will be present when Mr Thaksin surrenders himself, have been finalised. He will be taken to Sanam Luang to appear before the Supreme Court and this operation will be handled by Chana Songkhram Police Station. The police will be particularly concerned with safety along the route on Tuesday and escorting the former Prime Minister until he is handed over to the prison department at which stage the responsibility of the Royal Thai Police will end.'
Further reading:
Fears of political betrayal abound as Thaksin plans to touchdown at Don Mueang Airport on Tuesday
Thaksin and Pheu Thai have burned their bridges with its national 'family' and loyal support base
Chuwit says General Prawit Wongsuwan will be Thailand's Prime Minister at the end of August
Political crisis deepens as Court takes up petition, voting on PM off until at least August 16th next
Pheu Thai gives Move Forward the boot, promises a new Constitution and another General Election
Fate of Thaksin linked to political fate of the kingdom as Chuwit predicts his return deal is off at this time
Fears grow that Thaksin has become a pawn for conservatives to break the 8 party democratic pact
Prime Minister, business leaders oppose strategy to countdown the clock on the Senate's power
PM votes suspended indefinitely as Constitutional Court asked to review last vote in parliament
Pheu Thai meets Anutin as Move Forward's Pita turns up the pressure on its conflicted leaders
Former police chief and political leader says Move Forward must sacrifice itself for the country
Anutin waits for the call from Pheu Thai but will not treat with Move Forward over its policies
Pheu Thai to install Srettha as Prime Minister by forming a coalition pact with government parties
Pita suspended as an MP and loses renomination attempt in parliament as Senate blocks his path
Tide going out in parliament for Move Forward as it faces being axed or sidelined from real power
US expresses concern about the democratic 'will of the people' as tension mounts over legal case
Senators to the fore as tide favours a conservative fix to install a more mature next government
Thailand is facing a deep political crisis as Pita loses key vote and top court takes up complaints
Plan is to rally parliament behind the people's will to elect Pita Limjaroenrat as Prime Minister
Move Forward leader says Pita will be PM despite the rumour mill and some vociferous senators on the right
Pheu Thai may face a terrible dilemma as outgoing government parties still aim for power in PM vote
Wan Noor elected unopposed as House Speaker, Move Forward Party nominee for deputy wins vote
King and Queen open parliament amid uncertainty as to Tuesday's vote on the Speaker of the House
Breakthrough deal could see either Pita or Srettha take job as Thailand's 30th PM on July 13th
PM's soothing words for frayed nerves as he says he will continue his role up to the next cabinet
Baht falls to 7-month low as unease grows over chances of Pita Limjaroenrat being elected as PM
New PM in July a turning point for the Thai economy in 2023 which could still see 4% GDP growth recorded
Pita's election as PM and political certainty would be a green light for new jobs and investment
79 new MPs face scrutiny as Election Commission says only 321 to be declared elected on June 21st
Way cleared for Pita's election as PM but seeds sown for political conflict with criminal probe under poll law
Dangerous political flux in the aftermath of the General Election is growing and poses a threat
Pita shares cast a pall over historic May 14th Election, fears that the results may be nullified by a court
Compromise mooted between Pheu Thai and Move Forward on House Speaker job before key meeting
Kooky Palang Pracharat reports rejected on Tuesday by Prawit as Pheu Thai stands by Pita for PM
Move Forward's 'Government of Hope' coalition delivers a programme promising a new charter
Jatuporn warns Pheu Thai may be turned as he predicts a political impasse. Should wait for 2024
Election vote for Move Forward may have been a cry for help from voters mired in short-term debt
Pita, Move Forward and eight other parties meet in Bangkok and come out smiling, ready to govern
Pita plots a new coalition government with Pheu Thai but open conflict has already raised its head in the Senate
Move Forward Party's good election result leaves uncertainty as to who will form the government