Fears over the dangers of EV batteries used on both cars and motorcycles which can produce uncontrollable heat surges, radiation and chemical discharges. Wednesday night's fire is seen as a wake-up call for authorities.
Bangkok's governor has ordered an urgent review of all premises in the capital storing EV vehicles and batteries after a serious fire on Wednesday night gutted a building in the Chatuchak area of the city.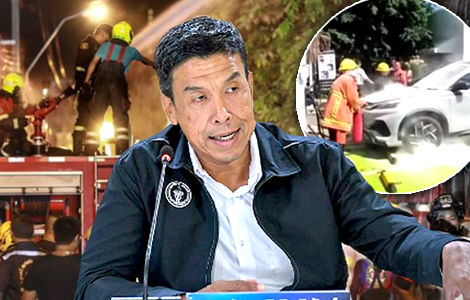 The Governor of Bangkok, Chadchart Sittipunt, has ordered a complete review of all buildings in the Bangkok Metropolitan area which are being used to store electric car batteries or vehicles.
It comes after a raging fire broke out on Wednesday night in the Chatuchak area. The order, which came on Thursday, relates to any building, warehouse or showroom which is being used to store both electric cars and electric motorbikes as well as battery devices because of the particular fire hazard created by electric vehicle batteries. 
Rising concern about fires linked with EV vehicles and the hazardous nature of such fires worldwide
With the emergence of electric vehicles over the past few years, the incidents worldwide of EV fires caused when the batteries of such vehicles ignite have become a source of rising concern. 
It is reported that such fires take longer to put out and also raise the risk of electric shock to emergency responders.
Batteries themselves can also generate uncontrollable rises in temperatures and fire pressure with the possibility that these batteries can reignite posing an added danger.
It is generally now accepted that lithium-ion batteries in electric cars and vehicles can catch fire, even while not in use, if they are badly manufactured or left in a damaged condition.
Many lithium-ion batteries use organic liquid electrolytes which are volatile, inflammable and susceptible to high temperatures.
Explosive fires with radiation, reignition and flamingly intense levels of heat are raising eyebrows
Experts also reveal that if the batteries are subjected to heavy force or heat, it can lead to an explosive fire and also a chemical leakage which poses significant dangers to the wider population particularly to emergency responders in the event of a conflagration. 
There is also a danger of radiation from such fires at high levels of heat.
The order given on Thursday from the governor to officials of the Bangkok Metropolitan Authority covers all vehicles, including hybrid and fully electric cars or other vehicles. 
The order calls on officials to identify all buildings and structures in the capital and the wider Metropolitan area where such vehicles are being stored, including areas where batteries are stored separately.
The fire on Wednesday night took place on Vibhavadi Rangsit Soi 22.
Fears on Wednesday night that the intense level of heat generated may have caused the four-story building's structure to collapse during the operation
It is reported that the ground floor of the building in question was being used as a showroom for electric motorcycles while construction was underway within the building.
The fourth floor of the building was being used to store both motorcycles and batteries separately.
The second and third floor of the building was used to store food supplements.
The Chief of the Bangkok Metropolitan Authority's Public Disaster Prevention and Mitigation Office, Mr Thirayuth Phumisak, told reporters that the fourth floor of the building was wooden while firefighters, after they arrived, found that it had only one entrance.
The intensity of the fire on Wednesday night caused fire units at the scene to fear that the building may collapse.
The building was eventually fully gutted as a result of the fire. The structure remained intact.
EV cars are part of Thailand's plans
EV cars and vehicles are a key part of the Thai government's economic development plan with the kingdom set to produce between 25,000 to 35,000 units in 2023 or 1.2% of the total.
This figure is set to grow exponentially as the country targets the development of the industry ahead of other ASEAN countries.
Thailand expects 30% of its vehicle production in 2030 to be EV-type vehicles, many produced by Thai firms in conjunction with Chinese partners.
To date, Chinese firms have invested up to $1.5 billion in such projects according to the Federation of Thai Industries (FTI). 
The safety of such vehicles and in particular the threat of fire is a concern that has been growing in Western countries over the last two years with rising reports of fire incidents as the usage of EV vehicles increases.
Strong concerns being raised in Western countries, especially the United Kingdom, over fires caused by EV cars and batteries. Calls for reevaluation
In the United Kingdom, in July, the fire service reported that it had issued guidance that fires caused by EV vehicles need two fire brigade units as opposed to one when responding to callouts given the dangerous nature of such fires with rocket-like flames being reported and a longer period for EV fires to be extinguished.
Reports suggest that such incidents can lead to an intensive fire lasting over six hours.
In July, a spokesman for the London Fire Brigade said the number of fires associated with electric cars was climbing 'frighteningly fast' leading to public calls for a proposed government ban on conventional petrol and diesel-powered cars being sold in Britain beyond 2030 to be reconsidered.
Similar calls are being made within the European Union with Germany reported to favour such a move despite an insistence by the European Union Commission based in Brussels that the ban must be enforced.
One week-old Chinese man ฿1 million EV car gave Udon Thani owner a shock last Monday charging
On Monday, in Udon Thani in northeastern Thailand, a 41-year-old man saw his ฿1 million Chinese-made EV car catch fire in what is believed to have been a short circuit incident within the vehicle.
The fire developed while the electric car was being recharged.
The car which was only a week old, was only 50% charged but did not fully explode after the owner called security when he spotted smoke and managed to obtain a fire extinguisher which was used before the fire service arrived.
It had been used carefully before the incident and was saved by emergency service personnel responding quickly who also disconnected the battery.
An investigation by the car's manufacturers is underway.
Further reading:
Thailand faces an economic test as change becomes a reality in cars, farming and business
Bus driver charged as police find fatal inferno was caused by brake failure triggering a gas explosion
Friday evening horror smash in southern Thailand wipes out family riding pillion on a motorbike