Visitors to Thailand should be aware that the culture and safety standards are vastly different particularly for western foreigners holidaying in the kingdom. It is literally a matter of life and death to know and appreciate this.
This week Thailand's Tourism minister told the Thai Public Broadcasting service that she was confident that tourists, who continue to visit Thailand in ever increasing numbers, have confidence in the safety of the country.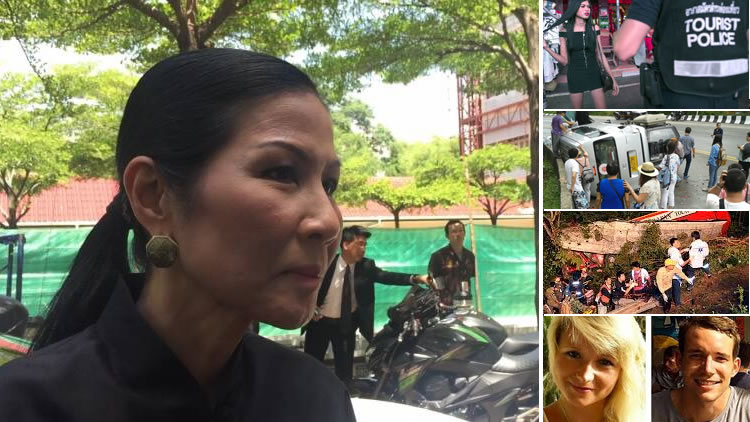 The minister's remarks come after an international body, the World Economic Forum put Thailand on a list of the twenty most dangerous countries in the world. Although Thailand ranks down the list at number nineteen, it comes at a time when many visitors or prospective visitors to Thailand are asking questions online and seeking advice.
This follows years of continuous reports on international media.  The Thai minister is, of course, right when she says that tourist are choosing with their feet but anyone planning on visiting Thailand would be wise to examine the issue and be advised.
Thai Prime Minister offered sensible advice
In September 2014 following the brutal murder of 2 young British tourists on Koh Tao Island, the Thai Prime Minister General Prayut Chan-o-cha issued an apology for comments he made in the aftermath of the murders. The Thai PM had commented that tourists to Thailand thought of Thailand was exotic place where they could do anything they wished.
'That they can put on their bikinis and go anywhere they want,' the PM told the media. The Thai Prime Minister went on to say: 'I asked can you get away with wearing bikinis in Thailand? Unless you are beautiful?'
The next day the Prime Minister went on to issue sincere apologies for his comments but went further than that. He explained what he had meant by them and the context.
'I am sorry with what I have said and if it has caused any inference. I just want to warn tourists that we have different traditions and they have to stay on their toes.'
What is going on in Thailand with foreigners and accidents, the stream of news reports is endless
The media reaction to the comment was such that the apologies made by the Prime Minister were taken as a matter of course. Many may have overlooked the explanation he offered.
In the light of an increasing number of tourist visitors to Thailand and particularly, the spate of single foreign women involved in accidents in Thailand,  it is probably a good idea to explore just what is going on.
Thailand is getting more popular
There is no doubt that Thailand has become one of the most popular destinations in the world. No longer just for middle-aged foreigners seeking sun and sex, but also for a growing market of young westerners seeking to explore the exotic and beautiful nature of the country.
In Thailand, they experience a naturally warm, laid back and fun lifestyle. It is even the case, despite the stereotypical image of Thailand as corrupt, slightly dangerous and prone to political instability, that these factors in themselves are part of the allure for young people wishing to visit in the first place.
Thailand is particularly popular with young UK visitors and many will be familiar with the scene from the film Bridget Jones Diary where the female protagonist ends up in a Thai jail. Over the last decade or two Thailand has also become a getaway location for celebrities and stars of the film and music industry.
Murder in a Thai paradise was a crisis for the Thai government and an ongoing PR concern
The well-publicised murder in 2014 of two well-educated and attractive British young people on Koh Tao seemed set to downgrade the country as a tourist location.
The media coverage persisted following the conviction of the two Burmese migrant workers charged with the murders and their legal efforts against the death sentence subsequently imposed.
At the same time, barely a month goes by in Thailand without some new news story featuring foreign young people becoming lost or involved in fatal or non-fatal accidents.
Many involve young, single western women. It appears that young western women visiting Thailand assume the same levels of safety and security apply in Thailand as at home. Even more dangerous, there's also an assumption that the culture in Thailand is the same as in western countries, this is simply not the case.
Carla Boonkong is a writer for the Thai Examiner and an expert commentator on Thai women who live in foreign countries. She has visited nearly all western countries and examined the difference between life and culture in Thailand and in western societies.
She feels that many of the single western women visiting Thailand are quite determined to enjoy the same level of freedom and activity as young western men.
'It is almost like a mission for these young women and a statement. Many, it would appear, are on holiday during gap years and the 4 or 5-week tour in Thailand is meant to be seen as an achievement. The message is that anywhere young western men can go, they can go too.
However, Thailand is a patriarchal society and I think many western women fail to understand the true nature of Thailand.
I would even dare to say that many are influenced by the negative stereotypes of a permissive society which it is not. The Thai sex for-sale industry, frequently reported by western media, is very much an anomaly in Thailand.'
The reality is that, in Thailand, women are expected to behave discreetly and dress in quite a conservative fashion. While Carla Boonkong is adamant that Thailand is a relatively safe country, she advises young western women who visit Thailand not to go out alone at night and to adopt an awareness of an appropriate dress code.
She is particularly horrified by regular sights of western women attending famous Thai temples dressed in short pants, often revealing inappropriate areas of their bodies.
Bizarre scares involving western tourists
'Many Thai people will not, indeed nearly every Thai person, nearly all Thai people will not say anything about this but it is disrespectful and I feel that because of western culture, many western women will not take kindly to what I am saying, herein lies the problem.'
An incident from 2015 highlights this. Then, residents in Chiang Mai took to social media to vent outrage at a western woman who was swimming in a canal near a revered Thai Buddhist shrine.
Although no legal or police action was taken against the woman, the incident caused a certain level of outrage among the local population. In 2016, a young UK woman, Grace Taylor went missing while backpacking near Krabi, a beautiful and picturesque Thai seaside area in the south.
On a phone call to her mother in the UK, Miss Taylor indicated that she was stressed and felt that she may be in harm. The incident involved an appeal to backpackers in the area as the Royal Thai Police mounted a search for the young UK woman.
She was directed by her mother to Krabi International Airport where she was to catch a flight. However, although she reached the airport, she never boarded the flight and another appeal was made to the public and the police to find her.
The story had a happy ending when Grace's mother and father flew to Thailand and she was found by the Thai police at the airport.
However, the story was echoed by a similar story involving a UK man who made a similar haunting phone call but who also was subsequently rescued by his family. Those incidents attracted worldwide media attention and both cases seemed to involve incoherent and bizarre behaviour.
UK family resort to crowdfunding to pay Thai medical bills after loved one are landed in hospital
The family of another UK woman, Natasha Hutchinson, made an appeal on social media to raise 40,000 pounds sterling for medical expenses for the young UK woman. She was severely injured before Christmas 2015 in a moped accident in Phuket. Miss Hutchinson, an accountancy graduate from Bridgend in Wales, was reportedly on a 6-month adventure holiday in Thailand.
The Welch woman was injured while riding as a pillion passenger on a moped hit by a Thai taxi driver who had fallen asleep at the wheel.
Taken to Phuket hospital, the young woman was told that she had lost her right knee cap and shattered her femur.
The hospital performed an operation to replace the kneecap and also to remove muscle and skin tissue. After 3 days Miss Hutchinson was discharged from the hospital but was later readmitted. She had collapsed and it was found that she had developed septicaemia in Thailand's incredible heat. There was a real risk that she would lose her leg.
Medical insurance for travel to Thailand is of critical importance to the country's industry and image
As the young woman had not taken out medical insurance prior to her trip, her family had to pay the hospital bill for accommodation, medical attention, and operations. Even though healthcare costs are dramatically lower in Thailand than in the UK or indeed the rest of the world, there are no subsidies. In Thailand there is no free healthcare service such as the NHS in the UK. The treatment required for Miss Hutchinson incurred a bill which had to be paid by her family in the UK through personal credit cards.
Crowd funding to the rescue of UK family after credit cards max out when faced with a crisis
One media report in the UK suggested that her hospital bill was 35,000 pounds sterling. Luckily for Miss Hutchinson's parents, they were able to launch a fundraising campaign in the United Kingdom through a fundraising website called GoFundMe.com.
The 35,000 pounds sterling included flights for the family to travel to Thailand to be near Miss Hutchinson. It also provided for the patient's first class flight home. Natasha who, when released from hospital, was not in fit condition to fly economy class. The family's resort to the fundraising website was brought about when their funds began to run out, having paid for flights to visit their daughter in Thailand and then being forced to return home. With the support of friends, the fundraising bid was announced. After 24 hours, 4,000 pounds sterling alone had been raised. An update on the crowdsourcing platform showed that 8,161 pounds sterling had been raised from 405 donors which was an exceptional response. However, it is clear that the family have incurred debts from credit card bills for in excess of the amount.
Family trauma of injured UK woman 
Natasha's operations in Thailand involved 3 serious surgical procedures and several blood transfusions of her blood type which is a rare blood type, which is type B. Natasha's father Nigel Hutchinson, a driving instructor, told one newspaper. 'The injuries were horrifying, it was a horrible thing for a father to see. She didn't have any insurance so we have had to pay for all her treatment. Obviously money doesn't matter but we've only got so much of it,' he said. Media reports suggest a traumatic ordeal for the family, juggling finances and travelling to Thailand to be with their daughter while having to return to the UK due to lack of funds during which time their talented young daughter was receiving intensive treatment while her leg lay in the balance.
Another UKWoman injured on moped in Phuket didn't make it her life ndd on Patng Hill, Phuket
The family of Natasha Hutchinson were a lot luckier than the family of Becky Shaw. Becky was also involved in a moped accident in Phuket at the same time in a striking similarity to Natasha's accident.
The UK girl was also riding as a pillion passenger behind her new friend Julie Robinson who she had met while on her holiday in Thailand.
Young Becky Shaw had spent two months in Asia learning to become a qualified yoga teacher but her life was cut short when she was involved in the motorbike accident on Patong Hill in Phuket.
This Phuket landmark is  infamous for a long series of fatal accidents involving motorbikes and cars. Many of the accidents on Phuket's Patong Hill in the most recent year alone have involved foreigners, including some well-known expats on the islands.
Moped passenger declared dead at the scene
Young Becky Shaw was declared dead on the scene after a Toyota pickup truck slammed into the motor bike being ridden by the two women as it exited from a small road onto ta main highway. The accident happened two weeks before Christmas, on December 12th 2015. Arrangements had to be made for Becky's body to be returned to the United Kingdom. Thai police at the scene confirmed that the young UK woman was wearing a helmet but had died from head trauma nevertheless. A Patong Royal Thai Police lieutenant told the press that the police were investigating the accident and would decide on a later date whether charges should be pressed.
The dangers of Thailand for foreigners.
Not a day goes by in Thailand with some news story about some foreigner meeting some tragic end and amazingly there is very little variation to the stories. For instance, it is common to hear of western men falling from the balconies of condominiums or hotels.
Another source of ongoing news stories is the danger of Thai electricity cables and wiring. Many of Thailand's electrical installations do not meet higher international standards such as those found in the US and Europe.
As well as an ongoing series of foreigners being electrocuted in Thai homes, there are also some more macabre incidents such as a man being electrocuted while urinating near an electricity installation as well as a Russian tourist who was killed while swimming at a hotel pool.
'I think many people, when they arrive in Thailand, come under the spell of a feel good factor with the warm, balmy weather, and the very friendly Thai people.
The low cost of everything and the vast range of beautiful scenery and things to do brings on a euphoric effect, and this is what makes Thailand one of the world's top destinations and rightly so.
However what Westerners to Thailand must remember is that the culture and background to everything is quite different to European and Western cultures. I have a friend who describes it as alien, this may be a little offensive but it makes the point,' says Carla Boonkong.
Driving in Thailand is also dangerous 
Many expats in Thailand and some tourists have experienced driving in the country. For many, the opportunity to get out of the urban areas and experience the country by road is a very attractive proposition.
However, some foreigners and expats tell a horror story when it comes to Thai road manners and driving in general. This also applies to pedestrians from foreign countries when dealing with vehicles on the road in Thailand. Henry Torbett is originally from Newport Wales in the United Kingdom.
The Briton has been living in Thailand since 2004. He lives on the outskirts of Bangkok. He owns a car which he seldom uses. 'I made a decision some years ago to let my wife do the driving and there are many reasons for this, but the one that is uppermost in my mind is the craziness of Thai roads and Thai drivers, sometimes I'll take the wheel if we head down to Pattaya. But more and more, I am less inclined, it's just not worth it.'
No rules on Thai roads, the reality that cannot be avoided or massaged. Among the worlds' worst
According to Henry there are no rules in Thailand when it comes to driving on the road.
In fact, he is surprised that there are not more accidents and is simply wary of becoming involved in one as a foreigner living in the country with all the implications.
'I have friends, and many of them will tell you the same thing. I suppose also I'm a bit now, I'm 61 and the reflexes would not be the same. Even when I'm in the passenger seat I can get quite agitated when I see what's happening on the road around me.' Henry is describing what happens on Thai roads where many Thai's can be become quite competitive overtaking at every opportunity and on all sides. 'I mean, if you come from the UK like I do, it is quite a shock to see what happens on the roads in Thailand. I drive here rarely but I will always exercise a lot of caution.'
For Thai pedestrians the roads are also a challenge with a lack of understandung of zebra crossings
Henry is also appalled at the attitude of many Thai's to pedestrians and tells a shocking story of nearly being killed on a pedestrian crossing some months ago.
'I am living here for over 12 years now and sometimes makes the mistake of feeling too much at home. I was crossing a pedestrian crossing and a car was approaching and I guess my foreign instincts kicked in and I expected it to stop. My wife was urging me to run quickly and I became a little bull headed looking at this car and it did not stop, I dived across the road at the last moment but if I had not moved I would have been mowed down.
The incident was so shocking that the driver of the car stopped just afterwards, also in a state of shock. The lady simply assumed that it was up to the pedestrian to get out of her way, had absolutely no regard for the pedestrian crossing. As I say, I've lived here 12 years and I would warn anyone in Thailand as a foreigner about this, but anyone I have told has simply laughed at me and said I was full of it.'
One of the more shocking aspects of incidents involving foreigners in Thailand is the lack of judgment shown. The results are often fatal as foreigners attempt feats that they would not countenance at home.
Apparently harmless can turn into tragedy in Thailand due to false exuberance and confidence. The press in Bangkok in 2015 reported of the death of a well-known Australian expat who ran one of the most famous go-go bars on Bangkok's infamous Soi Cowboy.
The expat had fallen from his condominium to his death in the act of crossing from, jumping from one condominium window to another as he had locked himself out of his room and forgotten his keys. He had in the past performed this act as a matter of routine.
UK woman falls from back of Tuk Tuk 
In Phuket prior to Christmas in 2015 an English tourist Elizabeth Corrigan fell from the back of one of Thailand's favourite modes of transport, a Tuk-Tuk, on her way home after a night drinking with her friend. Elizabeth Corrigan, was accompanied on the Tuk-Tuk ride by a male companion, Mr Paul Henry Fortuna, 30 years of age. Her companion told the police afterwards what had happened.
The two had spent the night on the town, drinking in the Patong area of Phuket and were taking the Tuk-Tuk as a mode of transport back to their hotel in the early hours of the morning. Mrs Corrigan felt sick and moved to the back of the Tuk-Tuk which is also the entrance and exit area, in order to vomit.
Mr Fortuna told the police that she then fell although he made an attempt to grab her. After alerting the Tuk-Tuk driver they stopped the vehicle and found Mrs Corrigan unconscious on the road.
The two men were unable to revive her and when emergency services reached the scene they took Mrs Corrigan to Patong Hospital and later on to another hospital where she was declared dead.
Foreigners often the cause of accidents
As well as being the victims of accidents, foreigners are often the instigators of instances to such an extent the Thai Prime Minister, following a recent cabinet meeting, asked for an investigation by authorities into increasing reports of foreigners being the cause of incidents.
An example of such an incident occurred in Pattaya, again prior to Christmas 2015 when a British man Michael Ashbrooke was detained by Thai Police following a road accident in which a Russian tourist Oleg Yuzhikoy, 37 years of age, was killed in the popular beach resort after suffering severe injuries to his head, including a broken skull.
The 42-year-old British man was reported as being the driver of a Toyota Fortuna vehicle, which was seen driving along the road when Mr Yuzhikoy was hit, The Russian man's wife who was pregnant, was also injured.
The British man, originally from Ellesmere Port in the UK, but now living in Pattaya, denied that he was the driver of the vehicle when it hit the Russian couple who were walking along one of the main promenades in the city when the accident occurred. An eyewitness told one of Thailand's leading English speaking newspapers – The Nation, that an SUV vehicle had hit the couple while they were crossing the road and heading back to their hotel room.
Mr Ashbrooke claimed to police that the real driver of the vehicle made off after the accident. Nevertheless he was detained by the Royal Thai Police, pending an investigation and charged with reckless driving and causing the death of the Russian man, as well as injuries to his wife.
Is Thailand safe for foreigners?
The barrage of news reports from Thailand in the International media has caused this question to be asked on social media on a regular basis.
The answer obviously, cannot be black and white. In many respects Thailand is a very safe country with a very welcoming population and quite a secure environment when compared to other countries in the world, even developed countries.
'Like everything in Thailand there is a contradiction here. Thailand has an admirable record when it comes to law enforcement and security for instance. Thai people have great respect for their own laws and as an expat who has lived here for over 25 years, I feel very safe in this country and I feel it is safe but perhaps that is because I understand the massive increase in tourists coming to Thailand also suggests that most people feel it is safe and it is important to know that many of that many of the tourists who visit Thailand, come to Thailand on a regular basis and had even made a second home,' says one Bangkok based UK media commentator.
Thailand can be safe for foreigners if sensible advice is heeded and visitors realise the danagers
However, in order to give a more accurate answer to the question we should look at the comments of the Thai Prime Minister in the aftermath of the murder of the 2 young British tourists on Koh Tao in 2014. His comments represent excellent advice for anyone visiting Thailand, but particularly women from foreign countries. So therefore, the answer to the question may be that Thailand is certainly a very safe country provided people remember the following key points:
   Thailand does not have the same culture as western countries, or indeed if one examines it further, the same legal system. Thailand goes out of its way to be welcoming and hospitable to foreign visitors but it would be a mistake to presume that such a welcome means that Thai's think and feel the same as westerners. Of course this is changing as the world become more globalised and Thai men and women from different generations, younger generations interact with and import a global culture.
   Thailand does not have the same background or history of development as western countries, therefore physical and industrial standards will be different. Thailand is very much a less developed economy and less developed than western society or western countries. This, in many respects, means that there is more danger, or to put it another way: Thailand is not a nanny state. This state of affairs demands that westerners visiting the country take on more responsibility. The first step towards taking on this responsibility is becoming aware of the issues.
     The warm, balmy weather and welcoming environment that is afforded to foreigners can cause many foreigners to become less guarded. This can also take the form of indulging in alcohol, which makes some of the foreigners even less responsible. As in point 2, Thailand is not a nanny state. Expressed another way, to westerners life can appear cheap in Thailand. Thai culture is a local freedom, and Thailand as a less developed society and economy affords its citizens more freedoms than many people enjoy in western society. This freedom can be seen in less regulation, for instance, on Thailand's roads which are notorious and among the most dangerous in the world. In this sense, Thailand is indeed a more dangerous country. Many of the tragedies and instances involving foreigners involve road accidents.
Travel Insurance in Thailand – A must have
Many of the incidents involving foreigners have occurred where the visitors did not have travel insurance and families were burdened with enormous medical and transport costs. There are even far more tragic stories than that of Natasha Hutchinson, who eventually was able to return to her family in the United Kingdom, although after burdening them with a large credit card debt. One Irish family recently had to raise money for a young Irish man who in a coma and declared brain dead after a hapless accident trying to climb into his condominium in Bangkok. These stories are a regular occurrence.
Easy to take out travel insurance
Most websites and travel agents now offer extensive and comprehensive travel insurance and for as little as $100 and this is very good value.
Not only does the insurance cover medical costs in the event of an emergency but there are many other additional benefits such as provision for dental costs when abroad, loss of passport and travel documents which have to be replaced, as well as the cancellation of flights and bookings.
It is even advisable for foreigners who are currently visiting Thailand and have forgotten to take out travel insurance to book travel insurance at the earliest opportunity.
Thai based travel insurancemore expensive
One Bangkok national Thai insurance company offers such a policy although the benefits are not as extensive as the sort of policies that can be taken out by foreigners before they travel to Thailand. The different options cost between $200 and $300 including VAT and covers medical costs up to $30,000 or $50,000 respectively.
Another key requirement and one that is taken by most visitors is a medical check-up before visiting the country and medical shots to cover various diseases and threats such as malaria. 'I think Western visitors to Thailand must have a healthy respect for the differences in climate, environment, and dangers that exist between Thailand and their home countries. The exotic nature of Thailand, these differences, is what makes the place so attractive in the first place. But as we have seen from so many stories it is a grave mistake to be cavalier about the prospect of travelling and holidaying in Thailand or any other southeast Asian country.'