Innovative Thai state broadcaster moving into the digital age as TV ad revenue plummets as younger audiences move online
One of Thailand leading media operators has announced a new strategy to focus on digital platforms for growth as Thai audiences switch to online usage and away from TV and traditional broadcast outlets.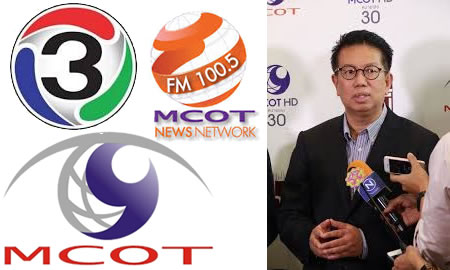 State-owned conglomerates usually are slow to react lagging behind their privately owned competitors. In most western countries they are averse to change, innovation with a workforce that revolts against commercial imperatives usually citing culture and a mission to preserve national values. That is not the case with Thailand where the state owned broadcaster faces a media market that is not only competitive but produces operators who constantly seek out creative ideas. This is surprising given that much of the broadcast media in Thailand is under government control.
MCOT, a leading Thai media company, to switch focus to its digital platforms for growth
That  was confirmed in recent weeks as one of Thailand's major media operators announced a new strategy to prioritise the development of its digital platforms.MCOT Public Company Limited, or MCOT for short, is a major Thai state-owned public broadcaster. Launched 1952, the company is undergoing an important restructuring that employs novel technology to deal with the problems and challenges being faced by Thailand's media operators and broadcaster in this of 4.0 age which has seen Thai people become world leaders in the use of digital technology.
MCOT operates leading Thai TV and radio stations
Currently MCOT in Thailand or Mass Communication Organization of Thailand, based in Bangkok was established in 1952. It is  owned by the Thai government. It is an operator's of radio and television stations in the Kingdom. The company operates seven national radio stations as well as an international radio service and fifty three provincial or local radio station. The company operates two nation TV services with two  satellite TV services. These include the popular Channel 3 TV home of some of Thailand's most popular TV soaps in addition to comprehensive news and current affairs coverage. It is launched in 1969. It is the second most important station in Thailand in terms of market share. It generates substantial advertising revenues and is known for embracing new trends and technology. The MCOT company itself already has as its motto: 'Digitally Beyond'.
Thailand sees a decline in TV penetration as viewers become online users
MCOT will divert more attention and resources to producing content for online platforms to offset the decline in revenues from TV advertising, says Kematat Paladesh, President and Vice Chairman of the risk management committee. More specifically, a new digital department that specializes in the production of online content will be founded to diversify the business activity of the company. MCOT sets out the goal that digital platforms will generate 20 percent of its profits in the next few years in comparison to the meager 1 percent now. Currently, about 80 percent of MCOT revenue comes from TV advertising but the figure is destined for an irreversible decrease as TV audience will shrink for losing young and tech-savvy viewers to the internet-based platforms.
Operating 62 radio stations around the country, the company also puts emphasis on raising radio revenues to 30 percent in the future, practically terminating the monopoly of TV advertising.
Thai state owned broadcaster to embrace new AI techniques
A number of technological advances will be applied in new MCOT strategy. Artificial intelligence technology will be crucial to content production as it can change forms of information, for example from recorded voice clips to text and visuals. In line with the new trend that major digital stations create their own content, MCOT will commence providing quality content for itself with the help of big data. The new technology is an tremendous aid to learn the needs and wants of the audience, to do a thorough research on what kind of content consumers want to watch, allowing the content creators to come up with the right choices.
New strategy may be an opening for younger recruits to the industry
However, there are some large obstacles in the path to successful adaptation of digital platforms. For one thing, the majority of MCOT staff has been trained and brought up with traditional media so for them, online content is obviously uncharted waters. Due to the conservative mindset particularly among older workers, it may be necessary to find a new generation of dynamic employees who are not risk-averse and capable of embracing new technology and operating practices.
Thailand's media companies must comply with a new regulatory framework
Dealing with government rules will be another essential task. Under a new regulatory framework set up by the Thai government, a national council called National Broadcasting and Telecommunications Commission (NBTC) has been established to regulate the media industry but it has few members with backgrounds in the field, which will certainly complicate understanding between them and media companies. It may also result in more restrictive work practices that may be necessary to comply with requirements although this is not a given as technology can be both flexible and offer more control over output.