Young Thai woman from Khlong Toei shows the way forward for the chronic poor in Bangkok's slums. Don't blame the rich, raise your sights
Unknown to many Westerners, a lot of Thai people and families rank among the wealthiest on earth. Coming from different backgrounds, they have several things in common: that many have made their vast fortunes out of sheer talent and innovation. Their multi-billion-dollar assets afford them many privileges reserved only for the super rich. Despite the US style unequal distribution of its wealth, Thailand is still considered as a good place to do business, be it a small enterprise or colossal corporation, and Thai people are pretty happy about it.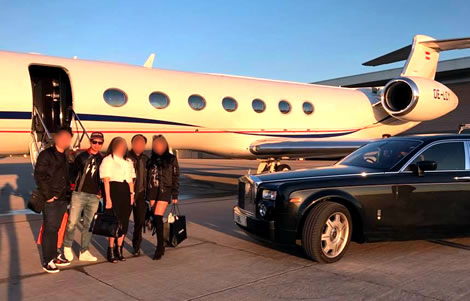 A private company with a net worth of $ 36.6 billion. A corporation valued at 19.3 $ billion. Not far behind, a world-famous energy drink brand with the total wealth of $ 13.1 billion. At first glance, these vague descriptions may suggest that those valuable companies are based in rich and advanced countries. That could not be more wrong. They are the flagship firms of Thailand, a developing country whose GDP per capita is only one-eighth that of the USA or three-fourth of China, according to IMF's 2018 estimates. Still, many people are surprised to find that it is home to some of the richest people on this planet, despite its relatively small economy.
The rapid growth during the 1970s-1980s period in the country ushered the emergence of USD billionaires, and the recent economic renaissance after years of social unrest has helped to swell their ranks. According to Forbes reports, the wealth of Thailand's 50 richest people rose 16 % in 2017, the year in which Thailand's economy grew approximately 3 %. World Bank statistics say that Thailand's wealthiest 20 percent control nearly half of the national income.
A Thai man importing crop seeds from China built a $40 billion business
Among the commoners, the most well-known name is the Chearavanont family who are the owners of Charoen Pokphand (CP) Group, one of the world's largest supplier of livestock and animal feed. The conglomerate is estimated to be worth nearly $ 40 billion, and the wealth of its key figure,  Khun Chearavanont, is said to be around $ 10 billion. Starting modestly as a small firm importing crop seeds from China for Thai farmers, now the agribusiness empire reign as the largest private company in Thailand with many branches around the world. The next name in the line of Thai billionaires is the Chirathivat family whose properties and assets are calculated to reach nearly $ 20 billion. The family controls the Central Group, the real estate, retailing, and services giant that has expanded throughout Southeast Asia, parts of South Asia and Europe. The firm is also widely considered to be an influential pioneer of regional e-commerce. Possessing less wealth and yet more publicity is the Yoovidhya family who are behind the famous Red Bull drink. Their total wealth of $ 13.1 billion might seem not as significant as other large Thai names, but the Yoovidhya family has made a lot of noise recently due to the typical behavior of the super rich that will be explored later.
Thailand where the son of a street vendor can end up being worth $16 billion
Though Thailand's greatest businesses are all family-owned, there are many individuals who have built their fortunes with their own hands. Among them is Keeree Kanjanapas, the founder and chairman of BTS Group Holdings as well as the operator of Skytrain, Bangkok's popular rapid transit system. Now, he is making inroads into European hotels with the acquisition of Vienna House $350 million last year. Another great name is Charoen Sirivadhanabhakdi, who owns the well-known Thai Beverage firm, the colossal supermarket chain Big C along with many real estate and hospitality firms. A son of a Bangkok street vendor, he now possesses the wealth of nearly $16 billion and has business operations around the globe. Of course, the list can't be complete without Vichai Srivaddhanaprabha, the owner of the giant duty-free chain King Power. His self-made wealth of $ 4.3 billion asides, he has become an immortal among football enthusiasts as he bought Leicester City Football Club and transformed the ordinary club into the 2016 Premier League champion, creating an inspiration fairy tale in the face of dog-eat-dog world of British professional football.
Bangkok has two Ferrari dealerships with expensive skyhigh condos sold out
Of course, it is not only the billionaires who have benefited from Thailand's upbeat economy. Strong economic growth has also given rise to a growing middle class that has the money and the needs to spend. Many foreigners are shocked to find that Bangkok has two Ferrari dealers while many big cities in Europe has no places to buy luxury cars, which makes the ready availability of high-end cars in Thailand even more impressive as the country's car tax is insanely high about 300 %. Condos with sky-high prices in Bangkok are usually sold out, and private schools for families seeking premium education are numerous. Expats living in Thailand are occasionally surprised to find that their modest Thai friends are actually millionaires.
Thailand has over 160,000 millionaires with zero unemployment
Living in the agricultural powerhouse as well as a robust real estate market of the region, many Thai families possess very large plantations or areas of land that can be valued at millions of baht or more. As the majority of Thai people don't like to show off, it is not until that a certain level of acquaintance is reached that those foreigners learn who their Thai friends really are. By some estimates, by now Thailand could have 160-170,000 millionaires
Naturally, just like the rest of the world, Thailand is grappling with problems that come with having many billionaires and millionaires comes.
A unique economy with the lowest unemployment rate in the world
Thailand in fact has perhaps the lowest rate of unemployment in the world. The figure stands at  under 1% or approximately 0.5%. It is an astonishing achievement and is perhaps an argument for those who formulate world economic policy to look at Thailand as an extraordinary success story. A country's unemployment rate is one of the truest measures of economic success perhaps more important that GDP which fascinates the western world. It might also explain why many western men are moving to Thailand some marrying Thai woman but many to use the country as a base for a new and more rewarding lifestyle.
Dome factors which contribute to the lowest uneplymentrate in the world are the absence of a social insurance programme and a massive informal economy. This can be seen by anyone who has visited Thailand. The roads and markets are full of small enterprises that are flourishing alongside the multinational and international brands. It is arguable that further economic development in the pursuit if GDP gains may result in higher incomes and eventually the destruction of his phenomenon but that is for another article in economics. Thailand has also managed to retain its strong agriculture sector which provides employment to 40% of the workforce and seasonal work.
Thailand is facing a demographics crisis along with other Asian countries due to a reducing birth rate following decades of UN guided policies. Again it is arguably the modern western orthodoxy is wrong as the Philippines with it catholic ethse now has one of the brightest economic futures in Asia due to its higher youth population. However Thailand has been very adept at emplyng nationals from Cambodia, Myanmar and Laos to offset the problem in the short term.
Wealth in Thailand as in many countries, buys influence
Most Thai wealthy families have some sorts of connections with local politicians which they exploit for various purposes. Usually, the use of influence is confined to persuading the police to forgive minor traffic regulations or having the paperwork done quicker. Thailand's patriarchal and hierarchical society encourages a society where favours and privilege are extended to the more well off. But sometimes, it is used to seriously bend and mock the rule of law and requires Thai authorities to take acton and they do. It is quite difficult for foreigners to judge Thailand by western standards particularly modern western standards which are now being openly questioned.
One of the most controversial issues in Thailand is how to deal 'deadly rich kids', a nickname for young people of privilege who are involved in fatal car accidents. It is an issue that has generated considerable media attention. Thailand's success in economic terms means that there are a large number of very wealthy families in Bangkok and other urban centres. Thailand's love affair with cars and motoring also, not surprisingly, extends to the rich and their young offspring. The country's legal system allows for due process. The  subtle class system that is part of Thai society comes into play but it is true to say that similar machinations occur at all levels of Thai society including village headman in rural areas.
The scale of wealth in Thailand coupled with a highly developed legal system means that such situations are bound to develop. No wealthy parent wants to see his or her son or daughter go to jail and young people and fast cars are always a dangerous mix. Overall Thailand's road conditions also contribute to the problem.
Car accident that shocked Thailand involving a rich girl
One of the most well publicised cases was perhaps that of Orachorn Devahastin na Ayudhya known as Praewa who was 16 when her Honda Civic hita van carrying staff and students from Thammasat University in 2010. The young heiress was driving without a licence as in Thailand you must be 18 before you can get a licence. She was also charged later with reckless driving causing death and injury. The accident was tragic. Her Honda Civic car hit the minivan causing it to flip over and fall off the Don Muang expressway which like many in Bangkok, is raised over other intersections. Eight of the unfortunate occupants of the van fell from the vehicle and met with their death on the lower concourse. Another was also killed inside the van with others injured. It was a horrific accident.
Photos that appeared on Thai national newspapers showing the young woman reclining against the shoulder of the road and calmly texting did little to invoke sympathy for her involvement in such a calamity and caused normally non judgmental Thai people to express disquiet and anger.
The young woman appealed her conviction but they were upheld, She was required to pay an 26.7 million baht in compensation, an enormous amount by Thai standards and was sentenced to 190 hours community service. She was reported to have completed this at a hospital in Nonthaburi in 2016. She was also banned from driving for several years.
But at least Praewa did present herself for judgment to the law, engaged with the legal process and paid some sort of penalty. Such accidents happen in the western world and the Thai court's judgment was not that different to other orders in the US, UK and Australia where courts take into account the trauma that the person responsible for the accident undoubtedly suffer.
What has struck many in Thailand is the pattern of such stories where rich Thais driving cars dangerously have been involved in fatal accidents. The most well known and infamous case is that of Vorayuth Yoovidhya, the Red Bull heir.
Case of the Red Bull heir still overhangs Thai society, a symbol of the privilege enjoyed by Thailand's rich
The most notorious case involving rich young Thais becoming embroiled with the law through road traffic offences is the case of Vorayuth Yoovidhya, heir to the Red Bull brand. In 2012, while driving on his silver Ferrari, he crashed into a police officer on patrol and dragged him for around 100 metres, killing the victim.
The investigation into Yoovidhya's wrongdoing lasted several years. Questions arose as why it took so long to successfully prosecute the case. It is reported that it took six months to bring initial charges against the young man who was the grandson of one of Thailand's wealthiest men. In 2013 the youngman failed to appear seven times to answer the charges. Yoovidhya's grandfather  Chaleo Yoovidhya working with an Austrian marketing executive launched the Red Bull energy drink in the 1980s and his share in the enterprise is valued at $ 20 billion. A huge Thai success story.
Yoovidhya initially disappeared from public view in Thailand. Last year it was reported that he had fled Thailand and Thai authorities had issued an arrest warrant for him with a view to extradiating hi back to Thailand to answer charges.  The young man has been occasionally sighted in England and has been photographed traveling in a private jet. One notorious picture shows the young man descended from a corporate jet and be collected by a Rolls Royce. The photo is thought to have been taken in the United Kingdom near Hampshire.
Panama paper highlight Thailand's offshore wealth practices which many accept as part of doing business on the world stage
More interestingly, the public scrutiny surrounding its heir inadvertently exposed the offshore companies and confidential deals used by the Red Bull owners. Their technique of tax avoidance was confirmed by the notorious Panama Papers. The owner of the London house where Yoovidhya was last seen was a shell company based in the British Virgin Islands, one of the most popular tax havens. It is important note that i that tax avoidance is certainly not illegal as it is not illegal in western countries. There is also a difference of attitude in Asia and Thailand to modern progressive western thinking. Tax avoidance and international offshore wealth management is considered by many well off people to be good business practice. It may also be the case that many wealthy Thai families and corporations require offshore management to manage international operations outside of Thailand in a global business world. Tax rates in Thailand are not prohibitively high in any event.
Thai people still have confidence in Thailand justice system
It is important for foreigners living in Thaad and outside Thailand not to take such stories out of context. Thailand has its own unique and authentic legal system which has the confidence of nearly all Thai people. Most Thai people including the very wealthy and the poor have full respect  for the Thai legal process. But there is in Thailand a 'spirit of freedom' where all Thais will try to work the legals system to maximum advantage and many Thais will show respect and deference to those who are successful in life particularly when it comes to their family members. It is a similar way of thinking that existed in  western society up until the last few decades. There is an understanding for those who seek to protect family members and a certain latitude which forms part of Thai culture and thinking.
Thailand is modernising its legal regime but must be sensitive to local conditions
However it is true to say that Thailand is changing and modernising towards international standards but it had to be mindful of local tradition, thinking and conditions. It is  process must be undertaken carefully and sensibly by the Thai government. Thailand has come under international pressure recently to root out human trafficking in all its forms. A raid on a fish processing plant by Thai police resulted in a the owner questioning what was illegal about his business operation pointing out the he was not negative in drug dealing. At a recent cabinet meeting to approve proposals to introduce higher penalties for those driving without a licence and other reforms to tackle chronic road traffic accident rate it merged that Thai Prime Minister Prayuth Chan Ocha and other senior figures had blocked the proposals as they would put undue hardship on poor people in Thailand.
Case of Red Bull heir has caused some disquiet across Thai society
This case has caused consternation in Thailand. Many in Thai society have questioned the willingness of Thai authorities to jail wrongdoers from wealthy families and comparisons have been made between the jetsetting fugitive and small traders in Thailand who now face threats of jail and heavy fines for selling pirated produce as Thailand enforces international dn US copyright laws as part of its efforts to restore law and order and respect for Thailand's legal system abroad particularly in the United States
Thai authorities have issued an arrest warrant for the young Thai man and a red notice through interpol seeking to have the young man arrested and insist that he will eventually be brought to justice.
Thailand's inequality is being tackled but many commentators fail to  appreciate the dynamic nature of the 'free' Thai economy
To many of Thailand's critics, its swelling number of rich and super rich people is driven by inequality. There is some truth in that claim as Thailand is estimated to be the third in the world when it comes to inequality, and its poorest 20 percent take in only 4 percent of the national income, which is slightly higher than US. But there is more to the big picture than statistics. In some ways, like South Korea, Thailand is an example of a free market that has developed naturally without the government's excessive involvement, which has allowed the economy to flourish and steadily reduce poverty. According to the World Bank the Thai government has been spectacularly successful in reducing chronic poverty in the country over the last twenty years and in particular in the last decade. This is all the more impressive as it was achieved during a period interspersed with political upheaval and turmoil.
Thailand's traditional culture effectively replaces the western equivalent of social welfare
While it is true that there is no safety net for the poor, Thai culture which encourages families to support parents steps in and in effect turns out to be a micro social welfare program, helping to offset the merciless forces of capitalism. It is worth noting that Thailand has risen with few natural resources while the socialist Venezuela, which on theory advocates for equality, is facing a comprehensive crisis despite sitting on the world's largest oil reserves. The near collapse of its oil-dependent economy has led its people to suffer from unimaginably high inflation and shortage bare essentials like food, especially when a pair of eggs will cost an average Venezuelan a month's salary in Caracas. Meanwhile, in Bangkok one can order a Big Mac and chips through mobile app and have them deliver to their door within 10-15 minutes at a cost of 200 baht or $ 6, which can count as an affordable treat for most Thai people.
It also helps that Thailand has a famous laissez-faire economy where small business thrives, meaning that Thailand has an incredible low level of unemployment. 'You cannot help the poor man by destroying the rich,', these meaningful words allegedly spoken by US President Abraham Lincoln can partly explain the curious success of Thai economy despite the ups and downs and its massive inequality, as well as why Thailand is seen as politically incorrect by many progressive Western commentators.
Inequality and injustice does exist in Thailand but it is being tackled
However, that is not to say that economic disparity is a inconsequential problem for Thailand. Though Thai people are largely not confrontational, the bitterness of marginalized people is strongly felt, and especially when the have and have-nots live close by and have rather awkward interactions. The fine line between the rich and the poor can be seen in Central World Mall, a shiny, state-of-the-art shopping paradise in downtown Bangkok, and Khlong Toei, a notorious slum just a few miles away.
Khlong Toei is filled with decrepit houses, exposed sewers, and poor people whose dreams for the future could be as simple as a full meal. Armed gangsters don't roam the streets of Khlong Toei, which is a small relief, but drug dealers do. In fact, the slum's association with meth is such that many who live there are unfairly associated with drug problems.
Young disadvantaged Thai woman shows the way forward – self empowerment

But change is coming with local young people. Jiraporn Suthaithum is one of them. Despite facing the stigma of her home district when she was little, the brave girl defied the odds to finish high school with the help of Catholic charities. She is one of very few Khlong Toei natives fortunate enough to travel overseas, and perhaps the only one to graduate from an American college — Methodist University in North Carolina – a feat that even many students from well-to-do families do not equal.But now she is back where her story began.
She works for a catholic charity that offers aid for the Khlong Toei inhabitants. She wants to change them, and she thinks that blaming the rich for the slums poverty is useless.
Jiraporn wants poor in Khlong Toey to see a bigger world view with raised sight

The main problems, in her opinion, are limited worldviews, lack of goals, unfinished schooling. 'People think small here. Even my own brother thinks short term. Day to day. If he has a little money, he'll just buy a new cell phone,' she said. So until she gets married, Jiraporn will stay here and contribute to her community by doing whatever she can.
Asked about the dark valleys and drug addicts, she seemed undeterred. 'Khlong Toei, to me, it's really one big family. Even the drug addicts are pretty nice,' Jiraporn said, her eyes sparkling with the only thing that can engage,defeat and eventually shatter the despair and gloominess covering the slum. Somewhere in a forgotten corner of Bangkok, a girl is working to improve her people's lives with hope in her eyes.