Thai workers need a wage hike as many work overtime or hold two jobs to care for their families. The flexibility of the Thai workforce has been critical to the country overcoming its challenges. It is why Thailand has under 1% unemployment, a world beating achievement. Today, the biggest economic challenge is moving the country to a higher income model with more digitalisation. In the meantime, many factors will impact the economy in 2019 but none are as important as the outcome of the general election. Thailand needs political stability to chart a new, more prosperous future.
Thailand, like all countries worldwide, is fighting a battle for its place in a world economy that is increasingly becoming more digital. At the same time, the country's leadership must tend to the needs of hard pressed Thai workers, often with dual jobs or elderly workers, keeping the show on the road. In 2019, they need a wage increase but the most important thing they need is a successful election. This will ultimately decide the country's economic fortunes both in the short and long term.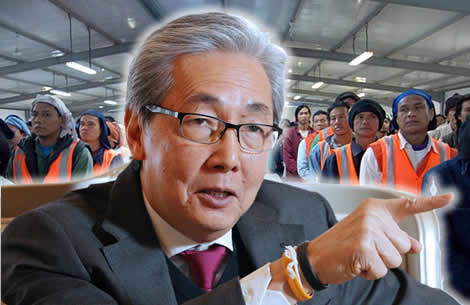 As Thailand gears up for an election many Thai workers are interested to hear if the election promises and policies will make a difference in their lives. The economy has emerged from opinion polling as the key issue for most voters and despite improved growth in the economy, as well as consumer confidence and spending in Thailand in the last two years, many Thai voters feel things should be a lot better. This, even as a NIDA super poll last week showed that most Thai citizens expect their financial fortunes will fare better in 2019. However, the message coming across is that Thai people are becoming impatient with minimal progress.
A rise in the minimum wage is no longer enough for Thai workers, who are struggling and work longer
In fact, many Thai workers in 2019 are facing uncertain prospects.The economy may continue to grow moderately, it may even slow if the trade war between China and The US escalates or if the Thai election leads to political instability.  For some, it may shut down altogether as the overhanging threat to jobs from the digital transformation is very real. This has come as a shock to many as it is having an impact on hitherto more secure jobs in white collar areas such as banking and even the media. In the political arena, the prospect being held out by some major political parties is for a moderate rise in the minimum wage. This is simply no longer enough to cut it however in the new economy realities which are dawning.
Thailand's working class want to earn enough money to take care of their families in 2019
At the end of 2018, an economist with Chulalongkorn University predicted that something will be done to help Thai workers at the lower level of the scale with a minimum wage increase this year. Speaking to the The Nation newspaper he said: 'Workers will get some benefit as the junta backed government becomes weak and the stage is set for elections.' The economist credited the Pheu Thai administration in 2012 and 2013 for bringing the minimum wage in Thailand to ฿300 per day and suggested that the rate should be increased again as it was held at this level for five years. In January 2018 it was increased to ฿330 per day or $10.30.  He pointed out that many Thai workers were now taking on extra work including second jobs and overtime to properly take care of their families. He labeled this a 'social  cost' as it means less time for parents to be with children in Thai households. It is the other side of the equation. It shows that while politicians talk of great new reforms and the dawn of a new economic age, people are out there working to feed families. It is a lesson by now well known to President Macron of France and also one that has always been known to the political party operators who will be canvassing the homes of Thailand seeking votes.
 Thai families keep the Thai economy and society working with less than 1% unemployment
This flexibility of Thailand's working class, which also extends to Thai workers working into retirement and family members within Thai families assisting in care roles, is what is keeping the Thai economy and indeed society going forward, despite the many challenges the country faces. The country does indeed face critical challenges namely how to overcome the political problems of the past, a demographics crisis and the new realities of global digital economics. Yongyuth Chalamwong, who is a research Director with the Thailand Development Research Institute and an expert on Thai labour, has said that an early commitment to raise the minimum wage is required in 2019. He anticipated that, even as the economy is predicted to grow at a slower rate this year, pressure for a wage increase will be heightened. He has suggested linking wages to inflation as a policy with an agreed mechanism.
Thai government has a bold new vision beyond just pay hikes so that he country can compete
But Thailand's current leadership is thinking beyond all that. Thailand is the country with the lowest unemployment rate in the world at less than 1%, it demonstrates the commitment and work ethic of Thailand's working population. Now the Thai economy is faced with a worsening demographics crisis and what economists define as an income trap, the Thai government and leading economic leaders want to transform it into a high income, added value one. They want to see government policy and initiatives that look beyond a 12 month pay rise, to a brighter prosperous future in a changing world economy
Thailand must develop its agricultural base and secondary cities with technology and investment
In December last year, Thailand's Deputy Prime Minister Somkid Jatusripitak emphasised the need for the country to make significant reforms across Thailand's economic sphere. He highlighted agriculture as a key area for development and the importance of Thailand grasping the importance of digital technology and its applications. He also suggested that Thailand would have to look at the development of new satellite cities and upgrading its secondary cities as the country transforms itself for the new era.
Deputy Prime Minister called for an advanced Thai food processing industry to create value
The government minister said that Thailand must look at adding value to its agriculture output. The agricultural sector reportedly employs up to 30% of the Thai population with the ability to absorb even more, unemployed workers in a downturn, it has been a critical stabilizing or swing factor in Thailand's economic equation. The minister wants to see Thailand reap a greater  reward from its prodigious agricultural output rather than simply exporting raw fruit and vegetable at marginal prices which are always subject to volatile market conditions. The aim must be to create higher income for Thai farmers and their families. His speech was titled 'Thailand Economic Outlook 2019'. The Deputy PM told his audience that the failure to develop a value added agriculture sector was reducing the strength of the domestic economy and consumption which the Thai government wanted to see rise in line with a better standard of living. He highlighted the potential for Thailand to develop a strong food processing sector.
To compete in Asia, Thailand needs more budding startup entrepreneurs right now
The minister also highlighted the importance, in the future, of startup digital business projects to Thailand. He said that the Thai government was aware that this was an area that needed help and support. There was an opportunity which budding Thai entrepreneurs should be encouraged to exploit so that Thai firms can build the digital and ecommerce platforms of the future.  Mr Jatusripitak drew attention to the facts that a Thai person with an idea can now, with little capital, commence a business startup with the potential for success. 'To achieve a growth rate like China and Vietnam, we will need to turn ourselves into a startup nation and promote the use of digital platforms,' he explained. A theme of the minister's speech was that Thailand as very much in competition with other players in Asia and throughout the world.  The ministerial vision is, in fact already happening in Thailand with quite a few Thai companies taking advantage of the Thai language and culture to build unique Thai online offerings which are then being used as platforms from which to target Asian and world markets.
Huge infrastructure plan will help decentralise Thailand and improve the economy
The Thai minister highlighted the importance of plans to grow Thailand's secondary cities. He highlighted plans in 2019 to commence  ฿2 trillion on infrastructure projects. 'The Thai government has been investing heavily in high speed railways to link cities like Bangkok, Hua Hin and Chiang Mai with secondary cities like Nan and Surat Thani," he said. 'This will improve tourism in these areas, leading to urbanisation, a key driver for economic growth.' The minister highlighted the importance of digital platforms to the growth of Thailand's secondary cities. This can actually be seen from Thailand's success at decentralising its massive tourism industry away from the main hot spots such as Bangkok or Pattaya. This has been saved through infrastructural developments and digital platforms which allow easy booking. The minster is now suggesting that this also applies to efforts to develop secondary cities from which budding Thai entrepreneurs and businesses can compete not only in Thailand but Asia and the world.
US China trade will impact Thailand's exports in 2019 as well as a ultra strong Thai baht
Mr Jatusripitak confirmed that Thailand's growth rate dipped at the end of last year and predicted a slightly improved figure for 2019. He was optimistic that the trade talks, now being held between China and the US, which were brokered at the Buenos Aires G20 summit last year, would result in a breakthrough. This does highlight the importance of a benign US China trade environment to Thailand, despite many economic forecasters suggesting otherwise. Unfortunately, there are signs of a downturn in the Chinese economy right now which is also impacting Thailand. Key factors which will impact Thailand in 2019 are the continued success of the Thai tourism industry where initial bookings for 2019 look promising, Thailand's exports which are facing headwinds from a very high Thai baht and the effects of Trumponomics on China. In fact, most economists are predicting a decline in exports for 2019. It is unclear what the effect of Brexit in the UK will be if any.
Thailand's election aftermath will decide whether its leaders open or close the door to better times
Perhaps one of the greatest impacts of all this year on Thailand's economy will be the general election, or more significantly its aftermath. A smooth transition to a democratically elected Thai government and the participation in parliament by an elected opposition would transform confidence both within and without Thailand. Any hiatus or political uncertainty will have the diametrically opposite effect. Thailand experienced this in 2014 and 2015 and it took years for the economy to recover at that time with a benign and growing world economy. That is no longer guaranteed. Any political uncertainty will be very big negative for the Thai economy. This Thai government, whether popular or not, has set out some key policies which are beneficial including the emphasis on moving Thailand into the digital age. The days of politicking over the minimum wage should be put behind for a new, brighter future where Thailand transforms to an new era of global connectedness. The country's super tourism industry, built on Thailand's unique culture, the entrepreneurial flair of its populace and its strong agricultural base leave the possibility of a bright future for Thailand's economy very much open. The door can be opened or closed by its politicians or governing class and their ability to work together.