When a Thai mother reported that her daughter, an 18 year Thai girl, had run off with a fortune teller last Friday to Thai police at Bang Pakong police station in Chachoengsao province, they knew quickly who their man was and just where to find him. They were just in time however when they found the young Thai girl wearing a towel in a bedroom after raiding a local resort. They arrested at the scene a Thai man from Chonburi who uses claims of spiritual powers to prey on young women for sex.
Last Friday, Thai police arrested a 54 year old Thai man just as he was about to have sexual relations with an 18 year old Thai girl at a resort in Chachoengsao province. The girls' family had earlier reported her missing and gone off with a fortune teller. The man, from Chonburi province, had previously lured a 16 year old girl to the same resort after telling her that he had Khmer magic powers to ward of evil spirits and bring good fortune. He convinced the 16 year old that she was haunted and followed by a headless ghost.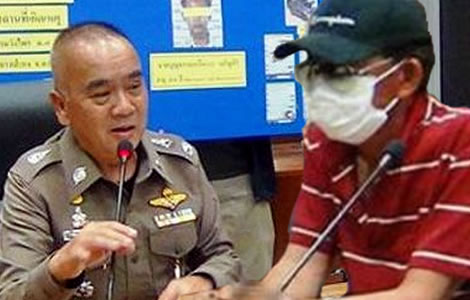 Thai police last Friday arrested a Thai man who had used his purported powers of magic to lure a number of young girls into engaging in sexual encounters. The man had promised the young women that he had the power to ward of evil spirits and help bring them better fortune.
54 year old Boontham Charoensiri was arrested on Friday at the Wang Phrai resort in the Bang Pakong area of Chachoengsao as he was about to make love to another teenage girl. Both were found by raiding Thai police officers dressed in towels. The culprit insisted to arresting officers that no physical interaction had yet taken place between him and the Thai girl who had been reported missing by her family. The Chief of Police for Chachoengsao confirmed the arrest and the circumstances. The suspect was arrested on two charges and will face a provincial court. The charges include taking the young underage girls from their families and committing a sexual act with an under age girl who is not his wife.
54 year old Thai man claimed to be have supernatural powers to impress teenage girls
Thai police revealed that the man had claimed to be a gifted fortune teller and possessed of supernatural powers. The police action followed another alert from the family of a 16 year old Thai girl. They had earlier filed a complaint against the 54 year old Mr Charoensiri. It emerged that Boontham had sexually abused this girl after propositioning her with his supernatural gifts at the same resort. The suspect is originally reported to be from the Phanat Nikhom area of Chonburi province.
Man told the 16 year old Thai girl that she was haunted by a headless ghost causing ill luck
The mother of the 16 year old girl told Thai police that Mr Charoensiri had arrived at her home in his pickup truck to purchase and collect scrap metal which was his line of trade. At her home, he engaged in a deep conversation with her daughter. He told the girl out straight that he believed that she was the subject of a haunting which was causing her to suffer misfortune and ill luck. He went further and attributed the haunting to a headless ghost who was following the young teenager from place to place.
Boontham Charoensiri said his powers were rooted in the Khmer tradition of magic
Boontham Charoensiri promised the 16 year old that he had the power to fix her problem. He attributed his powers the his deep understanding of Khmer culture and roots. It is well known in Thailand that Cambodia is a source of deep magic, often thought of as black magic. The 54 year old took down the Thai girl's mobile phone number. He later connected with her on social network via the LINE application. Police Major General Theerapol revealed that the older man had escorted the 16 year old to the Wang Phrai resort where he had engaged in sexual activity with her.
Police authorities were therefore quick to identify Mr Charoensiri's favored rendezvous point when a new complaint emerged last Friday. Police in the Bang Pakong area of the province received a complaint from another party. This was another Thai woman who alleged that her 18 year old daughter had been enticed away by a man claiming to be a powerful fortune teller.
Thailand is very much an animistic society
Thailand has long been a country with an animistic culture. While the country is 90% Theravada Buddhist, before that religion arrived from India, Thailand was already a spiritual country with a strong belief in spirits. Today, while most Thai Buddhist monks of the Sangha (term for the extended clergy in Thailand) aspire to teach Thai people to nurture and develop their spiritual lives by doing merit and thinking good, there are other forces and traditions at play. Most Thai people have a strong indeed sincere belief in spirits and magic. Many Thai people belief that these forces are at work in the real world and make a decided impact on their lives.
Some Thai news reports appear bizarre to foreigners as ghosts and spirits are sometimes reported as real even in the context of public business
It extends to the highest levels in Thai society. This can often be quite shocking for foreigners to comprehend. For instance, a news bulletin in Thailand some years ago reported that authorities at Thailand's state of the art, multi billion dollar, Suvarnabhumi Airport, were conducting rituals to appease spirits who were not happy with the imposition of the new airport on their existence. The airport is one of the biggest in the world. Similarly, Thailand's current Prime Minister, Prayut Chan ocha, is reported to have quipped, at some point about a bout of ill health attributing it to the possibility that someone may have been using black magic against him. Whether the PM was joking or not, many people in Thailand understood and accepted what he meant.
It should be noted however that some of the holiest men in Thailand advocate that Thai people do not try to exploit the spirit world for spiritual gain or intervention in this world. Instead, the most revered and respected monks encourage healthy Thai people to explore the world with reason and a calm, clear mind while holding good thoughts.
Thai girl from Chaiyaphum province died in black magic ritual performed by traveling monks
Nevertheless, Thai news reports continue to be full of storylines and news based on superstition and magic happenings often with negative outcomes. In March last year, a Thai girl in Chaiyaphum province died when a group of monks performed a spirit exercising ritual on her using holy water. The incident happened at an abandoned temple in her village where the monks were staying on a visit. Her 48 year old father, Khan Cherdjorhor, had approved the ritual. The monks explained to the family that a black band around the girls neck was the symptom of a black magic curse and that it needed to be removed.
Girl died after shocking vomiting fit
While the monks reciting prayers, the girl was asked to drink the blessed water to remove the evil spirits. Immediately after, the girl developed a fit of vomiting. She died later at a local hospital. The monks arrived at her village in the Kaeng Khro area of the province on March 18th 2018 and the shocking event took place one week later in March 25th.
Thai police later arrested those who took part, including the arrest of the lead monk in August last year after he initially fled, giving up up his monk's robes, to work on a fishing boat.
Thai girl dies after taking part in 'black curse' ritual in tragic unexplained death – five charged