The huge Bangkok International Motor Show closed its doors last Sunday on another successful event representing Thailand's strong motor industry driven by Thailand's emerging middle class and wealthy elite. It also indirectly raised questions about the future shape of the motor trade in Thailand with orders for over 6,000 electric vehicles being taken and a robust debate over new auto lending curbs being pursued by the Bank of Thailand. One senior industry executive, Wallop Treererkngam, believes it's time to bite the bullet and welcomed an end to a growth in careless lending practices which pose a long term risk to the motor industry's future and sustainability.
Thailand's mammoth international motor show closed its doors last Sunday with a slight decline in visitors and a marginal increase in cars sold. It was a spectacle, as ever ,with a strong demand for luxury cars, a steep decline in motorbike sales and a show which saw the emergence of electric as a real market sector. However, overshadowing the event, at least for those in the business of selling cars, are the new rules being introduced by the Bank of Thailand to put a break on runaway lending for cars in Thailand to consumers. Even at the show, there was some division over these proposals and some firm evidence that lending controls are indeed required.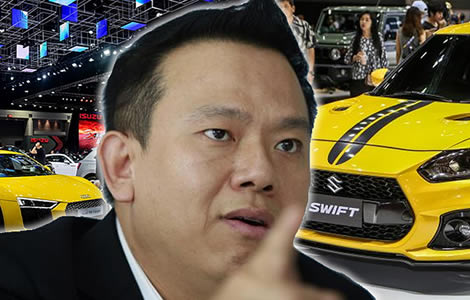 Last weekend, the annual Bangkok Motor show concluded on the outskirts of Bangkok. The huge show reported a modest increase in orders for new cars but significantly, a decrease in orders for motorbikes. The trend reflects a report, earlier this year, from Honda Motorbikes in Thailand, the market leader which predicted up to a 4% drop in its sales in the kingdom for the coming year. The data could be predicting a more affluent Thai economy as some consumers are now opting for cars over motorbikes or it could, more probably, be a sign of a Thai economy that is simply holding its own with pressure on those with lower incomes. The increase in car sales at the motor show was a modest 3.3%. However, this top line does not reveal the changes and challenges to the Thai motor industry with the emergence of electric vehicles and the short term impact of new, tighter lending controls being pursued by the Bank of Thailand.
Toyota was the biggest car seller at the Bangkok show where 38,000 cars were booked
It is the second year in succession where car sales have increased. The organizers of the hugely successful Bangkok International Motor Show is Thai SET listed company GPI or Grand Prix International Plc. They confirmed that the show generated sales of nearly 38,000 new cars. Toyota lead the way with over 6,100 units followed by Mazda on on over 5,200 and Honda following up with nearly 5,000 cars sold.
Over 5,000 luxury cars sold to Thailand's wealthy elite
The huge motor show was a showcase for all the best in the Thai motor world between cars and motorbikes. Key attractions at the show were the luxury car brands such as Rolls Royce, Bentley, Mercedes Benz and BMW. Over 5,000 luxury cars were booked by wealthy Thai buyers. Mercedes Benz led the way with over 2,400 luxury cars being sold followed by BMW with nearly 1,600 cars sold.
Sales of motorbikes were down nearly 10% which is in line with the projections of key local distributors. Honda, which is the market leader in Thailand, led the way with over 1,200 new motorbikes sold.
Electric vehicles were a big component of car sales at this year's motor show with a slight decline in visitors from last year's event
The show's organisers have pointed out that nearly 6,200 all electric cars were sold during the the event. However, this may be a bit misleading as that figure included an order for 3,500 taxis that had been scooped by Thai firm Energy Absolute Plc which is marketing a range of electric cars under the EV brand. It indicates a new challenging era in the motor industry for large car companies as local startups, worldwide, emerge into the new and growing electric car market. Energy Absolute reported a further 1,000 electric cars sold at the motor show itself which shows that the electric car vision is alive and really taking off in Thailand, a country where oil and fuel for petrol or gas fueled cars is still very low.
The 14 day show ran from the end of March to April 7th and saw 1.6 million visitors attend. This was a slight decline in 2018.
Healthy motor industry in Thailand despite the real challenges facing large motor firms
The show indicates a healthy Thai motor industry at this time. At least, when it comes to car sales, but it also highlights a shifting and changing market. One key concern is the future availability of consumer credit for car loans following plans announced recently by the Bank of Thailand to exercise stricter control over loans to Thai consumers in order to purchase cars. It must be borne in mind that one of the biggest obstacles to economic growth in Thailand is the unusually high level of consumer debt that burdens over 80% of Thai families. Ironically, this stands at nearly 80% of Thai annual GDP. It is a problem that has not being tackled and takes on new significance when the country is facing declining levels of growth as may the case this year with Thailand witnessing a decline in exports. The problem with car loans, in particular in Thailand, is the comparatively expensive price of cars when compared to the price of moderate real estate properties is very high, certainly well out of kilter with western norms.
Bank of Thailand is pulling in on loans for both car and property financing right now
The moves being pursued by the Bank of Thailand has involved the bank's officers examining the marketing campaigns of many of Thailand's leading car sellers. The bank is focusing on the deposits being paid by consumers to purchase comparatively expensive cars. This follows similar moves by the bank in relation to the property sector. Under new property guidelines, the bank is insisting on a 33 to 35% deposit from new home purchasers seeking a mortgage while also exercising more stringent controls over top up mortgages for existing homeowners. The new measures became effective from April 1st.
Opposition to the Thai Central Bank from some in the auto industry calling for flexibility
The move to curb car loans has prompted a response for the Thai Federation of Industries or FDI which has expressed opposition to the moves. Surapong Paisitpatanapong, who represents a group within the federation linked to the auto industry, says that his group was opposed to inflexible curbs on the financing of cars. The spokesman said that his members were well aware of the issue of high household debt in Thailand. Mr Paisitpatanapong felt action should be reserved for those players in the industry extending loans in unsustainable situations where it was clear that borrowers could not afford to take on loans. 'The central bank's examination should monitor loan quality and protect against future problems such as a rise of the country's household debt,' he explained.
FDI group calls for punishment of those using abusive credit tactics as opposed to wide ranging controls to allow the market perform
The FDI group's spokesman opined that sanctioning and punishing companies that use abusive credit tactics to drive sales would be a more effective regulatory approach. 'I would say both the examination and punishment could help the Thai auto market to perform very healthily and benefit from actual demand from buyers,' Surapong Paisitpatanapong said.
Some car industry executives welcome the Bank of Thailand's curbing approach
Thailand's household debt currently stands at ฿12.8 trillion which is the figure recorded at the end of 2018, a significant increase from the previous quarter. There are some in the auto industry, however, who do welcome the new Bank of Thailand's proposals to curb credit advanced by banking institutions for car loans. There is also now real evidence of abuses to the system where down payments are taken out of some company's marketing budget for each car, advanced to to the buyer but are already incorporated into the price of the car on offer. Anonymous reports from whistleblowers within the industry suggest that such practices have now taken hold.
Director of Suzuki warns of heated motor industry driven by 'low ability' buyers
The Executive Director of Sales and Marketing in Thailand for Suzuki Motor Thailand is one of those in the industry who supports moves to curb excessive auto loans. At the Bangkok Motor Show last week, he told a reporter for the Bangkok Post: 'We hope any new measures promote fair competition amid large and small companies, including car brands.' Wallop Treererkngam warned that without clear and decisive controls on motor loan credit, motor companies will engage in a race to the bottom to reach quarterly and annual sales targets. He warned that many Thai consumers are being led into contract arrangements to purchase cars that they simply cannot afford. 'This means the local market is heating up from low ability buyers,' he said.
Key concern is extended 7 year loan terms for cars
The director felt that sound and robust controls would, in time, bring back a real market for cars and auto products in Thailand and once the adjustment was made, sales would begin to go up again on a sustainable basis. One key aspect that the Suzuki boss pointed to was the extension of loan terms for cars to periods of up to 7 years. Obviously with a cars purchased under such schemes, there is less impetus for users to change cars on a 3 to 5 year term.
Market conditions for Honda motorbikes may be a signpost for a stalling Thai economy in 2019