54-year-old Thai woman was treated in hospital on Saturday and given an injection as well as medication. Complaining of severe pain and swelling, she went to bed on Saturday evening and never woke up
Doctors at a hospital in Nakhon Pathom are trying to establish, through an autopsy of a Thai woman found dead on Sunday morning, if she may have died from a bite from a giant centipede on Saturday last. It comes as a time of year in Thailand when there is a raised threat from pests and snakes to humans because of very hot conditions.
Thai medical experts are performing an autopsy this week at Siriraj Hospital in Nakhon Pathom province after a 54-year-old Thai woman was found dead on Sunday morning after earlier reporting to a hospital and receiving treatment suffering from a bite inflicted by a giant centipede.
Thai woman suffered a bite from a giant centipede on Saturday and sought hospital treatment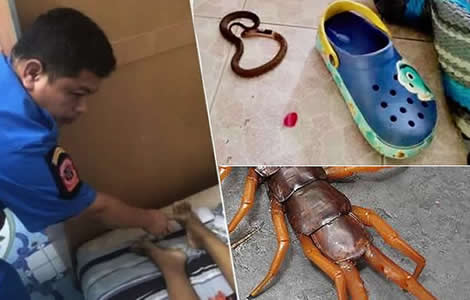 The Thai woman was named as Chutikarn Worachote and came for the Sam Phran district of Nakhon Pathom, a province in central Thailand approximately 56 km from Bangkok. The woman appeared to have suffered from a bite inflicted by a centipede or 'takhap' as they are known to Thais, on Saturday last. At the hospital, she was given an injection and medication to deal with her injury. The woman was bitten by the giant centipede on the right foot.
When she returned to her rented accommodation on Saturday, she is reported to have been in extreme pain and her foot had swelled considerably. Nevertheless, the woman had her dinner and went to bed.
Son found his mother dead on Sunday
When her son went to her bedroom to awaken her on Sunday morning, he found the unfortunate woman dead. He immediately called the police and emergency services. Doctors are now trying to establish whether the woman died as a result of the centipede bite and associated complications caused by it or if the cause of death was an unrelated matter.
Giant centipede bites can cause pain, a faster heart rate and breathing difficulties in humans
The giant centipedes found in Thailand are known as either the Vietnamese centipedes or the Chinese red-headed centipedes and can grow up to 10 to 12 inches in length. They are quite dangerous to humans who have been bitten by the pests.
A giant centipede bite can cause swelling and severe pain for up to 5 days. Though not usually fatal, there have been instances where death has occurred. A bite from a giant centipede has been known to cause a rapid increase in the heart rate and can also result in breathing difficulties. They are particularly dangerous to young children.
The horrific-looking pests are not insects but invertebrates with poisonous claws which they normally use to kill their prey by injecting venom.
Threats include dogs with rabies and snakes
Thailand, with its hot tropical climate, can be a dangerous place with a range of threats including dogs with rabies and the pervasive threat of snakes. This can be particularly true at his time of year in Thailand which is the hottest season in the kingdom.
Hot weather in Thailand is time to beware of invading snakes who seek cool shelter
Authorities in Thailand are encouraging people living in the country to be vigilant against the threat of snakes who in this weather can be tempted to seek shade from the heat of their normal habitats and take refuge in environments inhabited by humans.
In recent years, there has an exponential increase in Thai homes being invaded by snakes and even shocking instance of people being bitten by snakes who often arrive through the sewer systems and popup in toilet bowls with some nasty consequences. Another danger is that snakes are partial to taking refuge in shoe wear if left unattended.
Thai father saves son with quick reflexes after spotting unusual activity in his shoe
This was the case of this week when a quick-thinking Thai man spotted some unusual activity in his young son's shoe. The man's brother, Jakchai Banyensakul, revealed the story on a Facebook page. His nephew was just about to put on his shoes when his alert father pounced in a reflex action and threw out a baby cobra snake.