The Israeli man had agreed to divorce his wife of 10 years amicably, in 2004. He was on his way to Australia when he stopped off in Bangkok on the 23rd of  February 2004. He impromptuly sent his wife a plane ticket and invitation to join him. The two were later pictured riding a tuk tuk in a loving embrace while enjoying the sights of the city. His wife had alerted her family in Israel to the fact that she only had a one way plane ticket, something she only discovered enroute to Bangkok. They arranged a return ticket for her within 24 hours. Days later, after he had murdered his wife, Eli Cohen reported his wife missing at the Israeli Embassy. Thai police, on arrival at his hotel, discovered what they later called a slaughterhouse.
A dangerous murderer who butchered his wife over 15 years ago, attempted to re enter Thailand last week but was promptly nabbed by Thailand's Immigration police who quickly spotted his gambit. The 52 year old Israeli man, Yahel Eli Maimon Cohen, was convicted of murder in Thailand in December 2004, narrowly avoiding the death sentence. The brazen ex-convict last week tried to cross into the kingdom from Poipet in Cambodia at the Aranyaprathet crossing in Sa Kaeo province. Eli Cohen was sentenced to life imprisonment by a Thai court in December 2004 but through a number of appeals for clemency, managed to attain release in May 2013. The family of his murdered wife in Israel, at the time, claimed that he was a remorseless killer who still represented a danger to society. His release and threatened arrival back in Israel caused consternation there at the time. The killer could not be tried again for the murder of his wife since that matter had already been properly determined by a Thai court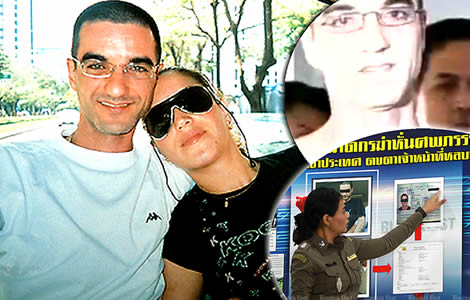 An Israeli man who killed and butchered in wife in Bangkok at the end of February 2004 at a Bangkok hotel has been arrested by Thai police after he crossed into Thailand from Cambodia at the Aranyaprathet Poipet border crossing a week ago. The Israeli man was promptly arrested by Thailand's Immigration police on Tuesday last, June 18th. He was apprehended at the the Rong Kluea market in Aranyaprathet in Sa Kaeo province.
Israeli man, convicted for the brutal murder of his wife in 2004, was permanently blacklisted
52 year old, Yahel Eli Maimon Cohen, is on a permanent blacklist of people who are denied entry into Thailand. Deported from Thailand to Israel in May 2013, the Israeli was convicted by a Thai court in December 2004 of murdering his wife who he had invited to join him in Thailand for a holiday. The Israeli later butchered the woman and dumped her upper body in Bangkok's Phadung Krung Kasem canal contained in a suitcase. He left his wife's arms and legs in a nearby ditch. 
Arrest of man who butchered his wife in Bangkok
Thailand's acting Head Of Immigration, Police Lieutenant General Sompong Chingduang, outlined the latest arrest of Eli Cohen at a press conference on Monday where other inmigration arrests were also outlined to the media. It is understood that the Israeli presented a passport to Thai immigration officers at the Thai Cambodian border with a different variation of his name. The new passport named him as Eli Maimon Cohen whereas his passport in 2004 listed the convicted murderer as Yahel Eli Maimon Cohen. The new passport also listed him as only 49 years old and showed a more grey haired Eli than the one and the same person that murdered his wife in 2004.
Could have faced the death penalty by a Thai court accepted his plea of uncontrollable rage
Eli Cohen's conviction in December 2004 followed his confession to Thai police that had murdered his wife by stabbing her with a knife. His explanation for the murder was that he had momentarily lost control of his temper. The Israeli man could well have faced the death sentence for such a crime but a Thai court accepted his plea that he acted in a state of uncontrollable rage when he murdered his wife Carol Cohen, the mother of his two children.
Granted clemency a number of times, the Israeli husband only spent nine years in prison
Amazingly, the Israeli man ended up only serving nine years in a Thai prison. Following a number of sentence reductions, the Israeli man was finally released in May 2013 after a second appeal for clemency saw his sentence cut in half. On May 15th, Eli Cohen was put on a plane from Bangkok to Israel, deported from the country and placed on a permanent blacklist. However, when he touched down in Israel later that day, he immediately boarded a flight to another country following an outcry by the family of his murdered wife at home following his release.
Legal experts in Israel, however, explained that the trial and conviction of Mr Cohen in Thailand was properly constituted and the matter therefore had been properly and legally determined. His early release from Thai prison was also approved on sound legal grounds.
A danger to society: 'He murdered once, he will murder again.' Warning from murdered woman's mother after he failed to express remorse
His wife's family have claimed that Mr Cohen presents a danger to others in society. 'He never expressed regret, never said he was sorry,'  the mother of his murdered wife, Rivkah Amsalem, said back in 2013. 'He murdered once, he will murder again.'
Obnoxious murderer tells off media in court
Footage of the murderer from his trial in 2004 lands some credence to the fears of the victim's murder. An arrogant Cohen can be seen arriving at the court to hear his fate. In circumstances where others would be contrite and remorseful, the man stares confidently into the camera. When asked by a reporter if he had anything to say, Cohen replies: 'No, this is not your business.' He is wrong. Justice is something of concern to all of us.
Married to his wife for ten years, sent her an impromptu invitation to join him in Bangkok
Eli Cohen had been married to his wife, Carol Cohen, for ten years. The couple had decided to part and divorce amicably with Mr Cohen deciding to set off for Australia to build a new life there. Eli Cohen is also an Australian citizen. When the Israeli man landed in Bangkok on February 23rd 20015, he impromptuly invited his wife Carol to join him in the the city of angels. Pictures of the two touring the city including one of them posing lovingly in a tuk tuk are a mocking contrast to what eventually transpired. The couple were staying in a hotel in the Pom Prap Sattru Phai area of Bangkok.
One way ticket to death in a Bangkok hotel room
Carol Cohen's family in Israel reported that the Cohen's wife only discovered, while on the flight to Bangkok, that the plane ticket her ex husband had sent, was one way. The Israeli woman alerted the family to this and they arranged a return ticket within 24 hours. However, for the Israeli wife and mother of two, it turned out to be sadly and certainly, a one way trip to her death in a Bangkok hotel room. No one is sure what exactly caused the argument or what was the trigger that drove Cohen to murder his wife but he later told Thai police that he stabbed the woman in a fit of fury.
Police found a slaughterhouse at the hotel room where the Israeli man butchered his wife
After he had murdered his wife, the Israeli attempted to cover his tracks. He cut her to pieces distributing her body parts across the city. He then went to the Israeli embassy to report that his wife had gone missing. Thai police called to his hotel and found what they later described as a slaughter house including traces of blood throughout the room and a blood soaked towel.
 Thai police this week reported that, prior to his arrival in Thailand last week, the Israeli man had been making inquiries to find a job in Thailand. For now, the Israeli is back where he came from just over six years ago, behind bars in Thailand.
Eli Cohen, the Israeli killer who butchered his wife in Bangkok

A remorseless killer who is not wanted in ThailandA dangerous Israeli man who murdered and butchered his wife in 2004, attempted to reenter Thailand and was arrested by Immigration police last week at the Aranyaprathet crossing in Sa Kaeo province. This old AP video footage shows the obnoxious murderer in court in Bangkok in December 2004 when he was sentenced to life imprisonment without parole. The murderer stares into the lens of the camera on a number of occasions. Eventually, he respsonds to the persistent reporter speaking English. 'This is not your business,' he says as he strides off.The famly of Carol Cohen, the murderer's wife of ten years and mother of his two children, revealed in 2013 as he was released from prison in Thailand, that he had never expressed remorse to her family prior to that. Carol's mother said then: 'He murdered once, he will murder again.' The Israeli man murdered her daughter in a Bangkok hotel room and reported her missing. Thai police later said, after they visted the hotel room, that it resembled a slaughterhouse.

Posted by ThaiExaminer.com on Tuesday, June 25, 2019