European Union this Sunday signed a free trade deal with Vietnam: Prospect of an EU trade deal with Thailand is some way off and would involve discussions and agreement on a growing range of political issues from climate change to the full spectrum of human rights. Thai fishermen, this month, are threatening to protest in Bangkok complaining about the strict rules and regulations introduced by the Thai government's recent reform of the sector. This was hailed as a model for other countries last year by EU officials. It was an impressive achievement by Thailand and a demonstration of its bona fides to the European Union which once threatened sanctions against Thailand over alleged abuses in its fishing industry. The European Union will now consider renewing ties with Thailand because it has returned to democracy and this could lead to complex negotiations on a free trade pact. Such a course was suggested last year by an EU ambassador. The European Union today, Sunday, signed a comprehensive free trade deal with communist Vietnam. Vietnam is a one party communist state where democracy exists in name only. The Thai economy is substantially larger than that of Vietnam.
Thailand's Prime Minister Prayut Chan ocha attended the Osaka G20 over the weekend together with Foreign Minister Don Pramudwinai. The Thai leader on Friday received full support from Australian Prime Minister, Scott Morrison, in his efforts to get the RCEP or Regional Comprehensive Economic Partnership finalised. The Prime Minister is working on doing everything possible to protect Thailand's export trade which has become very vulnerable the US China trade war. The PM also received a nod for the European Union to suggest that it is ready to resume ties with Thailand. This could lead to talks on a trade deal between Thailand and the bloc. This would be a lengthy process in which Thai officials would have to deal and meddle with a European Union that is increasingly prone to merging political and economic affairs. In the meantime, the US President was upbeat after striking a deal with Chinese President Xi which is expected to see talks resume. However, the deal will see more sales or US tech and farming produce to China while existing 25% tariffs remain in place. New tariffs are said to be put off for now but the US president reserved the right to keep them on the table.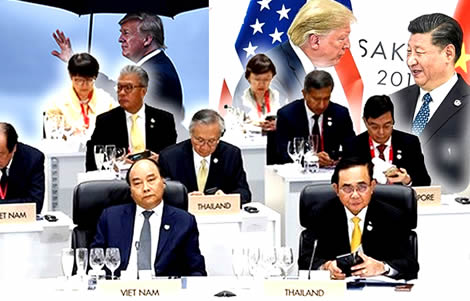 Thailand was represented at the G20 Summit this weekend held at Osaka in southern Japan. The Prime Minister, Prayuth Chan-ocha attended the meeting of the world's most influential economies with Thailand's Foreign Minister, Don Pramudwinai.
Some positive outcomes for Thailand
The weekend produced some positive outcomes for Thailand including a second pause in what is still an escalating trade war between the United States and China. Both parties agreed to resume talks while the US appeared to put off imposing a further range of tariffs on ฿300 billion worth of Chinese exports to the United States. This may be a mixed blessing for the kingdom as it had been thought that this move would prompt a flight of manufacturing from China to Thailand. This is still, however, a strong possibility.
European Union ready to resume ties with Thailand which could lead to trade negotiations
At the G20 meeting, Thai Prime Minister told the press that the European Union was now in a position to normalize ties with Thailand due to the country's return to democracy. Thailand's trade with the EU has suffered according to the recent May exports report, being down 8.6% for the month. Thailand unlike Vietnam which is a communist country ruled by one party government, does not have a free trade with the EU which over the weekend also finalized a trade pact with 4 South American countries although the signed agreement is still subject to final approval by the European Union and the Council of Ministers. French President Macron has threatened to veto the deal if Brazilian President Bolsanaro pulls Brazil out of the Paris Climate Change treaty.
Rebuff to Thailand and to European cultural values as EU signs trade deal with Vietnam
The European also signed a full free trade agreement this Sunday in Hanoi which reduces tariffs and barriers between that country and the European Union. Vietnam's economy is only 55% the size of the Thai economy. The  deal will put Thailand at a competitive disadvantage in attracting new investment into the country as Vietnam also has a lower paid workforce. The signing of the deal on a Sunday is also controversial. It is disrespectful to traditional European cultural values.
Declining force in world trade but still the biggest trading bloc in the world
The EU is a declining force in world trade although still the world's biggest market. It has shrunk from 30% in 1980 to just 22% today despite going from 9 to 28 countries. It is still, however, the largest economy and trading bloc in the world and the most important trading partner for 80 countries around the world. 
Fisheries reform in recent years a costly demonstration of Thailand's bona fides
Thailand's government received the endorsement of the EU last year when its reform of its fisheries sector not only warded off the threat of EU sanctions but was later praised by EU officials as a model for other countries in the future. The move saw Thailand impose a range of tough, hard hitting and costly measures on its fishing fleet. This has led, however, to threatened protests by Thai fishermen this month, led by the National Fisheries Association of Thailand. The fisherman have threatened to march on Bangkok if the strict rules and requirements introduced are not relaxed.
EU is more and more insistent on linking trade to politics and its liberal agenda
The EU has also increasingly linked political goals and conditions to its trade agreements as this week's threats from French President Macron to Brazil indicate. The bloc's leadership, particularly since it has sought to engage in foreign policy worldwide, is moving more and more to the left of the political spectrum. The current High Representative of the European Union for Foreign Affairs and Security, Italian politician Federica Mogherini, the daughter of a film director, was once a member of the Italian Communist Youth Federation. 
The European Union is also seen to have emerging economic and financial weakness. Brexit and the growth of populism across Europe are thought to be a response to this and in fact, the polarization between liberal and conservative forces is getting more severe as are the underlying financial tensions within the bloc's euro, single currency area.
Thai Prime Minister looking to protect Thailand's export trade at G20 summit
At the summit in Osaka, the Thai Prime Minister said he had discussions with parties on how to protect Thailand's exports from the ravages of the US China trade war. He also mentioned that he expected some good news from the summit. The Prime Minister was clear that Thailand faces challenges as he is still reported to be finalizing arrangements for Thailand's newly elected government. Last week, he indicated that this could be in place within the next two weeks.
Thailand is still a developing country
The PM also acknowledged that Thailand was still an economy in development mode. He highlighted the importance of online access in the country. 'Thailand has to get ready by making economic and technological advances and increasing online access. These are the problems we're facing as a large portion of our population is in the developing stage.'
Asean overlooked because it is relatively peaceful and stable said Thailand's leader
The Prime Minister empasized his commitment to the Asean project. He said that the Asean community had a tendency to be overlooked by world leaders simply because the region was relatively peaceful. He said one of the key issues facing Asean was the South China Sea disputes between China and other countries.
Prayut upbeat about prospects for RCEP free trade pact which he said was 90% there
The Prime Minister said that he was satisfied that talks on the Regional Comprehensive Economic Partnership free trade area were making progress. 'We've seen 90% progress and will continue to talk to reach the goal while Thailand is Asean's chair,' he said. The new free trade area does not have environment or labor conditions and is strictly a free trade agreement. 
New free trade area would become the biggest in the world, easily overtaking the EU
It would be a major boost to Thailand and China which is seen as the power championing the proposal. Nearly 60% of Thailand's existing exports would be contained within the new free trade market created. The new free trade area would overtake the EU as the biggest in the world.  It is, in fact, becoming Thailand's highest economic priority. Once seen as the key to the expansion of Thai exports, now, given the last 12 months of dismal export performance, it is seen as necessary defensive protection for Thailand which has seen its export trade rocked by the US China trade war.
Meeting with Australian PM Scott Morrison who fully supports Thailand's RCEP mission
Earlier in the weekend, General Prayut had a meeting with the Austrlian Prime Minister to discuss the fallout from the US China trade war and progress on the RCEP free trade area. Talks moved last week to Melbourne. Australia is a pivotal member of the new free trade pact. Australian PM Scott Morrison gave his full support to Thai efforts to get the RCEP deal finally over the line
Negotiations of the RCEP free trade pact began in 2012 and were to have been concluded by 2015. Last year, Asian Pacific leaders had set 2020 as the date for the free trade area to become effective.
Donald Trump quite happy after meeting with Chinese President Xi – 'I would say excellent'
Meanwhile, US President Donald Trump seems pleased with the outcome of his discussions with Chinese President Xi at the sidelines of the G20 summit. 'We had a very good meeting with President Xi of China,' he informed reporters. 'Excellent. I would say excellent. As good as it was going to be. We discussed a lot of things and we're right back on track.'
US President keeps new tariffs on the table however and existing  25% duties remain in place
Although America agreed not to go ahead with the second round of tariffs, which would have seen a 10% tariff on 300 billion of Chinese imports, the US President did not rule that prospect in the future. Existing tariffs stay in place. These have, according to figures out this week, strongly impacted the Chinese economy. In the meantime, the US economy reported robust growth for the first quarter of 2019.
Pause deal with China sees more sales for US tech and farmers but new tariffs still an option
The compromise agreed between China and the US ironically means more sales of US technology to struggling China firm Huawei which has been crippled by US sanctions and seen sales of its smartphones products dive, particularly in Thailand, as a result of the trade war. China also agreed to buy more farming produce from American farmers.
Chinese President's indirect swipe at US
At the G20 summit over the weekend, it is reported that Chinese President Xi signaled that China would open up its economy but he also appeared to criticise the bullying nature of US tactics. Speaking to African leaders on Friday, he said that 'any attempt to put one's own interests first and undermine others will not win any popularity.'
US President gung ho about American First and the use of tariffs as a trade strategy
Prior to the G20 summit, President Trump expressed his continued confidence in both his America First policy and the use of tariffs as a bargaining tool. The President gave an interview with his favorite US TV channel Fox News. Speaking to the Fox Business, he said :  'And by the way, since tariffs have been on, our market has gone through the roof, if you know what I'm talking about.'
Reports from Sihanoukville, Cambodia and Vietnam show that Chinese firms are desperate
There are, in fact, increasing signs that the trade war is causing serious disruption to Chinese trade. This week, US officials called on authorities in Cambodia to investigate activity at the Cambodian port of Sihanoukville. It suggested that the special economic zone at the port was being used to bypass US China trade tariffs.
US embassy spokeswoman issues strong warning to those circumventing US tariffs
The US pulled no punches. A US embassy spokeswoman came out with this: 'The United States will aggressively pursue allegations of duty evasion and utilize all available legal tools, to deter violators of US customs and trade laws,' she said in a statement to news agency Reuters. 'We call on the Cambodian government authorities to look closely at governance and compliance issues at the Sihanoukville SEZ.'
Denial from Cambodia but Vietnamese officials reveal dozens of cases have been discovered
Cambodian authorities have strenuously denied the claims and described them as 'baseless' in a statement issued by Seng Thai of the Cambodian Commerce Ministry. Earlier in the month, however, Vietnamese officials were more forthcoming. They revealed that they had discovered an increasing number of cases, many dozens, where exporters have falsely labeled exports as 'Made in Vietnam' although the products were, in fact, Chinese imports being redirected to avoid the new US tariffs.