The young man's fantasy came crashing down as he ran headlong into a shopping mall door and was pounced upon by security officers. A senior Thai police officer in the city shopping centre had given him chase. Mr Sittikorn was arrested and brought to a local police station where he is now facing theft charges.
A young man from Satun found himself behind bars in Korat on Wednesday night after his romantic dream of proposing to his Thai girlfriend in his home province led him into crime the day before he was to start a new job and what he dreamed of as a new life.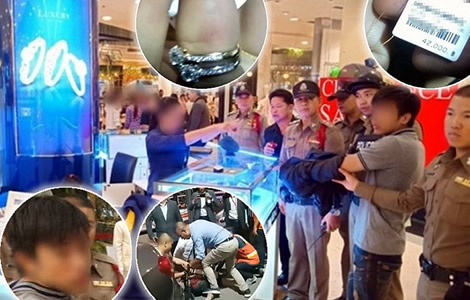 In Korat, the city seat of Nakhon Ratchasima province on Wednesday night the 7th August, a 22-year-old Thai man was on top of the world. In love with the girl of his dreams that he had left at home to start a new job on Thursday 8th August in the northeastern province, he had big plans. He planned to propose to the girl and to do so, he visited a well-known shopping mall in the Thai city to buy the diamond ring of his Thai girlfriend's dreams. The joy on the face of he woman he planned to make his wife was already in his mind's eye and his heart.
Wanted to surprise his Thai girlfriend with a diamond ring as he started a new life
This was at 8 pm. Sittikorn was from the southern Thai province of Satun. It is one of Thailand's smallest provinces on the coast of the Andaman sea and includes a number of islands. He had come to the busy city of Korat in the north of Thailand to work. His dream was to make money for a future with his Thai girlfriend and the first step to this was to surprise her with the diamond ring.
Two rings each costing over ฿40,000  
He walked into a well-known diamond jewellery shop in the shopping mall and the saleswoman on duty handed him some diamond rings to peruse. The young man, however, found his dreams of a romantic future with his girlfriend summarily crushed when he saw the price tags. Each of the rings in his hand would cost over ฿40,000.
Southern Thai man became a criminal as he ran from the shop driven by his desire
As the young man's thoughts inside his head thundered, he came to a decision. Sittikorn darted from the counter and the shop with the two diamond rings still on his person. His girlfriend would have the ring of her dreams after all and Sittikorn would have some extra cash. He would steal the jewellery. At that point, the young man became a criminal.
Senior Thai police officer heard the pandemonium and spotted the thief running past
His exit from the shop sparked uproar and pandemonium among the shop's staff. Luckily for them, a senior Thai police officer with the crime suppression division was in the mall at the time. Police Lieutenant Colonel Nirand Tawanpuwanat was shopping when he heard the shouts from the panicked diamond shop staff. At the same time, he saw the thief running past him and gave pursuit.
Fantasy comes to a crashing end as 22 year old is pounced upon by security officers
Young Sittikorn's plan and delusional fantasy soon, however, came to a shuddering halt. The young Thai man ran straight into a glass door in the shopping mall which smashed to pieces after he impacted it with force. Stunned and dazed, the southern Thai man was immediately pounced upon by security officers and a couple of motorbike drivers who recognised that he was up to no good and felt like helping out.
Arrested and taken to Nakhon Ratchasima police station for questioning by investigators
The young 22-year-old was arrested and taken to Nakhon Ratchasima Police Station. He admitted the crime to police officers and revealed the romantic motivation behind his actions. He explained that his emotions got the better of his judgment when he realised that he would not be able to pay for the diamond ring of his girlfriend's dreams.
Rings valued at ฿84,000 recovered, Mr Sittikorn faces theft charges and the prospect of jail
The two rings were valued at ฿84,000 and were recovered from the man after his arrest. On the day the Mr Sittikorn was to begin his first job in Korat, instead, he found himself being detained by police for theft and facing a court hearing.