Police were called to the scene at 11.30 pm and found the man in severe pain on the ground. His wife surrendered to authorities on Friday morning but has yet to be charged.
A jealous Thai wife calmly walked into a karaoke bar in the southern Thai province of Nakhon Si Thammarat late on Thursday night and turned her husband into a firewall in front of his horrified friends and other people at the venue.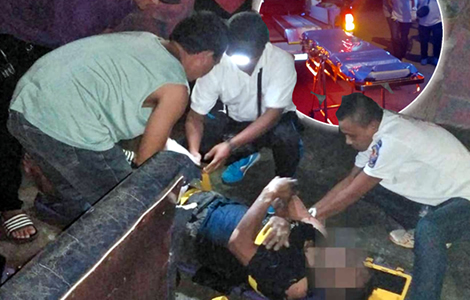 A Thai wife riven by jealousy set her husband on fire on Thursday night in the southern Thai province of Nakhon Si Thammarat. The woman poured gasoline over her husband and then set him alight at a local bar named as the Si Nakhon Karaoke Bar in front of speechless customers and staff.
The 35-year-old man who has not been named survived the attack but suffered severe burns to his face and body from the flames.
Middle-aged man found writhing on the ground in agony when Thai police responded
Thai police gave details of the incident on Friday. Police Lieutenant Sakkarin Saengcharoen is the deputy head of investigation at Lana Sak police station. He reported that police had driven urgently to the karaoke bar when summoned by distressed callers. They found the middle-aged man writhing on the ground in agony. He could not stop crying out in pain from burns which were visible on his face and body.
Emergency services gave the man treatment at the scene but quickly had him dispatched to the local Saka Hospital. 
Thai wife poured petrol from a bottle over her husband and clinically set him alight
Police discovered that the man had been socialising and drinking with three of his friends at the karaoke establishment. The man's Thai wife entered the bar quietly without announcing her arrival. She proceeded to pour petrol from a bottle she was carrying onto her husband. She then set him alight before walking back out of the karaoke bar without looking back.
Friends, customers and staff at the karaoke bar could not believe their eyes as he was engulfed in an inferno
The man's friends, as well as staff and other customers at the bar, did not react initially. They could not believe their eyes and were horrified when he burst into an inferno of flames before them. They then rushed to assist him as he screamed and managed to snuff out the flames. Police and emergency services were called as it was obvious that the man had been seriously injured in the horror attack.
Woman surrendered to police on Friday, suspected her husband of having relationships with staff
The head of police at Lan Saka Police Station, Colonel Phirun Kladthong, revealed that the woman had surrendered her self to police officers at the local station on Friday morning. A statement was taken from her but police have yet to decide whether to charge her. She explained that the motive for the ghastly and cruel attack was jealousy. Her anger was inflamed as her husband regularly frequented the bar where the woman suspected he may have had some sort of relationship with the staff.  
Further reading:
Two Thai women with foreign husbands involved in violent incidents that saw men hospitalised