Despite a contraction in exports and perhaps because of the fall of consumer demand, the country still maintained a healthy balance of payments surplus for the first half. This feeds into the international perception that Thailand is a safe haven for funds although this week foreign capital took flight as the SET dropped 1% on Thursday. On August 1st, Thailand reduced the level of bank deposit guarantee for each deposit holder to ฿5 million with a further reduction expected.
A leading Thai economic thinker has raised the spectre of recession this week as the country's bond market continues to quote rates lower than the Bank of Thailand's basic rate or what is called by economists an inverted yield curve. The week has seen Thailand's airline industry report zooming losses and all are blaming their woes on lower tourist numbers and the high value of the Thai baht.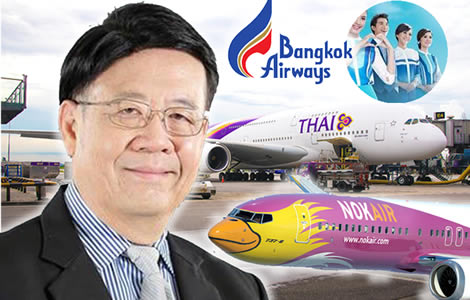 A leading and respected academic has suggested that Thailand may be heading for a recession after the SET index dropped by nearly 1% on Thursday following dramatic falls in New York the day before when stock markets plunged by 3%. On Thursday, it was also reported that foreigner buyers had sold nearly ฿12 billion worth of shares and exited Thailand.
Thailand's bond market is a strong economic indicator that a recession is coming
The dip comes as Thailand has also been experiencing an inverted yield curve with 10-year bonds being quoted at rates less than short term interest rates even after the Bank of Thailand's 25 points surprise rate cut last week. Foreign investors in bonds are also reported to have exited the market in recent days but they were replaced by local buyers.
Warning from a respected academic and economic thinker of risk-averse money 
The warnings were made by Sompop Manarungsan who is the president of a Thai business school, the Panyapiwat Institute of Management in Bangkok. He noted that it was a similar trend across the world. 'This suggests there is huge liquidity in the market and financial institutions and investors are willing to subscribe to bonds although they may get less money back than they put in,' he explained.
Sompong believes that a 2nd Bank of Thailand interest rate cut would be wrong
Significantly, the economics expert came out against a 2nd interest rate cut by the Bank of Thailand which is now thought to be a distinct possibility later this year. The reasoning for this is that according to Sompong the primary reason for depressed exports, in his opinion, is the flux in markets caused by world trade tensions and not the still appreciating Thai baht. The Thai baht currently stands at below ฿31 to the dollar after strengthening again despite an early fall off after the interest rate cut was announced last week.
High household debt could frustrate any short term attempt to lift the economy
The higher education institute president said that the prospects for managing such a recession if it comes, are also limited as Thai households are currently already overburdened by debt and the prevailing climate is causing private enterprise and those with capital to become more cautious.
Thai Airlines the latest harbingers of an economic storm that is descending on Thailand
The economic challenge that Thailand faces is growing in both depth and scope. In the last few weeks, Thailand's once-booming domestic airline industry has begun to report growing losses for the second quarter of 2019. This follows earlier reports of mounting losses at the country's flagship carrier Thai Airways.
Bangkok Airways lost ฿700 million the 2nd quarter
Bangkok Airways announced on Tuesday that it had lost nearly ฿700 million in the period from April to June this year. The president of the airline, Puttipong Prasarttong-Osoth, the day after revealed that the reason for the steep climb in the airline's losses was the strengthened Thai baht and lower numbers of visitors to Thailand this year. The carrier's revenue dropped by 4.2%. It is now trying to improve access to the market online in an effort to turn things around.
Nok Airways blames fewer Chinese visitors
The bad news was followed by Nok Airways which said that it had lost nearly ฿800 million in the same period. It said it had reduced its aircraft fleet and ascribed it all to fewer Chinese visitors to Thailand.
Thai Airways last Friday filed a 121% increase in second-quarter losses to ฿6.88 billion
Thai Airways last Friday filed a report with the Stock Exchange in Bangkok showing that its loss in the second quarter had hit ฿6.88 billion. This was a 121% increase over the same period last year despite lower fuel costs. Its revenue for the quarter was down by 10% at 42.5 billion.
Airline blames Thai baht for the fall in tourism
The figures for the first half of the year also show a large rise in losses to ฿6.44 billion baht compared to nearly ฿383 million last year. The airline is also referencing the appreciation of the Thai baht against the US dollar from last year which has seen it gain 8% in value. In a statement, Thai Airways said: 'The baht appreciation greatly affected the Thai tourism situation.'
Thailand's baht appreciation driven by its foreign perception of the country as a safe haven
The appreciation of the Thai baht is being driven by world economic uncertainty and Thailand's perception by international finance managers as a safe haven. Ironically, Thailand's strong balance of payments surplus has been built up over many years driven by record exports and tourism.
Kingdom still maintains its balance of payments surplus despite an export contraction
However, in 2019, this has begun to change but only marginally. Exports in January this year went down by nearly 6% and imports zoomed up by 14%. The country's balance of payments deficit for that month was over $4 billion. The country showed a trade surplus for the 6 months, however, at $3.94 billion, down 7.5% on the same period in 2018.
Bank deposit guarantees lowered this week
This week also on August 11th, Thailand lowered the deposit guarantee by which bank deposits are underwritten by the Thai State to ฿5 million baht ($162,000). There are plans for this to be lowered again in a year's time to ฿1 million ($32,400).
Economic storm winds have begun to blow
There can be no doubt that Thailand is in the midst of an economic storm as are many other countries worldwide. Certainly, this has seen the end of a once benign economic era. The question is will Thailand's economy take off again or are we heading for a soft or hard economic landing, grounded in recession.
Further reading:
Economic stimulus ready for cabinet as Thailand braves a credit squeeze and reeling economy
Bank of Thailand cuts interest rates in a surprise move as ING Bank predicts a second later this year
Senior Thai minister calls for weaker baht and a target value of ฿32 against the dollar at Bangkok forum meeting
Moody's – debt is 98.5% denominated in Thai baht as two views of the economy are at odds
Thailand's small businesses and farmers are facing a crisis. The bankers are the ones that know
Government to introduce new economic stimulus package to boost Thai economy in emerging downturn