Thailand's Bank of Thailand has already announced that it is developing its own blockchain environment and cryptocurrency to be used in interbank settlements in a speedier, real-time system.
Thailand's bond market with ฿3.5 trillion in outstanding scrips has announced it is gearing up to introduce blockchain technology and its own cryptocurrency in a move which is expected to link with the Bank of Thailand's cryptocurrency and blockchain structure being developed for interbank settlements which is expected to see faster and real-time settlements within the Thai banking and financial industry when its in implemented.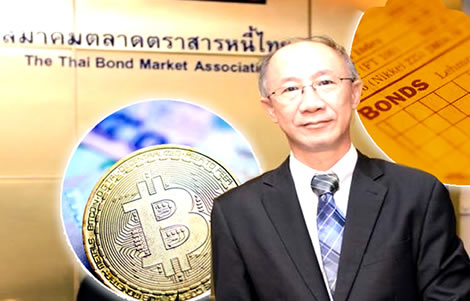 Thailand's banking and financial system is on the verge of a new era as banks and financial institutions are moving over into the world of blockchain technology and the use of cryptocurrencies. Many industry insiders see what is happening as a major shift that will not only affect the financial and business world but will soon extend into the realms not only of banking but for all aspects of both business and personal life much the same as how the internet developed. This will happen in ways not quite yet foreseen but the potential is more than apparent.
The latest move announced by the Bond Market Association in Thailand will usher in a new era
The latest news comes from the Thailand Bond Market Association which has announced that it is to issue a cryptocurrency to make Thailand's flourishing bond market more efficient. It will usher in a new era in bond trading activity.
The President of the Association, Tada Phutthitada gave an outline of the plan this week. He said that the association which represents the firms involved in the bond market, will first of all be applying blockchain technology to the registration of bonds. This will be distributed ledger technology (DLT). Mr Tada explained how this will work: 'It would be a hybrid kind of decentralised DLT. There is no need for consensus but it is a rotation system, analogous to Malaysia's sultan monarchy system.'
Registration of bonds on blockchain technology 
Explaining the registration plans, he said that right now in Thailand, banks and firms selling securities acted also as registrars for bonds. The new distributed ledger technology or blockchain will allow all firms to see holdings in realtime and will result in those buying bonds being able to get them within 3 days whereas now the time lag is 15.
The system is being developed and a sandbox experiment will be available soon so that the Thai Securities and Exchange Commission can review it.
Scripless bonds which will also support a new bond cryptocurrency which can be used in transactions
The second stage in the new approach to bond purchases and trading will see the introduction of scripless bonds linked with a new cryptocurrency backed up by the bonds as assets. This new cryptocurrency will be capable of being used in settlements for bond trading on gross transactions. However, as the association president noted, net settlements will still need to be paid with money.
Whole new environment for bond trading and subscriptions in Thailand to be opened up
The new developments will see a whole new environment and a range of options develop around bond trading and the use of bonds in business and financing in Thailand. It will also make the whole process easier, more immediate and less expensive.
Unprecedented growth in the market for Thai bonds
Thailand's bond market is experiencing unprecedented growth. There are now ฿3.5 trillion in outstanding corporate bonds with new bonds issued this year alone valued at ฿1 trillion. ฿1 trillion of the outstanding bonds are held by private individual investors with 10 banks or institutions acting as registrars.
The new bond market linked to blockchain and its cryptocurrency will seek in the future, to work with the Bank of Thailand's own cryptocurrency project which will see it issue a cryptocurrency to make inter back settlements
Bank of Thailand to issue its own cryptocurrency
In May this year, the Thai central bank announced that it was pushing ahead with its plans to issue a cryptocurrency based on blockchain technology to be used by it and a range of retail banks, including Bangkok Bank, Krung Thai Bank, Siam Commercial Bank, Standard Chartered, HSBC and others.
Tested a system prototype which promotes more efficient and faster payments between banks
It has been reported that a prototype for the new Bank of Thailand interbank payments system has been developed and tested. It demonstrated that the proposed new process would mean a marked improvement in the efficiency of the banking industry. It would also facilitate interbank settlements running 24 hours a day and 7 days a week. The system will bring forward the day of real-time bank settlements and faster payments across the banking network.
In August, the Bank of Thailand said its goal for the project is to increase the efficiency of the country's 'financial market infrastructure.'