Sad and bizarre animus between two men who are rightly admired as heroes by many people around the world but the objective truth is that Mr Musk's prejudice is not just against Vern Unsworth, a man honoured by both his home and adopted countries, but any western man who lives in or regularly visits Thailand.
On Monday in Los Angeles, lawyers for Elon Musk attempted to have the trial for defamation against him brought by UK man and Chiang Rai resident, Vern Unsworth thrown out before the trial date on December 2nd next.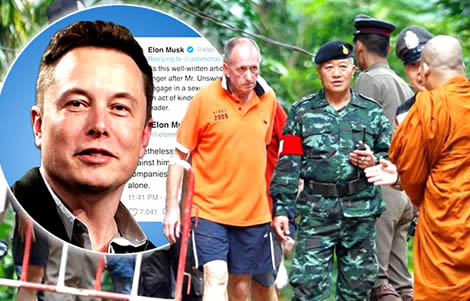 The US entrepreneur Elon Musk this week asked a Los Angeles court to throw out legal proceedings for defamation which were launched last year by UK man Vern Unsworth, a member of the diving team and crew that successfully rescued the young Thai schoolboys last year known as the wild boars and who have since become the subject of a number of movies and TV shows.
Trial for defamation due on December 2nd next
The trial of the defamation action is due to be heard on December 2nd next and lawyers for Mr Musk attempted to argue that the term 'pedo' he used in a tweet last year as part of the term 'pedo guy' was not meant to infer that Mr Unsworth was, in fact, a paedophile. 
The visionary US businessman, however, later aggravated the situation further with an August 30th email to the US news website BuzzFeed urging that Mr Unsworth be looked at with suspicion due to his association with Thailand.
Musk – terms 'pedo' in South Africa means a 'creepy' person and merely a description of demeanour
On Monday in court, Mr Musk's lawyers described the term 'pedo' as merely an adjective he had used. The lawyers explained that since growing up as a teenager in South Africa, the term has been used by Musk to mean 'creepy' and not as an accusation that Mr Unsworth was a paedophile.
Lawyers for the American described it as more accurately a description of demeanour. Mr Musk's legal representatives want the case thrown out before hearing and they are urging the judge to treat Mr Unsworth as a public figure which he was not before he came to prominence due to his participation in the rescue of the Thai schoolboys and their coach in July 2018.
US private detective hired to find out more about Vern Unsworth and his links with Thailand 
Musk's lawyers claim that a private detective hired for $50,000 to find out more about Mr Unsworth's life in Thailand was taken on by a trusted aide and that his email communication to the Buzzfeed news website was a message between third parties and confidential. They maintained that Mr Musk's actions could not be construed as defamation in the normal sense.
Unsworth is suing Musk for $75,000 in damages
Mr Unsworth is suing Mr Musk for $75,000 in damages as a result of his outbursts on social media and the subsequent campaign to tarnish his reputation. Last year, however, his UK lawyer suggested that a further case may be brought there against the tech billionaire at some point.
Rabid Musk email to BuzzFeed described Unsworth as an 'old, single white guy from England'
In a rabid email to BuzzFeed on August 30th last, Musk described Mr Unsworth as an 'old, single white guy from England' who had travelled ritually to Pattaya in Thailand and it's beaches since the early 1980s before moving to live in the kingdom.
He also clearly casts aspersions on Mr Unsworth's subsequent move to Chiang Rai and his marriage to a younger Thai woman. Mr Musk also pushed a negative opinion of Chiang Rai and western men who live and visit the province as well as Pattaya.
UK man did poke fun and displayed an animus toward Musk during a CNN interview after the rescue 
The furore all began in the aftermath of last year's rescue. On CNN, Mr Unsworth criticised Elon Musk's efforts to play a part in the rescue efforts, something that Mr Musk, much to his credit, was clearly anxious to do. It has been revealed that he had deployed key engineers from the engineering department of his firms to Thailand.
Mr Unsworth described Elon Musk's efforts as a PR stunt poking fun at a planned submersible craft proposed by the tech genius who currently heads SpaceX and Tesla while formerly being a co-founder of PayPal.
Musk, clearly triggered by his and in response, branded the UK man a 'pedo' guy in a tweet. This was sent to his 22 million followers and later doubled down by sending the private detective to Thailand to find out about Mr Unsworth's private life and his association with the kingdom.
Unsworth is today recognised as pivotal to the rescue which he describes as a 'team effort'
Mr Unsworth lives in Chiang Rai in the north of Thailand where the cave incident occurred and was the man whose idea it was to draw on the help of specialist and uniquely skilled UK cave divers who ultimately made the breakthrough in July last year which led on to the successful operation to rescue the Wild boar soccer team and their coach by a combined force involving foreign divers and Thai expert military personnel
Awarded an MBE in June in London
Mr Unsworth was made a Member of the Order of the British Empire (MBE) this year at Buckingham Palace in London, an experience he described later as 'humbling and fascinating' and has also been honoured in Thailand. The 64-year old lives happily in Chiang Rai province with his 41-year-old Thai girlfriend who has described him as 'selfless' man and popular locally.
Musk urged news site to investigate Vern Unsworth on the basis that he paid regular visits to Thailand
However, that is not the portrait Mr Musk urged journalists at the end of August last year to look at the UK man. Mr Musk told the US news website BuzzFeed in pointed language about western visitors to Pattaya and Chiang Rai. The email, unfortunately, reflects a prejudiced perception of Thailand and expats living in the kingdom that currently exists in some quarters of western society.
Read the full details of the spat between Elon Musk and Vern Unsworth here:
Vern Unsworth sues Elon Musk in Los Angeles court while UK proceedings are also pending and being prepared
Wild Boar soccer team become millionaires after signing deal with Netflix for Tham Luang story