82-year-old woman Loen Chunchue told her family she was in an old city with monks and angels and did not want to return home before waking up in hospital with a new zest for her old life and an urge to go home immediately.
There have been two reported stories in Thailand during October of women who have come back from the dead. Such things are not altogether unheard of in Thailand's very traditional society that is also a very superstitious one but for the two families concerned, the stories are both real and indelible as the loved ones they thought dead literally came back to life.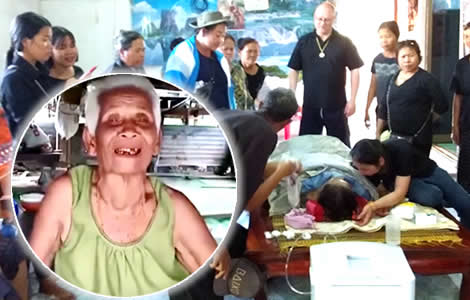 A series of miracles appear to have happened in Thailand during October with two elderly women coming back from the dead.
The latest resurrection happened on Wednesday last at Wat Amphawan in the Nong Han district of Thailand's Udon Thani province. 70-year-old Phinit Sophajorn had died on Sunday the 20th October after she was taken home from a local hospital where she was being treated by doctors for a long-standing complaint of toxic goitre.
Family took her home from hospital last Sunday from the hospital where she died
Her family had taken her home that evening to Ban Chiang after the doctors had said that there was no more they could do for her. She died shortly afterwards.
Following Thai tradition, there were three days of prayer for the woman at home led by her husband, 73-year-old Thawit Sophajorn and her extended family. The woman's body was placed in a cooling coffin attached to electrical mains during this time.
On Wednesday, the coffin was brought after 3 days of prayers to the temple for cremation
On Wednesday, the coffin was disconnected and brought to the local Wat Amphawan where the family and mourners began the final stage leading to her cremation. This last act involved washing the woman's face which would have been followed by the nailing of her coffin and its incineration.
Husband the last to wash her face before the coffin was to be nailed up and fired
Ms Phichit's husband, by tradition, was the last to wash her face. As he did so, he suddenly noticed that his wife was breathing and shouted to the mourners to remove her from the coffin. Her family laid her on a table and attended to her before taking her back home.
Coffin and accoutrements burned for good luck
The coffin and accoutrements to the funeral were burned and destroyed according to superstition to take away any bad luck.
Following the dramatic event and online coverage, her husband has urged caution and says that his wife is not yet able to sit up yet and communicate. If this happens, he says, he will be very thankful and make great merit which in Thai culture means making a substantial offering to the temple.
82-year-old woman on October 6th was on the brink of death according to medical experts
It was a similar but slightly different story on the 6th October in Buriram with 82-year old Thai woman Loen Chunchue who had been in hospital for two weeks and on ventilators. She was thought by doctors to be on the verge of death or even already clinically dead.
Brought to the Pa Kam Hospital later sent to the Buriram Hospital for specialised care
Her 45-year-old son, Giatiyot Chunchue explained that his respected mother who liked to grow vegetables and sell them at a local market returned one day and went to take a shower in her home.
She fainted and was taken by her children to nearby Pa Kam Hospital in an unconscious state. This medical facility eventually transferred her to Buriram Hospital for further specialised care.
Doctors told her family that vital parts of her body no longer functioned – it was time to say Goodbye
The elderly woman was 6 days at the bigger hospital on a respirator to assist her breathing. Doctors, at that point, told her family that vital components of their mother's constitution were no longer working and that it was quite likely that she would never wake up again. 
However, her family clung to hope. On the 7th day, the woman awoke and appeared her normal self. She told her astonished relatives in strong terms that she wished to go home without delay. Her family were delighted but slightly apprehensive.
Woman at home was rejuvenated 
Their fears were soon cast aside when the matriarch arrived home. She appeared more determined and alive than before busy working in her garden and going to market as she had done before but with gusto.
Ms Loen explained to her children that the reason for her good humour and raised spirits was that she could remember everything about her death and being in some sort of other world. She described this as an old city with angels and monks.
82-year-old woman told of a spiritual experience
One of the monks, a respected and well-known spirit, addressed her as 'Granny Loen' and told her it was time to go back home. He asked her three times. On the third occasion, he spoke more forcefully. She told him to go back first, she would follow on later.
Determined to enjoy life
Finally, another spirit addressed her by her full name but her perky response was that her first name was Loen but that her second was Songsri which had been her maiden name. Then she awoke.
She told her family that she believed her good deeds in this world and the powerful monk she met had given her some extra time in this life that she was now determined to enjoy. 
A question of culture – alive or dead
It is quite likely that many sceptical and well educated western readers will think these stories embellished or capable of more rational interpretation.
The interpretation of the Thai people involved illustrates a real and living facet of Thailand's culture. The question is which version is more real or which culture is more alive or dead.
Further reading:
Family to visit Buddhist shrine as little Thai girl miraculously escapes playing with a cobra snake
Thai police captain helps woman lose spirit that was damaging her health in call out video that went viral
Mr Goldshell – the Thai hero turtle brings joy and hope to a small Thai village while another village calls police over ghost
Thai girl dies after taking part in 'black curse' ritual in tragic unexplained death – five charged
Two Thai women come back to life from the dead

+ Two Thai women come back to life from the dead this month, one minutes before cremation and the other reporting a spiritual experience.https://www.thaiexaminer.com/thai-news-foreigners/2019/10/26/thai-woman-dead-back-to-life-home-family-hospital-coffin-udon-thani-buriram/Carla Boonkong reports from Udon Thani and Buriram

Posted by ThaiExaminer.com on Saturday, October 26, 2019