A viral video shows just how real spirits and ghosts can become for Thai people. The adept way the senior Thai police officer handled the situation has impressed thousands on social media. Many Thai people who sincerely believe in such phenomena call on the Royal Thai Police for assistance. This includes communities and community leaders. It is another one of the fascinating ways that makes Thailand, Thai people and Thai culture so different and animistic. It would be wrong simply to dismiss it as superstition.
A Thai police in the northern province of Nakhon Phanom province became an online star on social media for all the best reasons. Called to a troubled family's home on Monday, he helped a Thai women believe to be haunted by a deadly spirit or ghost. The incident highlights the deep spirituality and very real belief of spirits in Thailand. It is not uncommon for police and authorities to respond to calls from the public and even community leaders when fear takes hold. The actions of the police officer in tending to the afflicted woman have won him praise and admiration.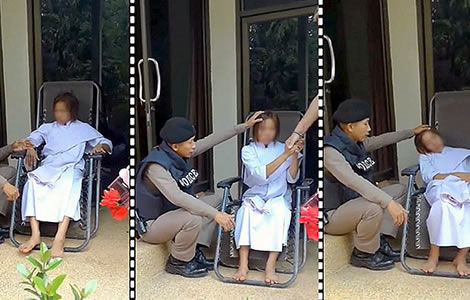 The power of superstition and the strong belief in ghost and spirits in Thailand was in evidence on Monday evening last when a senior Thai police officer tended to the concerns of a woman's family who believed she was being haunted by a particular type of Thai spirit of ghost that strikes fear into the heart of most Thai people but particularly in northeastern Thailand. In that region, animistic traditions are deeply embedded in culture and the belief systems of the people, who are also devout Buddhists.
Family believed it was a 'phi pob' spirit or ghost that usually brings death in its wake
The Police Captain was called to a home in Thailand's Nakhon Phanom province when the family believed her life may even be in danger and simply did not know what to do. Captain Phurithat Phurithattanon is stationed at Nakae Police Station and is a member of Thailand's elite Crime Suppression police division. The family had grown deeply concerned at the vivid nature of the visions that the woman was reporting to them at home. Family members believed it was a 'phi pob' or a ghost which embeds itself in the body of human beings and animals. It is reported to devour the internal organs of living creatures.
Deaths of police recruits and livestock last year resulted in a call of stronger police patrols
It is not uncommon for Thai people, when confronted by what they consider to be spirits or a threats from the spirit world to summon the services of their police force. The faith of Thai people in their police service is, in fact, quite high among law abiding Thai people. A recent press report from last year revealed that the Headman of a village had asked police to beef up patrols of his area or district due to concern over some type of ghost after it was reported that there was a high incidence of livestock deaths and news came of a sudden death of police recruits at a nearly academy. The incident occurred in Amnat Charoen province, also in northeastern Thailand. The Chief of Police at the local Pathum Ratchawongsa police station responded positively to the request. He explained to the media that public confidence was critical to good policing. The ghost or spirit on that occasion was described also as a  'phi pob' which people in Thailand's northeastern provinces have a propensity to fear. Similar to the case on Monday night, locals organised a village service conducted by Thai monks to conduct prayers to remove the spirit from their midst.
Thai Police officer encouraged haunted woman to let go of the spirit in her body
On Monday evening, the police captain took the reports and fears of the household more than seriously. He spoke quietly to the woman possessed by the spirit and used the Isan dialect to communicate with her. The empathetic police captain recited a long prayer or chant which seemed to help or calm the woman. The young policeman explained to the woman that she was being haunted by the spirit because she could not let go of it spiritually. He confidently explained that he had no fear of the spirit. The chant he recited, word perfect and from memory, was what is called the Paticcasamuppada. This a teaching of Buddha to his disciples. It advises his followers not to suffer needlessly and alone, to simply let go.
Spirit or ghost has become lost or confused
The session reached a climactic point when the police officer asked the Thai woman to let the spirit go. To breathe in deeply and exhale. He them promised to recite another chant to assist the process. The spirit had become lost and confused, he explained to the Thai woman and it was time for it to be on its own way. This chant was called the tripitaka.
Prayer offers strong guidance for a better life
Video of the incident went viral on Facebook. Social media users were impressed by the Thai police captain spiritual knowledge and command of the sacred texts. Some suggested he may have been a former monk. All Thai men become monks as part of Thai culture for a short period of time but they were suggesting that the police officer may have a been a monk for an extended period. One more knowledgeable user said that the Paticcasamuppada chant he made initially, was a powerful prayer that offers strong guidance to all human beings who want to lead a better and happier life.