Salary payday was deferred until Monday but then the workers found they could no longer contact their employer.
A troupe of Go-Go dancers has filed an official complaint with police in Pattaya over unpaid salaries.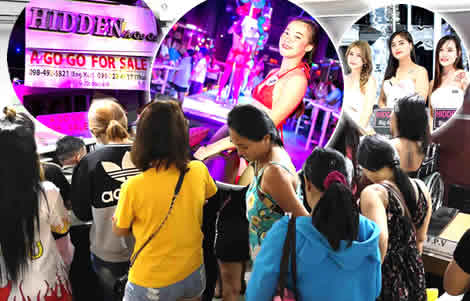 The group of 30 Go-Go dancers in Pattaya filed the complaint with Pattaya police in the early hours of Tuesday morning related to unpaid wages reported at over ฿400,000.
The Thai women filed into the police station en masse after heir wages were not received on Monday night.
29-year-old spokeswoman named 'Gift' explained the circumstances to Pattaya police officers
A 29-year spokeswoman for the workers identified as 'Gift' explained to police officers at the local police station that they had contracted to work for the owner of 'Hidden A-Go-Go' on the resort city's Walking Street. This area of Pattaya is famous throughout the world for its nightlife, steamy sex shows and despite denials from city officials, prostitution.
Hidden a Go-Go reported to be a well-known venue on Walking Street with many dancers reported to have worked at the establishment. It was recently reported to be up for sale.
Promised wages every 10 days
The dancers told police they were to be paid every 10 days and had started work at the bar on October 14th. Their first salary payment was however deferred until Monday 28th. 
Yesterday, when the money did come through the panicked workers tried to contact their employer but could not locate him.
฿1,200 a day for 7 to 8 hours dancing
'Gift' explained to police officers that many of the young women were paid a stipend as ฿1,200 per day for dancing to entertain customers at the bar. 'Everyone has worked hard. We must dance on high heels for 7-8 hours a day. We all need to send money to parents and children, pay room rents and cover our personal expenses,' she said.
Police have accepted the complaint and will pursue the matter. However, they also advised the women to lodge other complaints with the provincial labour office in Chonburi.
Further reading:
Calls to legalise prostitution in Thailand after Pattaya sex raid on Walking Street this week