47 million Thai people are now regular Internet users in Thailand with an average usage of 5 hours and 13 minutes every day. This has led to the emergence of a health complaint known as Internet Addiction Disorder which is both a mental health threat and physical one akin to illegal or prescription drugs.
A landmark study shows clearly how the internet will be the driving force in Thai society for the next five years at least. The phenomenon is expected to accelerate its transformative impact on the Thai economy and society.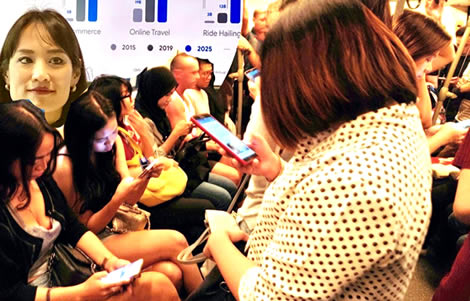 This will be good news for some and decidedly bad news for others as life experiences, interaction with each other and day to day business move online.
However, what is now emerging and what must urgently be addressed is the serious health threat being posed at the extent of internet usage in Thailand as in other countries.
A landmark study involving Google as well as Temasek Holdings in Singapore and Bain & Co., the management consulting firm has found that Thailand's internet usage is at an all-time high and still growing.
Now 47 million internet users in Thailand
There are currently 47 million Thai people using the internet for an average period of 5 hours 13 minutes daily driving a number of key online industries that are predicted to expand exponentially in the next 5 to 6 years.
The internet audience in the Southeast Asian region has grown from 100 million users in 2015 to 360 million today. In Thailand, internet usage for such things as ride-hailing, online tourism e-commerce and online media is forging ahead with the Thai internet economy predicted to grow from ฿16 billion to ฿50 billion by 2025. That's a 29% annual rise.
Huge changes to the Thai economy due to the internet
The extent of internet usage is known already to be dramatically altering the economy in the kingdom where more people purchasing goods online leaving old retails stores struggling while courier and warehousing firms cannot cope with the level of expansion.
This e-commerce area of the economy is growing by a massive 54% per annum and shows no signs of cooling off.
In fact, more firms are joining the chase which will soon lead to even cheaper prices and more choice for consumers as competition kicks in.
This could well lead to the death of the traditional retail sector or at last those outlets that are less competitive. 
Thai banks in 2019 notably Siam Commercial Bank are adopting a more cautious approach with loans and banking facilities to the small retail sector as the impact of e-commerce reaches a critical point in the market.
May not the panacea for all economic problems
Thailand's economic planners have identified a digital future as the key to a higher income Thai economy.
However, while it may be necessary for Thailand to adapt to digital technology, other countries in Asia are also pursuing this aim. The Philippines is the most connected country in the region and it also has a decidedly younger population and demographic profile than Thailand.
There may also be an overlap between the age of the population and the speed of transformation to a fully digital society. It may not be as easy as Thai policymakers would hope to avoid the demographics problem that the kingdom faces even with the shift online.
E-commerce, online tourism, ride-hailing and online media are all part of a new world and lifestyle 
E-commerce shows the fastest growth pace at 54% and its value in Thailand should rise to US$5 billion this year and US$18 billion in 2025.
The ride-hailing service sector also driving an increasing trend particularly in Thailand where consumers have taken to ordering to eating at home from food sourced at restaurants supplying this new growth area and bolted on to the ride-hailing sector.
Major impact on the hotel and accommodation industry leaving traditional players with a problem
Online tourism is also growing although this has long been an internet phenomenon as users book hotel accommodation and travel services. It goes without saying that this leaves the old fashioned travel agency concerns with a problem. 
This new industry has also been able to facilitate the development of  Thailand's tourism industry into more remote parts of the country something which has impacted the larger tourist centres and the more traditional accommodation providers such as large hotels.
It is bringing about a more competitive hotel and accommodation industry simply because it empowers the customer at all levels.
Media consumption is rapidly moving online
The fourth area of growth as internet usage skyrockets is online media which is predicted to expand from ฿3 billion now to ฿7 billion by 2025 as more and more, Thai people consume their news and entertainment online.
One of the fascinating insights to come out the new research was that the longer users spend on any particular website, the more likely that they were to spend money or generate revenue.
Raises questions about the future of society
However, this fundamental shift in human behaviour is also raising serious questions not only about the future of society and how business is conducted but also serious questions relating to the future of society.
Thailand's anti-fake news centre went live on Friday 2nd of November as governments around the world have become aware of the power of the internet and how it can be used.
But at a more personal level, there are also now very disturbing questions relating to the very real threat to both mental and physical human health posed by this new force which threatens billions of people.
Internet Addiction Disorder is real
Scientists and medical experts have identified a condition developing among many adults who are becoming addicted to internet usage.
Labelled as Internet Addiction Disorder, the syndrome is causing real and physical changes to the brains of adults causing significant and debilitating effects to their mental capability.
Inability to delineate priorities or engage in decision making can lead over time to mental impairment
One key symptom of this disorder is an inability for adults to prioritise issues and get ahead with daily undertakings. Scientists have identified that continuous interest usage impacts the prefrontal area of the brain. It is a similar effect to that experienced by those who continuously use illegal narcotics or prescription drugs as well as those are addicted to alcohol.
The internet has become an information drug where people derive pleasure from absorbing news or being titillated. 
Physical change to the matter in the brain
Scientists and medical experts investigating this have recorded physical changes to the brain matter of those suffering from the debilitating effects of addictive internet usage causing changes to the amount of grey and white matter in the brain.
Thai boy attacked his mother with a knife
It is a very similar experience to those engaged in internet gaming activity which is a more extreme example.
Recently a young Thai boy lashed out at his mother and threatened her with a knife after she intruded on and interrupted his gaming activities online with friends around the world.
The normally well-behaved boy later went on his knees to apologise to his mother but his judgment and sense of priorities were temporarily skewed from the effects of this disorder.
It is clearly a new challenge among many posed by the internet as society discovers that this new force in our lives has negative consequences both for our economy and society as well as our health and well being.
Further reading:
Online scammers are an organised crime group in Thailand working with international hackers
Thailand is a highly connected society and powerful force on the internet